HIGHLIGHTING the difficult trading conditions for lotfeeders over the past 12 months driven primarily by elevated grain prices, Beef Central's latest 100-day grainfed trading budget calculated this morning has produced a record loss of $155.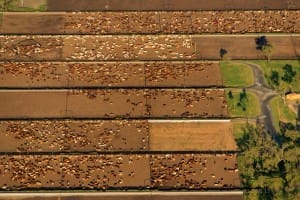 The calculation is based on our standard set of variables (refer details at base of page) which has been in use since this data set started in 2011.
Today's result is based on a typical 450kg flatback feeder entering a typical Darling Downs feedlot today, and closing-out for slaughter after 105 days, exiting late May.
For today's breakeven calculation, we've allocated a feeder purchase price of 280c/kg, down from around 300c back in November. Last weekend's rain event has lifted some Queensland feeder purchaser grids marginally, but not significant.
It's the lowest feeder purchase figure we've published for this report series since July 2015, just as the big surge started in store and finished cattle prices across Australia. At its peak in June 2016, flatback feeders fitting our description were worth 360c/kg, peaking in between our reports at 370-380c.
A 280c/kg purchase price values our steer at $1260, down about $90 a head on November purchases.
That decline is being driven primarily by the effect of current high grain prices on cost of production, and perhaps to a lesser extent by recent currency movements and strong international beef competition.
Ration price near record highs
Ration price for today's report has been factored-in at $370/t (some Qld yards quoting $380/t this week).
That's the highest ration price we have seen in the eight years this report has been compiled, with the exception of a short window in the 2015 drought year when ration hit $380/t during a period where quantities of southern grain were being trucked north to Queensland feedlots, at a freight cost of around $100/t.
Today's ration price is cruelling any prospect of a positive trade on our 100-day grainfed steer budget.
Australia is currently in sharp contrast with the rest of the feedlot world: very high feedgrain prices and tight feeder supply propping up feeder values, while the rest of the world currently has an abundance of cheap grain and feeder cattle. Save for high international demand which is helping absorb Australian product, it's making it very difficult for Australian grainfed meat to compete on the world stage.
A quick history of ration prices reported in our breakevens shows they moved from around $300/t in March last year, before quickly rising through $340/t and $360/t, putting pressure on feeder purchase price capacity from a rocking-point around July last year.
Tightness in supply of feeders over the past 12 months has perhaps helped support the feeder price a little higher than it otherwise would have been, give recent feedgrain price history.
Despite last week's rain across central and southern Queensland, feedgrain prices have gone up this week, with white grains up around $15/t in the past fortnight to around $330-$335/t Downs, and sorghum now high 200's.
The elevated ration price in today's report produces a total feeding cost of $580/head, and a total production cost (ration cost, plus feeder cost, and incidentals listed at the base of this page) of $1900, despite the decline in feeder value.
Cost of gain now 'line-ball' with feeder price
Cost of gain in today's calculation is 276c/kg, which is line ball with feeder cattle price.
As the accompanying graph shows, that represents a big change from circumstances for much of last year, when COG was much cheaper than feeder puchase, on a c/kg basis. That inevitably encourages some lotfeeders to select for lighter cattle, and feed them longer, to maximise the benefit.
This time last year, for example, our breakeven included a COG of 209c/kg, based on a ration price of 280c/kg – a massive 67c/kg COG turnaround.
The big shift in advantage of Queensland's COG over purchase price is now being reflected in a premium of around 15pc in value, c/kg basis for backgrounder-type cattle over heavier feeder types. Back when the COG advantage was at its peak, backgrounders were more like 25pc more expensive than feeder cattle, a reliable trade source said. The long-term average premium for backgrounders over feeders is more like 10pc.
To be fair, the lack of feed currently being experienced in Queensland may also have helped moderate the backgrounder premium presently.
It's important to remember that this data set is built around southern Queensland operating conditions and prices. Certainly in areas like southern NSW, where feedgrain prices and ration price is currently as much as $80/t lower than those quoted above, COG is much lower, Beef Central was told.
Breakeven 544c/kg
The above set of variables has delivered a breakeven figure in today's calculation of 544c/kg (compared with 559c in our early September budget), against a forward price for 100-day steer ready for slaughter late May of 500c/kg (540c/kg in our early September calculation, for mid-December slaughter).
That represents a $155 a head tear-up on the trade – the worst ever recorded in our trading budget series, based on our standard variables.
For those people whose cattle perform better than our chosen 'typical' industry cattle, the result is a little less painful. 'Superstar' feeder cattle producing a much more extreme ADG of 2.5kg/day (converting at a prodigious 6:1, as fed) on today's budget would deliver a breakeven result of 505c/kg – still an $18 loss on the trade.
The above result continues to reflect the tough financial conditions in the lotfeeding sector at present and for the past 12 months, and supports the contention that many feedlots have lightened off numbers this year.
Spot price comparisons
Spot price on 100-day grainfed ox for southern Queensland kill this week is in a band between 500-510c, against cattle bought on forward contract in late October for slaughter this week, at around 520c. Those forward-bought cattle had breakevens estimated this morning at around 560c.
It suggests processors are marginally in front (perhaps $35 a head) on 100-day cattle bought on today's spot market, compared with the same steers forward-bought 15 weeks ago.
Beef Central's regular 100-day grainfed breakeven scenario is based on a standard set of representative production variables, ex Darling Downs. It is built on a feeder steer of 450kg liveweight, fed 105 days; 356kg dressed weight at slaughter; ADG of 2kg; consumption 15kg/day and a NFE ratio of 7.5:1 (as fed); $25 freight; typical implant program. Bank interest is included. It is important to note that variations exist across production models (feed conversion, daily gain, mortality, morbidity, carcase specification); from feedlot to feedlot; and between mobs of cattle. Equally, there can be considerable variation at any given time in ration costs charged by different custom-feed service feedlots. Click here to view an earlier article on this topic. For a more specific performance assessment on a given mob of cattle, consult with your preferred custom feeder.