BEEF feedlot operators and other intensive stockfeed users again voiced their opposition to proposed Queensland State government legislation mandating ethanol content in fuel at a meeting attended by primary industries minister Bill Byrne in Dalby last night.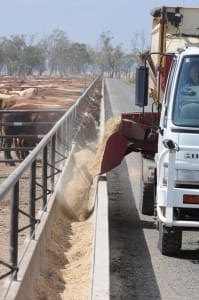 The Dalby gathering was the first of seven 'public forums' scheduled by the government through June over its controversial mandated ethanol in fuel policy.
The timing of the latest round of 'consultation' meetings with stakeholders was ridiculed by livestock industry stakeholders last night. They suggested any public consultation should have taken place prior to government decision-making on the policy, not afterwards.
"The perverse part of last night's 'consultation' meeting was that it was about how the bill will be introduced – not the merit of whether it should be introduced or not," Mort & Co's Scott Braund said.
Lotfeeders again stressed that the proposed ethanol policy would distort a supply-and-demand driven market for grain, through setting a mandate.
"We believe the policy is seriously flawed," Mr Braund said.
Outspoken cattle feeder Kev Roberts, principal of Sandalwood feedlot near Dalby, said the cattle industry had been trampled underfoot in the proposed legislation, for the sake of political expediency, through the government's desire to curry-favour with the Katter Party to shore up its numbers.
"This is nothing more than dirty politics," Mr Roberts said.
He said the cattle producers of Queensland should feel betrayed by AgForce Queensland, which represents the interests of both beef producers and graingrowers, in supporting the legislation.
"This decision has nothing whatsoever to do with jobs," he said.
"I asked the minister last night whether feedlot industry jobs were worth less than ethanol industry jobs. There are 150 feedlot industry jobs within just 25 km of Dalby. I used 80,000 tonnes of sorghum in our own feedlot last year – there's a lot of flow-on employment from that."
He said the Queensland cattle industry would equally be disadvantaged through distortions to access and price of molasses, used widely in supplementary feeding, through any ethanol mandate attached to fuel.
"No-one has thought yet about the implications of turning all this molasses into fuel, at subsidised prices at the expense of supplementary feeding of stock," he said.
"It's not that long ago where the state government in fact had to bankroll the importation of molasses for stockfeed, during times of shortage."
Mr Roberts said he was considering putting together a letter to the cattlemen of Queensland over the dangers associated with the proposed ethanol mandate, both from a grain access perspective, as well as a molasses access perspective.
"And once the gate is opened, who is to say that 2pc does not become 3pc, 5pc, 10pc?"
He said as far as he was concerned, the ethanol mandate would only benefit the graingrowing industry during times of 'real shortage.'
"While ever they have a business underwritten by the government, in the form of a mandate, and they are still getting their 38.147c/litre which equates to about $164/t, the price of grain can just keep going up and they keep going with it, because their business is protected."
To call last night's Dalby gathering a 'consultation meeting' was a joke, Mr Roberts said.
"Feedlots are not here just for drought feeding," he said. "They are purchases of suitable cattle to feed into the quality meat trade. Lotfeeders buy 2.5 to 3 million cattle from breeders each year," he said.
"How can any clear-thinking politician put at risk an industry of this size and importance? Food (i.e. grains) being turned into fuel (ethanol) affects food prices – be it chicken, pork or beef."
With the exception of a final meeting in Brisbane, last night's Dalby meeting was the only one of the planned ten meetings in a grain-growing/lotfeeding area, where sensitivity over the issue is likely to be highest. All others are scheduled in sugarcane growing regions on the coast.
A Government advice issued on Wednesday said the public forums being held around Queensland were designed to "provide the community with information about the Government's biofuel policy and allow people to ask questions and raise issues and concerns."
The Australian Lot Feeders Association has called on both major Queensland parties to reject the proposed mandate of ethanol content in fuel on the basis that the policy delivers no net public benefit whilst being costly, distortionary and ineffective.
The remaining public forums will be held at:
Bundaberg – 15 June 11.30pm, Bundaberg Business Enterprise Centre
Mareeba – 16 June 5.30pm, Mareeba Leagues Club
Townsville – 18 June 11.30am, Townsville Business Development Centre
Ingham – 18 June 5.30pm TYTO Conference Centre
Ayr – 19 June 5.30pm, Burdekin PCYC
Mackay – 22 June 5.30pm South's Leagues Club
Brisbane – 25 June 5.30pm Brisbane City Hall (Sister Cities Room level 1)
Innisfail – 26 June 11am Innisfail RSL.