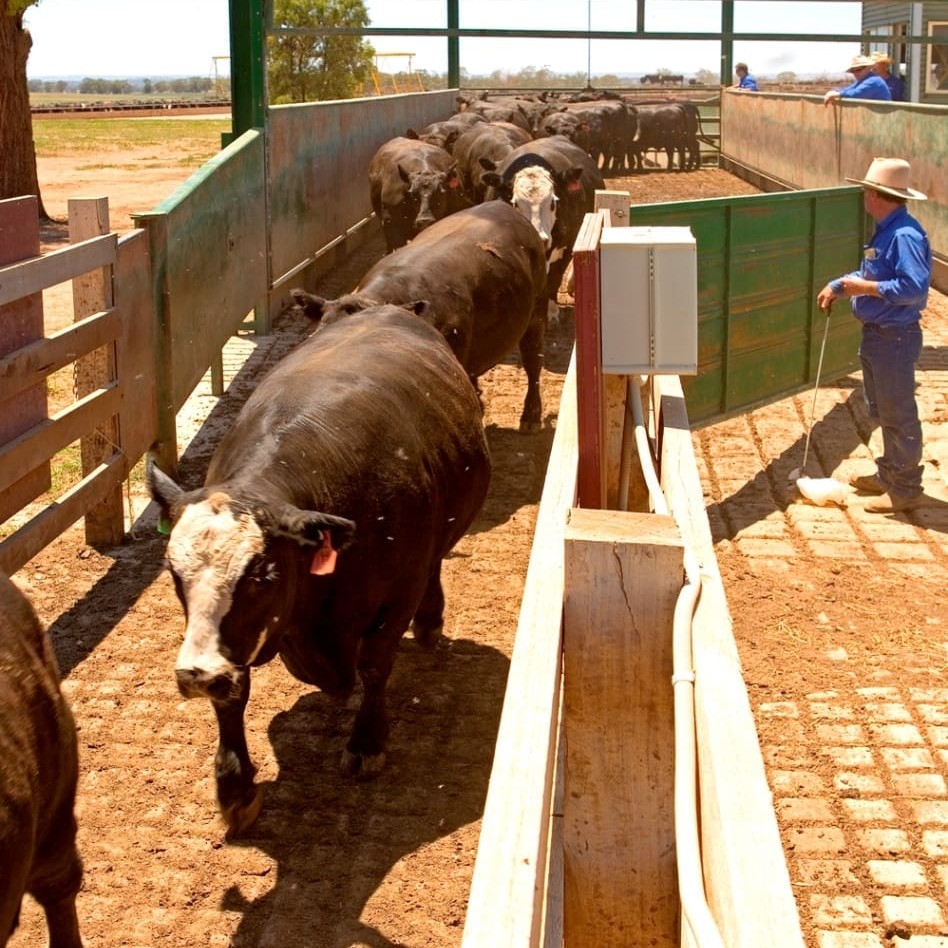 While there has been some movement in the value of inputs used in Beef Central's fortnightly grainfed trading budget, the net result remains much the same, with the prospect of custom-feeding 100-day flatback cattle still squarely in the red.
Our latest calculation based on placing a flatback steer on feed yesterday for closeout in December, week-two, after 105 days on feed produced a loss of $55.
That's a little better than three weeks ago, when the projected result was negative-$66, but still a big gap from our last projected net profit of $4, posted on the same exercise back on May 16.
Using our chosen set of variables (see full list at base of page), we have added $5 to our feeder steer purchase price (ex Darling Downs) this week, to 175c/kg.
That's due, in part, to a touch of urgency among lotfeeders in getting cattle on feed in time for slaughter prior to Christmas, with traditional meatworks seasonal closures looming.
That push is certainly not widespread, but it was evident in the feeder market this week. Cattle going on feed today for a 105-day program exit the feedlot on December 10, but the 'pre-Christmas window' for shortfed cattle will obviously close within the next week or so. Most Queensland export sheds are likely to close for two or three weeks from either December 20, or December 24.
Adding to the slowdown is the fact that post-Christmas can be a flat period for domestic beef sales, as households plough their way through leftover celebratory fare like ham and turkey.
Once the current pre-Christmas killing 'window' closes, some feedlot operators are likely to slow intakes for a period, which may briefly take some momentum out of the market for feeders.
Equally though, lotfeeders wanting to protect occupancy levels do not want their pens emptying out just prior to Christmas, because subject to weather and other variables, they can then be hard to re-fill.
The 175c/kg feeder price apportioned in our latest trading budget also reflects the fact that there are also a few less in-spec feeder cattle about at this time of year, and particularly due to this year's weather effect.
There is also still a spread in pricing evident between north (Darling Downs) and south (say, Riverina), but southern store markets over the last week or so have shown a declining trend, due to cold and in places, wet weather.
Applying a feeder price of 175c/kg values the steer in yesterday's calculation at $787 at induction, up $22 on three weeks ago, and considerably improved from a record-low 150c/kg liveweight in our budget three months ago when the steer was worth only $675 due to drought supply pressures. That's a $112 lift in feeder purchase price, alone.
Ration price remains unchanged
The surprise packet in this calculation is ration price, which we have retained at $330/t, despite our earlier prediction that new-season grain harvest might see feed prices trending down.
Our feedgrain market sources earlier predicted that ration price by now might be back $20/t to around $310/t, but that hasn't happened.
Feedgrain prices have held their ground, for two or three reasons: the deteriorating season and frost damage in some graingrowing areas; continued strong demand from feedlots (reference discussion about numbers on feed, below); and continued strength in exports.
The current ration cost in yesterday's budget, at $330/t, is a record a record-equalling high for our report sequence, since it started way back in May 2011. It represents a total feeding cost over 105 days of $520. This, combined with the current feeder price, gives a total production cost of $1372, up $26 on three weeks ago.
Cost of gain, using our chosen variables (2kg/day ADG, for 210kg gain over 105 days) remains unchanged at 246c/kg. This time last year, the cost-of-gain was around 200c/kg on a $280/t ration price, and a feeder price of 200c/kg.
The above inputs suggest a breakeven figure in yesterday's budget of 396c/kg – a 7c/kg rise on three weeks earlier due to feeder steer purchase cost.
That is getting close to the 'round $4 figure', where many would suggest that the current market should be for 100-day slaughter cattle, given recent currency movements over the past three months. Producers have shown admirable patience in accepting that it takes time for 15pc swings in currency value to 'work their way through the system,' but Beef Central detects a growing expectation that this relief will be shared more broadly through the price/supply chain.
Historically speaking, the last time we recorded a 400c/kg breakeven was briefly in August-placements last year at 402c/kg, on a forward slaughter price in the 390s; ration price of $270/$285; and feeder price of 200c.
The highest-ever breakeven was a 412c figure in December 2011, on a 215c/kg feeder market.
Forward pricing
Current forward public grid prices for 100-day ox from Southeast Queensland processors for December 10 close-out, have lifted 10c/kg since our last calculation. Public bids obtained yesterday were around 380c/kg dressed, suggesting there is still good margins available to processors at that rate, and cattle are being sold forward at those figures. The fact that processors are still keen to maintain high rates of kill reinforces the view that there are still good margins present in export processing.
The pricing perhaps also reflects the traditional shortage of well-finished slaughter cattle in the run through to Christmas, when prices often rise as a result.
As mentioned in our intro, the variables outlined above deliver a $55 loss on our trading steer, $11 worse off than the $49 loss figure a fortnight ago.
Looking back at 100-day flatback cattle that went on feed back in May for slaughter this week, they had a breakeven at 349c/kg according to our calculations, on forward-contract meatworks rates then were around 350-355c/kg. The margin per head then was a modest $3 profit.
The market for spot 100-day cattle in Southeast Queensland this week is more like 375c/kg. On that basis, processors who secured this week's 100-day kill forward back in May are about 25c/kg (or $90 a head) better-off than they would have been buying those same cattle out of today's spot market.
Looking forward, Beef Central's supply chain contacts anticipate that feeder cattle numbers will become harder to come by over the next month or so, given that a lot of young cattle have already been moved out of the system. That is likely to put upwards pressure on price, especially if there is any sort of spring break across eastern Australia to add fuel from grass restockers.
Interestingly this year, there has been a premium for heavier feeder cattle 400-500kg over lighter store cattle, due to shortage of grass.
Don't be surprised to see a 10, 15 or even 20 percent rise in feeder prices in coming months, given any sort of widespread spring break. As reported in a separate weather item this morning, prospects remain solid for above average rainfall across larger areas of Eastern Australia over the next three months.
We've gone from situation where the feeder market was completely over-sold and under a lot of pressure due to drought in May, to a situation now where the market is still heavily drought affected from a catle flow perspective. But as often happens, the longer the drought, the quicker the turnaround, should we be blessed with a reasonably start to the spring/summer growing period.
Numbers on feed at seven-year highs
As reported in Beef Central's news item last week, cattle numbers on feed hit a seven-year high across Australia for the June quarter, based on the latest ALFA/ MLA feedlot survey.
The 9pc increase saw numbers on fed rise to 873,000 head, influenced heavily by the impact of drought across large areas of western and northern Queensland, NSW and the NT, forcing producers to place cattle on feed as a finishing strategy, or sell cattle cheaply (click here to access original report).
Reports suggest access to pen space in Queensland feedyards is still very hard to secure, as drought pressures continue. Close-out pens are inevitably re-filling overnight.
Beef Central's regular 100-day grainfed breakeven scenario is based on a representative standard set of production variables, ex Darling Downs. They include a 450kg liveweight feeder steer fed 105 days; 356kg dressed weight at slaughter; ADG of 2kg; consumption 15kg/day and a NFE ratio of 7.5:1 (as fed); $25 freight; typical implant program. Bank interest is included. It is important to note that variations exist across production models (feed conversion, daily gain, mortality, morbidity, carcase specification); from feedlot to feedlot; and between mobs of cattle. For a more specific performance forecast on a given mob of cattle, consult with your preferred custom feeder.