Story updated 6.30pm, August 28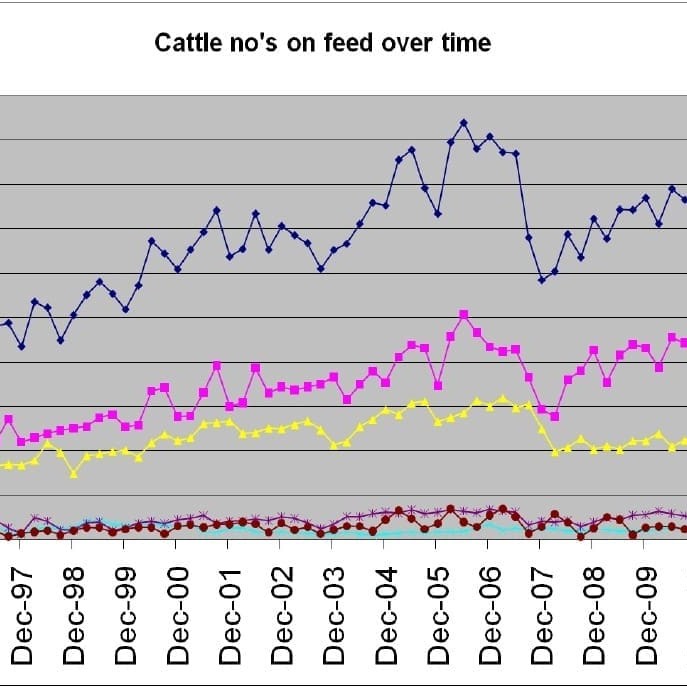 While the latest quarterly feedlot industry survey released this morning shows a five percent rise in numbers on feed, the significance of the figure has since been overwhelmed by more recent dramatic rises in feedgrain prices, driven by drought across the US corn belt.
Results from the June quarter survey issued by the Australian Lot Feeders Association and MLA today – 59 days after the reporting period concluded – showed numbers on feed across Australia reaching 788,625 head, a 36,500 rise from the March quarter. The latest figure is still 4pc lower than this time last year, however.
As can be seen in the attached graph, while the quarter-to quarter numbers on feed are still choppy, there is a gradual longer-term trend towards improvement, rising from the low point around 600,000 head back in early 2008. Numbers are still a long way from the pre-GFC feeding activity above 900,000 head, though.
Australian Lot Feeders Association president Jim Cudmore said the lower feeder cattle and grain prices (during the reporting period) had encouraged lot feeders to increase cattle numbers.
"Feeder cattle prices averaged 5pc lower year-on-year whilst feedgrain prices were 15pc lower on the Darling Downs and 11pc lower in the Riverina over the April-June period," he said.
"However the impact of the more recent rises in grain prices from late June will no doubt be felt in the September and December quarters," he said.
The decline in feeder cattle prices over the reporting period reflected a general easing in the cattle market and higher cattle turnoff numbers due to drier than average seasonal conditions in parts of Australia in late summer and early autumn.
"Coupled with lower on-farm returns for grain production and a 4pc decline in the A$ against the US over the quarter, lotfeeders were encouraged to increase cattle numbers on feed, particularly in smaller to medium sized yards," Mr Cudmore said.
The increase in cattle numbers on feed at the end of June was largely driven by Queensland in absolute terms (+20,000 head), and Victoria in percentage terms (+10,00 head, but still another 10,000 head behind where it was this time last year), while other states remained relatively static. In year-in-year comparisons, WA had 35,000 head on feed at the end of June, whereas this time last year the figure was little more than 15,000 head.
That came on the back of cheaper grain (during the March-June period) and improved access to suitable feeder cattle.
MLA's manager for market information and analysis, Tim McRae said grainfed exports for the quarter experienced a 15pc year-on-year decline, as the strong Australian currency, weak consumer demand and US competition continued to challenge trading conditions.
Grainfed exports to Japan fell 17pc year-on-year over the June quarter to 31,540 tonnes, while shipments to Korea finished the June quarter 30pc down year-on-year to 6148t.
Feedlot capacity
Since the feedlot sector reached its highest feeding capacity in March last year of 1.307 million head, there has been a general decline in capacity. By the June 2012 reporting period, capacity had declined by more than 40,000 head, although that figure in fact represented a small increase on the previous quarter.
There was no common trend in capacities last quarter. Some states were down, including Queensland (-17,900) and Victoria (-14,500), while others were up (NSW +5000, SA +4000, WA + 8000).
AusMeat, which manages the National Feedlot Accreditation Scheme on behalf of the grainfed industry, said the general decline in capacity could largely be accounted for by voluntary suspensions, where feedlots not in use can avoid their NFAS fees and audits.
During recent narrow margins in grainfeeding there had been a tendency for some smaller 'opportunity' feedlots, 0-1000 head in size, to mothball operations using the voluntary suspension option, with a view to reactivating when the sums improve. That trend had gained momentum towards the end of 2011, AusMeat said.
In Beef Central's opinion, this morning's release is a prime example of how a potentially useful piece of industry information can be made redundant by rapidly changing global market conditions. Under current release circumstances, the quarterly grainfed survey is of little more than historical value.