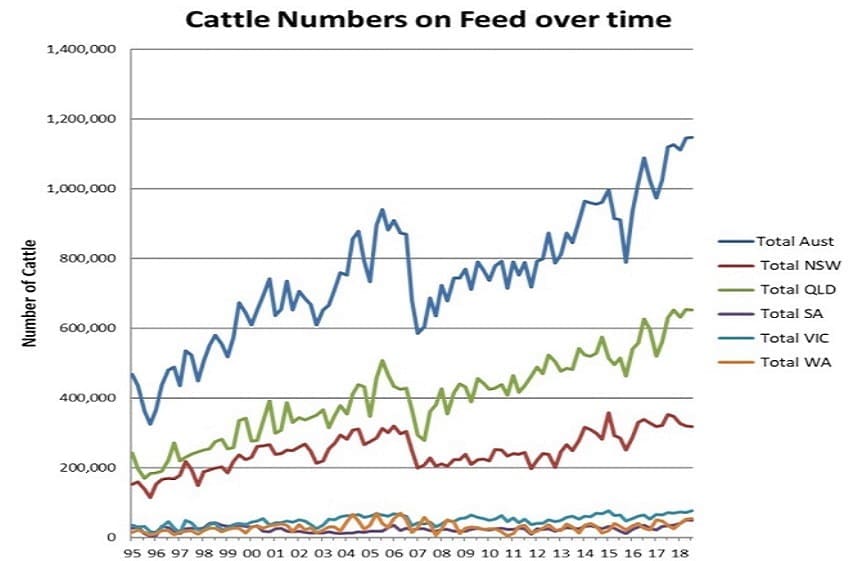 CATTLE on feed across Australia hit a new record high of more than 1.147 million head in the June quarterly feedlot survey results released this morning.
The reported figure of 1,147,393 head was about 1800 head higher than the previous record set in March, and almost 27,000 higher than this time last year, according to the quarterly survey conducted by the Australian Lot Feeders Association and Meat & Livestock Australia.
Queensland and NSW both showed modest decreases in numbers on feed – down 0.1pc and 0.7pc respectively – while numbers in Victoria lifted 8.5pc to 76,552 head and Western Australia rose 2.1pc to 53,454 head, compared to the March quarter (see table).
Capacity hits new record
Licensed feeding capacity also reached a new record high in the June quarter of 1.382 million head, up another 19,395 head from the previous quarter and more than 80,000 head or 6pc higher than this time last year. Most of the growth was represented by increased capacity at existing yards, records suggest.
The trend suggests strong investor confidence in feedlots and their ability to deliver consistent high-quality Australian beef to global customers, ALFA president Bryce Camm said.
Queensland accounted for almost all of the latest increase in feeding capacity, rising another 16,400 head to just short of 780,000 head. NSW and Victoria also produced small capacity increases, up another 3pc and 1pc since this time last year.
Overall feedlot utilisation remained high in June, at 83 percent.
Mr Camm said it was not unexpected to see cattle on feed numbers again reach record levels, given the prolonged poor conditions across cattle producing areas and the accelerated destocking rates seen during the reporting period.
"Cattle on feed has consistently been above one million head for the last 18 months, reflecting the important role feedlots play in managing climate variability and delivering high-quality beef to our global customers," Mr Camm said.
MLA's senior market analyst Adam Cheetham said despite ongoing challenging conditions combined with high supplementary feed costs, demand for high quality Australian grainfed cattle in export markets remained robust.
"Grainfed exports for the 2018-19 fiscal year totalled 311,986 tonnes (shipped weight), easily surpassing the record established in the 2017-18 fiscal year," Mr Cheetham said.
For the June quarter major volume gains were experienced into China, up 40pc, and Korea, up 9pc from year-ago levels.
This strong demand was reflected in the prices finished cattle received during the period with the Queensland 100-day grainfed steer over-the-hooks indicator improving by 10pc or 51¢/kg dressed weight year-on-year in the June quarter to average 572¢/kg, he said.
Source: ALFA