JBS Australia has confirmed it will re-open its mothballed Prime City feedlot near Griffith in southern NSW, after a two-year closure due to difficult grainfed trading conditions.
In what must be seen as a strong positive development for southern feeder cattle producers, feeder cattle will start to flow back into the 35,000 head facility this month, in a staged re-activation.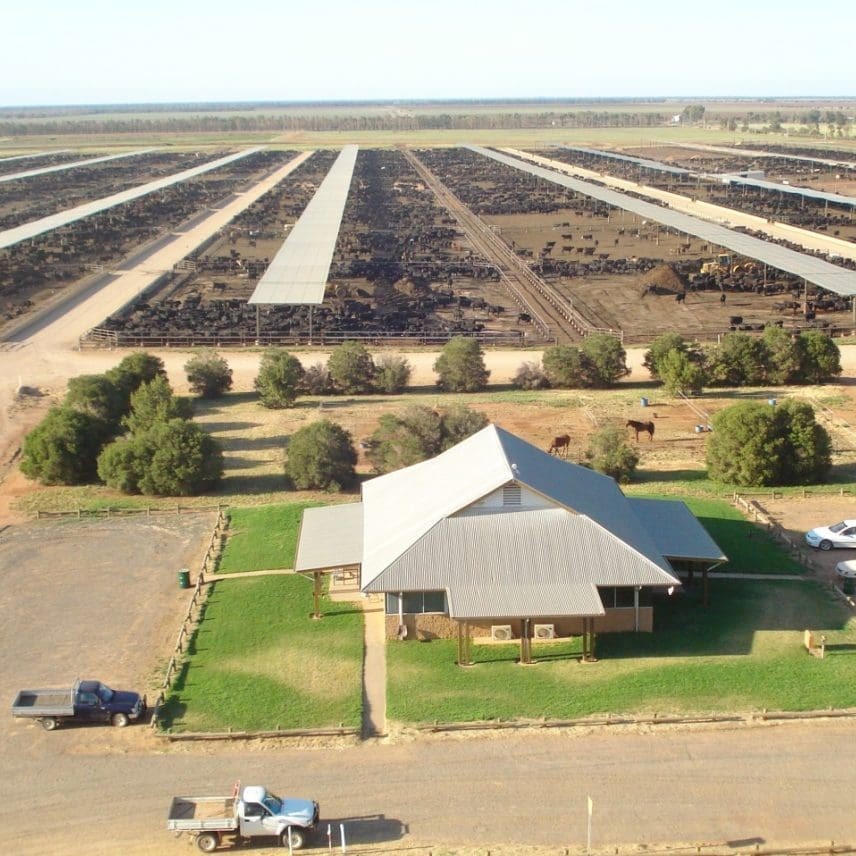 Prime City, along with another southern JBS feedlot facility, Yambinya, have been shut for two years, due to declining feeding profitability, unfavourable exchange rates in export markets, poor export market conditions generally, and two exceptionally good grass-growing seasons since 2011-12.
JBS Australia chief operating officer Anthony Pratt confirmed to Beef Central this morning that the company will be in the market for both domestic and export-weight feeder cattle, but said Prime City's re-opening would be a carefully-staged process.
"With the currency back at US90c or less, and stronger demand evident in world beef markets, we're now back in a viable position to make Prime City operate," he said.
"It's part of our long-term commitment to the grainfed business."
"The intention is to get the feedlot open, but it is much too early to tell whether it will be utilised at anything like capacity," Mr Pratt said.
"Obvious we do not want to open it and try to fill it overnight with 35,000 cattle. It will be a staged, measured and managed re-opening process."
Grainfed slaughter cattle from Prime City will be processed for JBS brand programs at the company's two dedicated grainfed plants at Riverina Beef near Yanco, or Beef City near Toowoomba.
From Beef Central's perspective, there are a number of apparent reasons behind JBS's decision:
JBS's other feedlot facilities at Beef City, Mungindi, Riverina and Caroona are already operating at or near capacity, leaving no room to simply feed more cattle within existing operating company facilities
JBS is currently doing some limited custom-feeding in the south, but those programs will likely now slowly migrate across to the re-opened Prime City facility. The company is known to have had around 4000-6000 head on feed at ICM Peechelba, for example.
While the re-opening is obviously not an 'opportunistic' play based on grain prices, it nevertheless remains a fact that there is a $70-$100/tonne difference in price between northern and southern feedgrain prices at present, due to the failure of the northern harvest.
Mr Pratt did not agree with Beef Central's assessment that re-activating Prime City might provide some 'insurance' against the prospect of grassfed slaughter cattle shortages later in the year.
"While that may appear a valid comment, this facility is being opened to supply our two dedicated grainfed plants, so there is no displacement between grass and grainfed," he said.
"It would destroy our cost-to-operate to try to push grassfed cattle through those facilities. This decision is really about specifically feeding those two grainfed plants."
A local recruitment process is now underway to appoint livestock, milling, admin and support staff for Prime City.
Mr Pratt said there were no plans, at this point, to re-activate the company's Yambinya feedlot near Deniliquin, also closed two years ago. Attempts to sell Yambinya are yet to produce a result.
The re-activation at Prime City is not expected to impact on JBS southern feedlot operations at Riverina (53,000 head) or Caroona (24,500 head), which will continue to operate near capacity, he said.
At the time of its closure back in April 2012, JBS described the Prime City decision as 'permanent', but said the property would not be put on the market.
Prime City is considered a showcase facility, having won five industry Feedlot of the Year titles since 1998. It was built to modern industry standards only in 1994-95 by former owner, Australia Meat Holdings.
The business holds a licence for 60,000 Standard Cattle Units, but is currently constructed for 35,000 head. JBS plans to continue to farm the 5200ha of arable country surrounding the feedlot, both irrigated and dryland.
As Beef Central's regular trading budget calculations show, there have been some savage losses recorded in grainfeeding cattle over the past two years.
Click here to access details about JBS southern livestock buyers.