INVESTMENT in additional backgrounding country and improvements in grain processing systems have paid off in terms of efficiency and performance for the 2017 Woolworths Red Meat Supplier of the Year, announced in Sydney last night.
New South Wales feedlot operators Darren and Lisa Frankel, who operate the 2800 head Frampton Flat feedyard at Tullibigeal, south of Condobolin in the state's central-west, were crowned 2017 award winners, from a strong field of Woolies livestock contract holders.
The Frankels travelled to Sydney for the Supplier of the Year awards, joining a group of 1100 Woolworths food and grocery product suppliers for a glittering ceremony at Darling Harbour.
They received the Pat Dempsey Memorial Trophy, launched two years ago in memory of the late Pat Dempsey, a senior figure in Woolworths' red meat supply chain for 25 years, who was much-respected across the Australian beef industry. The 2017 runner-up was lamb supply contract-holder, Riverina Livestock Agents.
"We were completely taken by surprise when we were announced as the winners," Mr Frankel told Beef Central, as he got off a plane in Wagga this morning.
Frampton Flat's 2017 MSA compliance rate on all cattle consigned was an impressive 98.5 percent, while compliance against Woolworths' carcase specifications was more than 97pc.
The Frankel family has been feeding cattle under contract for Woolworths for the past 34 years – virtually since the start of the company's modern dedicated supply chain project – and currently supplies 132 head of cattle each week to the Woolworths Tamworth processing site.
An additional B-double of 100-day steers is consigned to Teys Tamworth each week, giving total weekly turnover from the feedlot of around 190 head.
Woolworths national livestock manager Brett Thompson told the awards gathering last night that attention to detail, and consistency in compliance were the hallmarks that won the Frankels the 2017 supplier title.
"The entire team's commitment to sourcing quality cattle and delivering on compliance to carcase specifications this year has been outstanding," Mr Thompson said.
Changes drive improvement
Frampton Flat was a finalist in the Woolies supplier of the year awards three years ago, but substantial changes have been made to operations since then.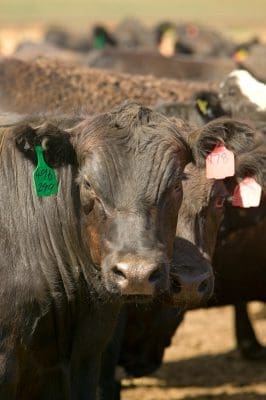 One of the big advances has been the purchase of more backgrounding country, allowing about 70pc of all cattle entering the yard to be pre-conditioned, socially assimilated and backgrounded first.
"We've always backgrounded a few cattle, but didn't have enough country until we bought a second block two years ago – and it has made a massive difference to the whole operation," Mr Frankel said.
"It means we no longer have to place saleyards cattle straight onto feed. Because of past performance issues, we just simply won't put saleyards cattle straight into the yard, but try to put them out into the paddock for a minimum of 40 days," he said.
With about 70pc of all bought feeders now receive a backgrounding program before entry, it was allowing Frampton Flat to 'ironing the kinks out' of the feeders before they enter the yard, removing any socialisation issues among new cattle, and improving feeding performance.
"We think that has an impact on later MSA grading performance," Mr Frankel said.
For a smaller capacity yard, Frampton Flat has well developed infrastructure, with bunk-feeding and a modern, well-designed layout.
Another big advance came two years ago when dry-rolling was replaced with a new tempering plant in grain processing, greatly improving grain utilisation, reducing dust and acidosis, and delivering other benefits.
Consultant nutritionist Bob Lee provided much of the advice in the tempering plant installation, linked to a new Wolf roller-mill, installed at the same time.
Around two-thirds of the yard's annual requirements for feedgrain is grown on-property, representing between 6000 and 7000 tonnes of barley each year, with the balance bought from other local growers.
The Frankels only breed a couple of hundred feeders themselves each year, being heavily reliant on bought feeders from surrounding districts. Most are British-breeds and their crosses, with an emphasis on Angus and black baldies, with some carrying Euro infusion.
The feedlot sources a lot of cattle direct from a core network of local breeders – some of which have been supplying the yard for decades – with some topping up out of saleyards. Annual turnover is around 10,000 head.
"Doing a lot of small things well"
"It's about doing a lot of small things well," was Mr Frankel's assessment of how Frampton Flat topped this year's Woolies supplier results.
"And I think that has a lot to do with staff. Our main man at the feedlot has been with us for 22 years, and he knows the operations inside out. He's the same bloke that does the bunk reading, the drafting, and the rest. As a lotfeeder, you're only as good as your staff, and the quality of the cattle you buy," he said.
"A lot of people tend to make feeding cattle too difficult. In my opinion it's pretty simple and straightforward – just don't try to complicate it too much, and the rest tends to fall into place."