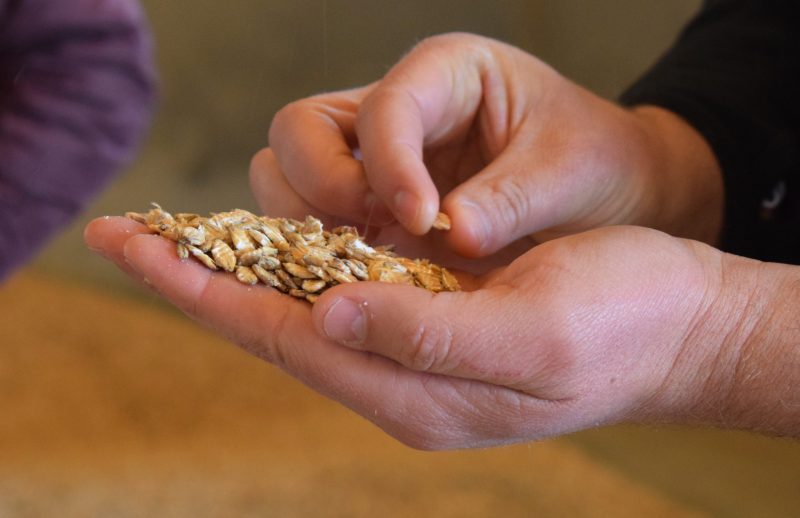 THE winter grain harvest has once again been plagued by consistent wet weather and flooding, with high yields and plenty of downgrades reported across large areas.
By all reports, most lotfeeders have managed to stock up their grain inventories after logistical problems caused by flooding raised some serious concerns about them running out of supply earlier this year.
The quality of the grain coming out of flooded areas in New South Wales and Victoria is a little less clear, with harvesters struggling to get onto saturated paddocks.
Nonetheless, ABARES is forecasting a record wheat harvest of 36.6 million tonnes this year – a one percent increase on last year's record. Barley is expected to reach its fourth biggest crop of 13.4 million tonnes and Canola to reach a new record of 7.3 million tonnes.
Graincorp says the Queensland harvest is mostly complete with 10 receival sites receiving records. Rainfall is still slowing the NSW harvest.
Alliance Grains trader Luke Walker said with big harvests across the country there will plenty of options for lotfeeders this year.
"Prices currently delivered into Downs Feedlot for SFW1 wheat $400 and barley is trading at similar numbers," Mr Walker said.
"Export demand for our SFW wheat has been solid out of all our Ports on the Eastern Coast – Gladstone in CQ, Brisbane and Newcastle. SFW has been going out in boxes for export into Asia this has meant the lotfeeders have had to compete with Exporters and pay parity to export values.
"There is a lot of Australian Standard Wheat (ASW), which is a low protein milling wheat and I think a lot of feedlots will use that. Right through Central Qld there is a lot of Stockfeed Wheat (SFW) which doesn't have a lot of markets. But they will export out of CQ, probably only 10 to 20pc of that will be SFW."
Mr Walker said while the quality of the grain in flooded areas of NSW and Victoria was still unclear as harvest rolls south, plenty of downgraded wheat was likely to end up in feedlots.
"Plenty of milling wheat has been harvested, as high as 70 percent has been APW. We have seen higher values for this quality wheat, delivered Downs – as an option it would be $50 over SFW values, so $450 delivered."
Prices to steady
Mr Walker said he did not believe grain prices were likely to rise in the New Year, with abundant supply coming from most states.
"Some people are pretty confident the wheat market is going to come up, but I'm not quite as bullish about it," he said.
"It might keep going up until the Christmas period and into the first couple of weeks of January because it always does at this time of year.
All signs are pointing towards another big sorghum crop in Northern NSW and Qld, which Mr Walker said was likely to add to the supply.
"The sorghum crops will start to come off in the middle of January and we are looking to grow about 3 million tonnes of sorghum this year.  We will have a fair bit of everything to export, with the sorghum, cotton seed and wheat," he said.
"Unless China comes in and starts hooking into our supply and we start exporting everything – I think the market softens."
High quality grain still available
Southern NSW-based vet and nutritionist Paul Cusack said he was confident there will be enough high-quality grain to satisfy requirements.
"I'm not overly concerned at this point, I think there will be enough around and the international market will likely determine our prices," Dr Cusack said.
"If you head out west, the crops were fairly well advanced so there will be some downgrades there. But if you go to Cowra and head south, the crops weren't advanced enough to have quality issues. There are also some areas where the crop has been taken out altogether.
"Anyone with a decent forward contract on cotton seed is putting as much of it in as possible."
Dr Cusack said he was not sure about the price differential between the downgraded grain and high-quality grain.
"We generally just don't use the low-quality grain. The only situation where we are forced into that is integrated farming and lotfeeding systems where they are largely obliged to use their own grain," he said.
"I'm not aware of the price difference, just the performance cost. We had a situation at some sights this year where we couldn't actually get grain and we had to use whatever was on stock and some of that was pretty ordinary and it had a negative impact on performance."
Protein problems in roughages
Dr Cusack said a shortage of good quality hay and roughage was the bigger issue facing feedlot rations, which were likely to increase grain inclusions.
"As soon as you get weathering on hay it has a substantial effect on the protein level of the hay," he said.
"We are going into a period of dry weather where there is some good quality lucerne but the window has been missed for cereals. There will probably more straw used as well. All of those lower protein roughages will push up grain inclusions.
"People will probably have to look at more summer roughage sources, like millet or even forage sorghums."