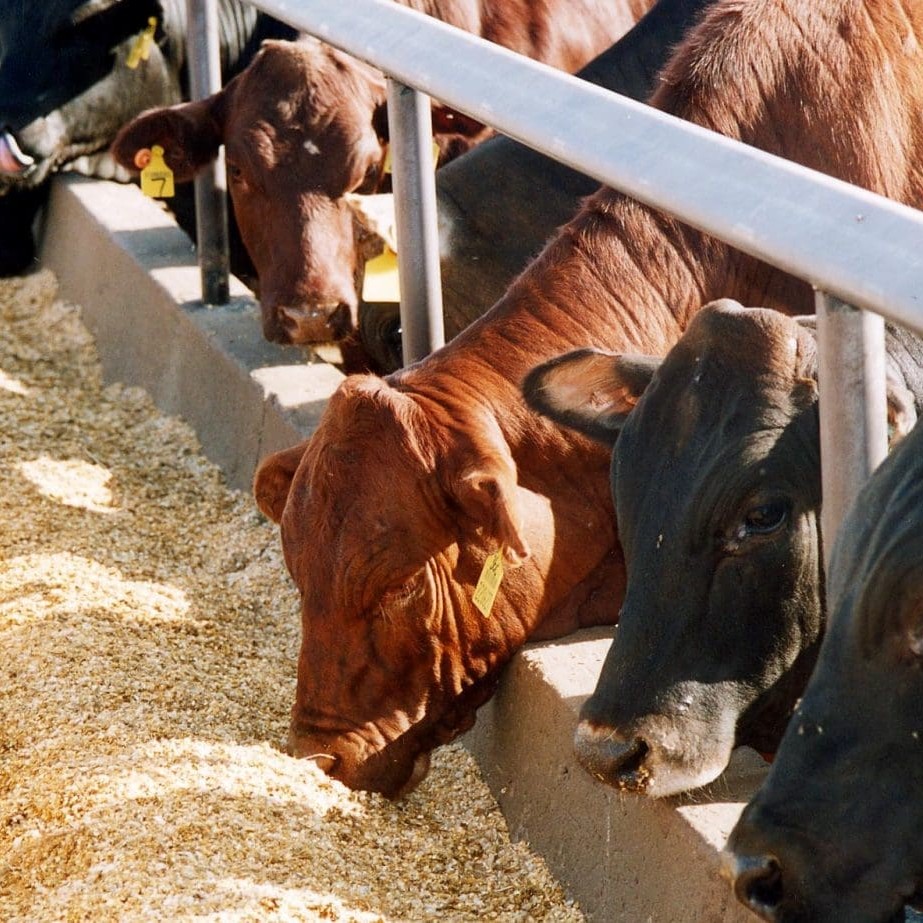 A sharp jump in feed costs has pushed feedlot profitability further into the red in Beef Central's final fortnightly breakeven calculation for 2012, based on typical 100-day grainfed cattle.
The highest finished ration price for the year, plus a softening in exit slaughter price have pushed the latest grainfed trading budget – for flatback steers entering the feedlot yesterday and closing-out after 105 days on feed in April week one – out to a $70 loss proposition.
That's a big deterioration from our last budget calculated back on November 29, which projected a loss of $38 a head.
The result continues a recent deterioration compared with a positive $5 trade seven weeks ago and +$21 projected profit back in mid-October.
For yesterday's trading budget, the prescribed flatback feeder steer buy price ex Darling Downs stayed the same as three weeks ago at 185c/kg.
While there has been less cattle offered to the market recently as Christmas draws closer, feeder steers fitting our spec have been changing hands recently between 175c/kg and 185c/kg, with discounts being more prevalent than normal for cattle slightly out of spec.
Current feeder steer prices for all descriptions remain delicately poised, however, and much will depend on weather patterns in the early stages of 2013.
Yesterday's breakeven steer value apportioned at 185c/kg prices him at $831, back $23 on a month ago, and $135 less than what he was worth back in January – the high-point for the year for feeder price of $967.
Ration price for this week's trading budget have been adjusted upwards by another $10/tonne to $300/t. That's on top of another $5/t rise three weeks ago, and takes the finished ration price to its highest point since Beef Central started to report this data-set in May, 2011.
The market quote for finished ration in Darling Downs feedlots at present is widely spread, from $290 to $320+. Any feedlot that is 100 percent market-to-market and does not have a lot of by-product in their ration is currently under pressure, price-wise.
Beef Central's regular feedgrain columnist, Luke Walker, Robinson Grain Trading, confirmed that export grain contracts were still very strong, and grain access for lotfeeders was not ideal.
One factor driving prices up was that growers, as often happens, had sold some grain over harvest, when the header was in the paddock.
"They sell a bit, get some cash-flow in, and then sit on the rest. Many growers in NSW are now saying, it looks like I'm not going to get a sorghum crop, and this (wheat) is my hedge. Ring me in March or June. There's some big tonnes getting carried," Mr Walker said.
"That's pushing prices up, and all the lotfeeders in the last three weeks are saying, 'we haven't been getting the calls from growers like we normally do', and they have had to start chasing grain."
Barley, also, is increasingly scarce. Mr Walker quoted wheat ex Downs this week at $288/t, barley much the same, perhaps a dollar cheaper. New crop sorghum was currently about $245/t, and only likely to rise without rain.
"It's a pretty weird grain market right now," he said. "The USDA recently increased its forecast for Australian harvest by a million tonnes, to 22 million tonnes," he said.
"That was a surprise, and wheat and corn futures have been a little softer recently. But most people say the winter crop will not be anything like 22mt. The yields were back and there was a very dry finish."
He said the Liverpool Plains had still only planted 30pc of its sorghum crop due to the dry conditions – very rare in an area that is normally assured of summer planting rain.
"They still have time, but need rain next week, really, to get a crop in. It's crunch time. Many people are getting nervous, because the weather forecasts keep moving, in the wrong direction."
"While the inner Darling Downs has a sorghum crop that looks pretty good, there is nothing further west, and very little over the border into NSW. Sorghum's had a crazy ride – two weeks ago with the heatwave it was $276 at port, falling to $254 last week, but higher again this week."
Numbers on feed also lifts grain demand
Another factor in current grain price movement is from the demand side, with many Downs feedlots now at or close to feeding capacity due to the effects of prolonged dry weather across NSW and Queensland. This has meant many feedgrain buyers have had to be more bullish in their buying strategies, which has probably assisted the market trend.
The current ration price represents a total feeding cost in yesterday's trading budget over 105 days of $470 on our trading steer, up $16 from a fortnight ago. Total production cost is calculated at $1394, again, up $16 on late November feeding budget figure, due to higher ration price.
Cost of gain, using our chosen variables (2kg/day ADG, for 210kg gain over 105 days) has shot up from 216c/kg in late November to 224c/kg yesterday, in line with higher ration price. This time last year, the cost-of-gain was 187c/kg on a 250/t ration price, about $50/t or 20pc lower than yesterday's figure. Feeders back a year ago were worth 215c/kg, however.
All the above variables deliver a breakeven yesterday of 395c/kg dressed weight on a 100-day feeding exercise, up from 391c/kg three weeks ago, due entirely to ration price.
Current public grid prices from Southeast Queensland processors for April week 1, next year, are around 375c/kg, down 5c, representing a trading loss on the current proposition of minus-$70.
At least part of the explanation behind that has been the huge increase in numbers on feed in Darling Downs feedlots experienced over the past six weeks, driven by dry conditions, and without respect for market prices. Anecdotal evidence gathered by Beef Central suggests that practically every downs feedlot offering custom-feeding options is currently operating at capacity.
That has meant the meatworks bid side has been able to reduce rates, in the knowledge that there is a potential over-supply emerging in grainfed cattle in the early stages next year.
The curious thing is that feedlot numbers have almost defied logic: the big recent intake has happened despite grain prices heading upwards, and slaughter cattle prices trending downwards. As recently as August/September, the finished cattle price was still in the 390s. Weather has over-ridden all that, however.
While reports suggest the export meat market has actually improved lately, the slide in value of grainfed cattle is being driven squarely by supply-side factors.
Much will depend now on the arrival of summer rain between now and February. If there are good widespread falls across Eastern Australia in that time, feedlot placements could cease, virtually overnight. If it stays dry, however, feedlots will remain active, regardless of the profit forecast.
Looking back at the 2012 year for lotfeeding generally, it was not that dissimilar to the two years previous years in terms of challenges – particularly during the first six months on the back of the strong grass-growing season experienced across much of eastern Australia.
Over the past four to six months, increasing grain prices and the extraordinarily dry conditions centred on NSW have had an impact on lotfeeding patterns. For large areas of NSW's grazing country to completely miss a Spring break – even a late one – is almost without precedent, and put enormous pressure on indicators like the EYCI.
Beef Central's regular 100-day grainfed breakeven scenario is based on a representative standard set of production variables, ex Darling Downs. They include a 356kg dressed weight; ADG of 2kg; consumption 15kg and a NFE ratio of 7.5:1 (as fed); $25 freight; typical implant program. Bank interest is included. It is important to note that variations exist across production models (feed conversion, daily gain, mortality, morbidity, carcase specification); from feedlot to feedlot; and between mobs of cattle. For a more specific performance forecast on a given mob of cattle, consult with your preferred custom feeder.