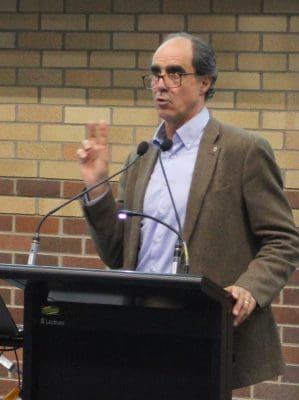 The cattle we feed today are radically different than they were 30 years ago, now gaining about 75kg more in liveweight at the same age  than in the mid-1980s.
That rate of change is only going to accelerate with the help of more powerful genomic tools now available, UNE director of animal genetics Dr Rob Banks told the 2017 ALFA SmartBeef conference in Armidale.
There are things feedlots can be doing right now to improve their profitability, just by making smarter choices about the genetics of the cattle they are feeding, Dr Banks said.
Within any group of cattle on feed, the dollar value of the differences in genetics is significant.
Using the example of cattle being fed for 100 days to 300kg carcase weight on the current market, the financial difference between the cattle with the top performing genetics on key traits – growth rate, carcase weight and marble score, and those with the lowest performing genetics, is in the order of $350 per head.
"Now that sort of range will be out there in almost all groups of cattle people are feeding, simply because we know the genetic variation that exists for those traits," Dr Banks told the conference.
"The key point is there are genetic differences in the cattle you are feeding and they are worth a lot more money."
One response feedlots can take to this knowledge is to work to lift the overall genetic performance of everything they are feeding.
Lifting the average of the group in the example above to the average of the second highest-performing quartile in the same group would deliver an additional profit of $13 per head.

Feedlots can do this by getting suppliers to use bulls in the top quartile of their breed's index, instead of around the index average.
Another strategy is get suppliers to use bulls that are above breed average for carcase weight, marbling and feed efficiency.
But to activate that shift, feedlots had to give suppliers an adequate price signal.
Another response is to remove the bottom quartile in the mob, the poorest genetic performers or the "loss-making machines" that are not making anyone any money.
The way to do that is to either screen them using a genomics test when they arrive at the feedlot, or, ideally, to have had the producer screen them before they left the farm.
How to do a genomic test?
These tools are becoming much, much more powerful, Dr Banks told the conference, as BreedPlan systems for all major breeds switch over to the "single step" genomic method of DNA analysis.
A simple hair sample is all that is required to get the genotype of any animal at any age from a lab.
"Submit it to the breed association, and you can get the EBVs for that animal," Dr Banks said.
"It doesn't have to be a bull, a heifer or a stud breeder. It could be a weaner calf, or cattle in a backgrounding operation."
Within a few years Dr Banks believes EBVs will also be available for other important traits such as temperament, immunity to diseases and coat-carrying characteristics (whether they carry dags or not).
"All of these traits can be assessed genomically, if the data is there to back the EBVs," Dr Banks said.
"And I would be pretty confident that as we move forward for the next few years, you are going to be seeing cattle with EBVs for all those sorts of traits, and you are going to be able to screen feeder cattle for them."
Next phase of genetic gain will be much, much faster
There have been substantial improvements in the genetic performance of Australian cattle in the past 30 years.
Charts showing genetic trends, using the Angus breed as an example, show that cattle are genetically growing faster, to the tune of about 75kg of additional liveweight now at the same age (or 30-35kg carcase weight) than in 1985.
Marbling has also increased over that time, as has feed conversion efficiency.
"The cattle we feed today are radically different to what they were 30 years ago," Dr Banks said.
"I am pretty confident that sort of change is going to happen again, but much, much quicker."
That change depends on having good data, and the extent to which cattle suppliers, lot feeders and processors are able to collaborate to form performance-data collecting and sharing relationships.
"I think we're increasingly likely to see operators in the feedlot sector entering into relationships with breeders to be collecting really high quality performance data, that means you know where the cattle came from, how old they were when they came on the place, how heavy they were etc.
"Really good structured data is invaluable to help us evaluate the cattle both in the breeding sector, but also to evaluate the animals you are bringing on feed."
Sending the right price signals back to producers, and through them to stud breeders, was also vitally important.
"The better the signal you send in your contacts, in your trading, the faster you will get better cattle to feed," Dr Banks said.
"Some breeds are already getting into the relationship to work more closely with people in the feedlot to really understand those signals better.
"But the way you buy cattle now determines the sort of cattle you will be getting five, 10, 15 years out.
"If you just pay a fair average price for everything, you will get fair, average cattle in the future, and believe me, you won't be getting rid of the low profit ones."
Dr Banks believes that within two to three years, there won't be many cattle arriving at feedlots in Australia that have not been pre-screened via genomic tests to assess their suitability to being put on expensive feeding programs.
"Genomics is really going to change that opportunity for you, there is real scope for making a difference to the profitability of the chain.
"If we can get rid of those cattle, sell them off to lower markets and not put so much resources into them, the whole chain is benefitting and becoming more efficient.
"I think we're in a very strong position but it is getting rapidly faster in terms of the capacity to be breeding the right cattle and to pick the right cattle to put on feed."