IT'S been almost 18 months since we last saw it, but profitability has returned in Beef Central's latest 100-day grainfed trading budget, calculated today.
While feeder steer price has continued to rise since our last trading budget calculation five weeks ago, a solid rise in finished grainfed cattle price, combined with the easing trend in grain and ration prices, has pushed the result solidly back towards the right side of the ledger.
For the record, as outlined in detail below, the forecast on our typical flatback feeder steer entering the feedlot today and closing-out after 105 days in early-February next year, has produced a profit of $3.50. Modest, granted, but a profit nonetheless.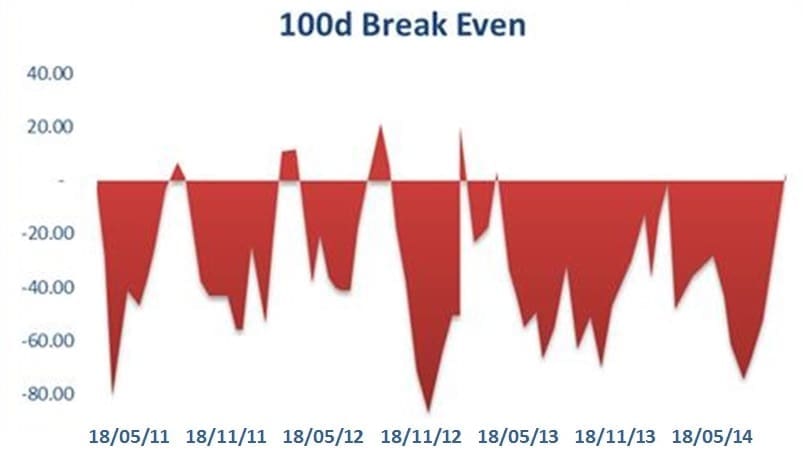 As can be seen in this graph, plotting our 100-day breakeven results since we started this data-set back in May 2011, there hasn't been a lot of traffic above the zero/breakeven line in the past three and a half years.
The last time we saw a profitable trade was in May last year, when feeders were worth just 150c/kg, with forward finished cattle price at 350c/kg. It went close again in March this year when feeders again fell away in value, prior to rain.
The results are based on our standard, chosen set of variables (see full list at base of page). The latest result represents a fairly emphatic $55 turnaround in fortunes from our previous trading budget calculated back on September 12.
Feeders up 10c/kg
In line with the general shortage of quality heavy feeders now being experienced in the market due to the seasonal circumstances, we've applied a feeder steer buy-price in today's budget of 220c/kg for our flatback 450kg feeder animal.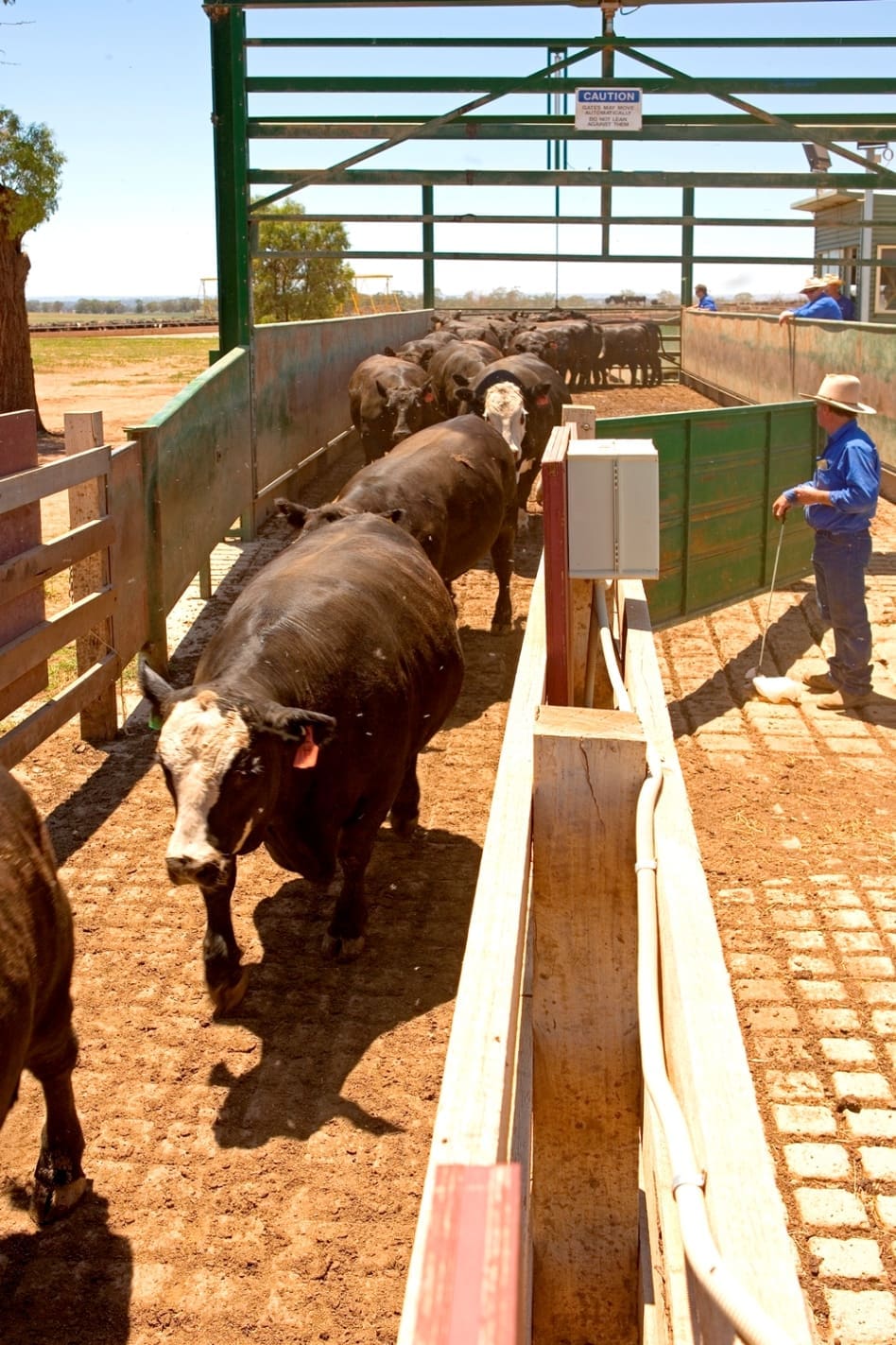 That's up 10c/kg from last time, and sets a new record since this report started back in 2011. The previous high point was 215c/kg, recorded back in January 2012, when it hadn't forgotten how to rain. Our quoted ration price back then was only $250/t, though, and breakeven only 412c/kg.
Today's 450kg steer at 220c/kg gives him a unit value of $990, up $45 on the previous September 12 trading budget calculation. The low-point in feeder steer price in this report series came in May last year when it hit 150c/kg briefly, meaning the purchase price has risen $315 a head since.
Feeder prices have been trending upwards throughout this year, save for a brief setback in March when dry conditions pushed more cattle to market, before late March rain arrived. Feeders have moved from 175c in March to 220c today, a 25pc rise in a year when conditions have gradually gotten worse.
Top Downs saleyard cattle last week fitting our description +380kg were making 225c/kg in places, valuing them at around 230c/kg landed in the feedlot in some cases. But others were in the 210c range.
Despite the growing challenge in finding good heavy feeders, as evidenced by the year-long price trend, downs feedlots remain near full. More backgrounder type cattle are currently making around 190-195c, while the true feeder description is 20-25c above that.
Given the pronounced shortage of heavy feeders that lies ahead, the recent easing in the A$ value, continued extraordinary US beef demand and other factors, Beef Central still sees big upside for feeder steer prices in coming months and into next year. Supply, rather than price, will inevitably be the limiting factor on feeders next year, it seems.
Ration prices ease further
For today's budget, we've lowered our typical ration price, ex Darling Downs custom-feedlot, another $20/tonne, taking the figure back to $350/t. That's now a fair way from its recent peak of $385/t.
There's still fair variation evident between feedlots, based on ration formulation, grain processing systems and other variables. Some lots may still be working through grain bought earlier, at considerably higher prices, while others are already into new season grain.
While global grain price trends suggest there is still a fair bit of downside in ration price ahead, depending on weather in Australian growing areas and domestic grain demand, if it stays high, it could hold prices up.
Toowoomba grain trader and Beef Central columnist Luke Walker reported sorghum ex Downs yesterday out of the play at $315/kg, up from around $285 a month ago, due to shortage and export activity. In the cereals, current harvest downs wheat yesterday was at $298, down from $318 delivered a month ago (old crop), with barley currently at $275.
In a 'back-of-an-envelope' calculation done recently, Robinson Grains concluded that 90,000-plus tonnes of grain had flowed onto the Darling Downs in September, going into the local stockfeed market. Pretty much all of that was coming from south of the border, principally below Dubbo.
As the trading sums on lotfeeding have improved recently – as demonstrated in this week's breakeven – Robinson Grains has field inquiries from a number of smaller operators with feedlot infrastructure who have not been active for some time, but who are now either in the process of, or already re-activating.
At the assigned ration price $350/t in today's trading budget, it represents a total feeding cost over a typical 105-day program of $548, back $31 on our previous calculation.
That delivers a total production cost (steer price plus custom feeding price, freight, interest, contingency, levy and induction costs) of $1637/head, up $15 on last time, and another record for this series.
Cost of gain, using our chosen variables (2kg/day ADG, for 210kg gain over 105 days) now sits at 261c/kg, back 15c/kg on the previous budget due to ration price adjustment.
All that delivers a breakeven on today's budget of 464c/kg, up 4c/kg on last time, and again, the highest figure Beef Central's regular report has ever recorded.
Forward pricing for GF ox hits 465c
Based on Southeast Queensland direct consignment processor quotes provided today, our forward price for 100-day flatbacks going on feed now and closing-out in February 4 next year, is at a record 465c/kg. That's up 20c/kg on our previous mid-September breakeven figure. It's easily the highest grainfed ox price we've seen since Beef Central started this analysis series back in 2011.
All that delivers a trading budget profit of exactly 1c/kg, or $3.55, just falling over the line in delivering a 'profit' in real terms. It represents a sharp turnaround from our previous September 12 budget, when the loss was still minus $52/head.
Two different views appear to be present about future finished cattle pricing. One is that if suppliers are willing to commit cattle at those levels, then the market has ample capacity to pay.
The current forward price level for finished grainfed ox at 465c/kg is still only 15-20pc above longer-term historic levels, while any world beef price chart will clearly show rises of 35-50pc for many export beef segments above long-term averages.
The motivator for processors is in seeking to secure a reliable kill early next year, after 18 months of frenetic slaughter activity. Additionally, processors feel safe in the knowledge that current high international beef demand is unlikely to change any time soon, providing some insurance for forward pricing at levels currently being seen. Additionally, expectations are that the A$ value is likely to stay at, or around its current level in the US87s, and is unlikely to push back up into the 90s any time soon, boosting competitiveness of Australian exports.
Another factor is the point that often, the cattle market can take some weeks to discover its new level in the first few weeks' kill in the new year, after a fortnight or three weeks' holiday break.
Additionally, if there is any rain in coming months, 100-day ox may start to get scarce as lotfeeding activity declines somewhat, especially for uncommitted cattle.
Earlier purchase comparisons
Looking back at 100-day cattle that went on feed back in late July, for slaughter this week, their breakeven or forward sale position was around 425c/kg, whereas the spot market for 100-day ox today is anywhere from 430c to 450c/kg.
That means processors buying those cattle forward back in July would be anywhere from $18 to $89 a head better-off than buying the same cattle out of the spot market yesterday.
If Eastern Australia does finally receive widespread beneficial rain in the run through to Christmas, there will inevitably be a sharp check in numbers going onto feed, especially for uncommitted cattle. Then, the numbers come back to the relationship between cost-of-gain in the feedlot, and the cost of cattle.
Beef Central's regular 100-day grainfed breakeven scenario is based on a standard set of representative production variables, ex Darling Downs. It is built on a feeder steer of 450kg liveweight, fed 105 days; 356kg dressed weight at slaughter; ADG of 2kg; consumption 15kg/day and a NFE ratio of 7.5:1 (as fed); $25 freight; typical implant program. Bank interest is included. It is important to note that variations exist across production models (feed conversion, daily gain, mortality, morbidity, carcase specification); from feedlot to feedlot; and between mobs of cattle. For a more specific performance assessment on a given mob of cattle, consult with your preferred custom feeder.