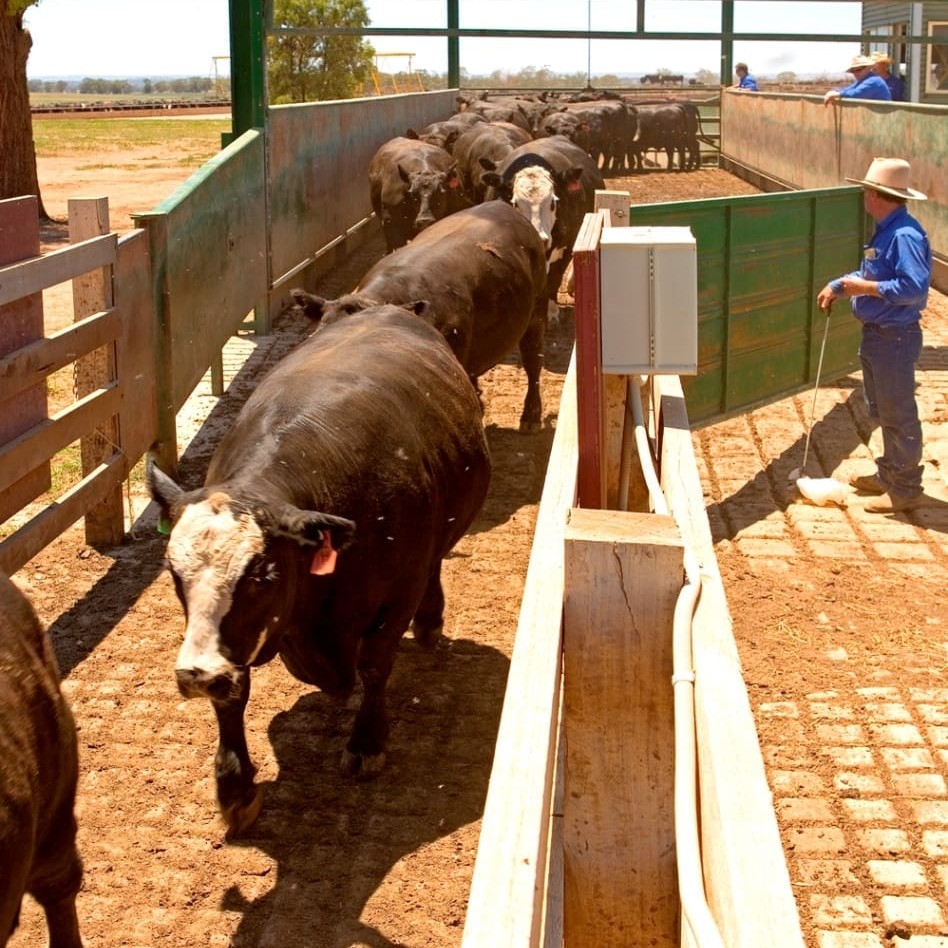 While still in negative territory, prospects for lotfeeding 100-day grainfed cattle improved significantly in Beef Central's latest trading budget calculated this morning.
Using our standard set of variables (see criteria at bottom of page), our latest breakeven produced a trading loss of minus-$23 on flatback steers going on feed today, and closing-out after 105 days on July 18.
That's still in the red, but much improved from a loss of minus-$50 in our previous budget calculated back on March 8.
The reason is some favourable shifts (from the trading budget's perspective) in feeder steer price and ration price.
For today's regular trading budget, the feeder steer buy price ex Darling Downs has been lowered to 165c/kg, on the basis of continued dry conditions in western areas of NSW, Victoria and Queensland.
That's back 10c/kg on our last calculation on March 8. Another factor in the softer feeder price is the expansion in custom-feeding and retained ownership activity, occupying more feedlot pen space and meaning that lotfeeders themselves are less active in sourcing feeders than they otherwise might be.
The reduction in c/kg price values today's 450kg flatback feeder steer at $740, back $47 on a month ago, and $143 less than what he was worth a year ago when he was quoted at 197c/kg.
That's a 16pc drop in feeder steer value on 12 months ago, a little less than the EYCI figure's performance, which has declined 20pc over the same period.
Ration price for yesterday's trading budget has been lowered $10/tonne from a month ago to $295/t. There was still some variance in finished ration prices evident among downs feedlots yesterday, however, with quotes from the low $280s to $310/t.
A point worth noting, however, is the large variation in corn prices in the US in the past week, which at some point will inevitably be reflected in feedlot ration pricing in Australia.
The ration price of $295/t attributed in today's budget represents a total feeding cost over 105 days of $462 on our trading steer, back $8 on last time. Total production cost is calculated at $1293, down $62 on March 8, due to softer feeder and ration prices.
Cost of gain, using our chosen variables (2kg/day ADG, for 210kg gain over 105 days) is down a little to 220c/kg from 228c/kg a month ago. That translates into $4.40/head/day.
This time last year, the cost-of-gain was 183c/kg on a $245/t ration price, about $50/t or 18pc lower than today's figure. Feeders back a year ago were worth 197c/kg, however.
The variables outlined above deliver a breakeven figure in today's budget of 367c/kg – a hefty 17c/kg drop on our last figure (384c/kg) delivered back on March 8, and an even bigger 33c/kg drop on a breakeven figure of 400c/kg calculated in mid-January.
Current forward public grid prices for 100-day ox from Southeast Queensland processors for July, week three, are around 360c, although little business is likely to done at that level.
The 360c/kg figure is the lowest forward price for 100-day ox seen in this report since August, 2011, and reflects over-production of grainfed cattle into the traditional shortfed market, largely due to the large numbers of drought-impacted cattle going on feed towards the end of last year.
All that suggests a trading loss on Beef Central's regular variables today of minus-$23.
One note of caution, however: recent feedlot cattle performance has been well below par, because of the recent wet weather sequence (most Darling Downs and South Burnett district feedlots were far enough east to fall into the recent rain footprint), slowing daily gain and consumption figures. Big fluctuations in temperature have not helped feedlot performance, either.
If it stays dry for a period now, and temperatures stabilise a little, that performance should lift substantially, however.
30c/kg advantage in earlier forward contracts
Looking back at 100-day cattle that went on feed in late December at forward-contract meatworks rates of 375c/kg, if locked in at those rates, those cattle stack-up well compared with current spot rates for 100-day slaughter ex southern Queensland of 345c-360c/kg.
At a 30c/kg difference, that values those forward committed cattle at $100 a head better than the lower end of the current spot market.
Compared with their breakeven figure at the time of 395c, spot cattle sold today at 345c would be a massive 50c/kg worse off, costing around $180 a head on a 356kg carcase.
A story for another day on Beef Central is some of the sizeable losses currently being sustained by feedlot cattle backgrounders under the current market conditions, which is further contributing to a degree of weakness in the market.
Beef Central's regular 100-day grainfed breakeven scenario is based on a representative standard set of production variables, ex Darling Downs. They include a 450kg liveweight feeder steer fed 105 days; 356kg dressed weight at slaughter; ADG of 2kg; consumption 15kg/day and a NFE ratio of 7.5:1 (as fed); $25 freight; typical implant program. Bank interest is included. It is important to note that variations exist across production models (feed conversion, daily gain, mortality, morbidity, carcase specification); from feedlot to feedlot; and between mobs of cattle. For a more specific performance forecast on a given mob of cattle, consult with your preferred custom feeder.