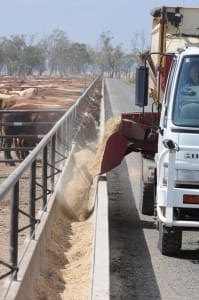 THERE was a modest improvement in results in Beef Central's latest grainfed trading budget compiled this morning, with the outcome moving to within $28 of breakeven, after a lengthy period trading in the red.
Some signs of easing in feedgrain price is the main reason, with other variables little changed since our last breakeven and budget calculation back on May 7.
Using our standard set of variables (see full list at base of page) this morning's calculation, based on an export weight flatback feeder steer entering a Darling Downs feedlot today, and closing out after 105 days in the last week of September, has produced an $8 financial improvement since our last calculation five weeks ago.
Our reporting sequence has been interrupted a little by Beef Central's recent website upgrade, but we will get back into our customary fortnight cycle again from now on.
For today's budget, we've kept our feeder steer price ex Darling Downs at 190c/kg liveweight, unchanged from early May.
There appears to be reasonably stable balance between feeder supply and demand at the moment. Certainly there is good demand out in front for grainfed cattle, but equally, with the season as it's been, there isn't an oversupply of export-weight feeder-ready cattle, +380kg.
Even in the domestic feeders 320-380kg category, supply and demand is reasonably balanced, but below 320kg, with the season that's been experience this year, those cattle are copping a discount in price, relative to heavier types.
Better, British-oriented supermarket type feeder cattle are still making 195-205c/kg, while heavier siblings 400-450kg are more like 185-200c/kg currently. Angus types for export programs are more like 210-230c, depending on location.
Worth noting though, some customers have changed their bottom weights in grids to accommodate the recent seasonal impact, and a number of large processors have also reviewed weight categories to better accommodate lighter cattle.
During the past five weeks since our last breakeven, feeder pricing did back-off a little, falling to around 180c for a period, post Easter, due to the big flow of cattle, but the market has since recovered that lost ground.
Pricing today's feeder steer at 190c values him at $855, up about $23 on prices seen a couple of months ago. It's still a fair gap from the record-low 150c/kg liveweight we saw during the depths of the drought in our budget back in June last year, however, when the steer was worth only $675.
Ration price eases off recent record
The first signs of relief from recent record finished ration prices is starting to appear, with the ration price allocated to our latest grainfed budget today easing $5/t since early May, at $380/t.
Beef Central's regular feedgrains commentator, Luke Walker, from Robinson Grains in Toowoomba, tells us wheat this week, delivered Downs, is making $355/t (down from $375/t only a fortnight ago), while sorghum has dropped from $315 to $290 over the same period.
More of that pricing effect is likely to be seen in our next budget in a fortnight's time, on the back of the southern rain, and the forecast for additional rain further north. Grain price adjustment is not yet all that clearly reflected into feedlots' ration pricing, though – partly due to the fact that most feedlots offering custom-feeding services are again running at near capacity, reducing the 'competitive element' a little in their pricing. Custom-feed customers, take note.
Our latest budget's ration price remains just $5/t shy of our all-time record high of $385/t recorded in May, based on data collected back to May 2011.
The current ration price represents a total feeding cost over a 105-day program of $595, back $8 on our previous calculation, and $63/head more than mid-December's rates. The softer ration price means the total production cost (steer price plus custom feeding price, freight, interest, contingency, levy and induction costs) has softened just a little, reaching $1533, down $20 on a month or so ago.
Cost of gain, using our chosen variables (2kg/day ADG, for 210kg gain over 105 days) now sits at a record 284c/kg, back 3c/kg on last time. Essentially, that means every kilogram of bodyweight gained in the feedlot is costing 50 percent more than the kilos 'bought' as a feeder.
Ideally, that means that the owner wants his feeder steer to be 'as heavy as possible' at entry, to close out as close to 100 days as possible, to avoid comparative loss. Of course, as described above in our commentary about feeders and the impact the season has had on weights, those cattle are very hard to come by. Therein lies the dilemma, and a topic for further discussion on Beef Central.
Breakeven still close to record high
The easing grain and ration price means the breakeven on today's budget sits at 438c/kg, still within 2c of our record number set last time (440c/kg).
The last time the breakeven got remotely close to current figures was back in November when feeder prices got to 190c/kg briefly, and in early 2012, when it got to 412c during a period when feeders shot up to 215c/kg.
 Forward pricing unchanged at 430c/kg
Based on Southeast Queensland direct consignment processor quotes provided yesterday, the forward price for 100-day flatbacks going on feed now and closing-out on September 25, remains unchanged at 430c/kg. That's equal to the record high set a month ago for grainfed ox, the highest seen since Beef Central started this analysis series back in May, 2011.
Part of that is driven by some additional processors entering the forward market for the first time, looking at securing additional cattle on a forward basis, to guarantee supply of cattle for slaughter heading into the final quarter. That additional competition has put a little more strength into the forward market.
All that delivers a trading budget result in yesterday's calculation of minus $28 on a 100-day feeding program starting today, and closing out late September.
A topic for further discussion on Beef Central is the impact that the shift in demand for 'non-HGP' status, as requested by some international markets, is having on pricing and profitability dynamics in grainfeeding. It is well know that Teys, and a number of other meat traders, now have a 5c/kg discount built into grids for cattle carrying a pill. Others have said they will follow suit, once clear market signals emerge.
100-day spot market
The current spot market for 100-day cattle across southeast Queensland processors is variable, with evidence of offers from 385c to 415c/kg this week, depending on location and other circumstances. We've chosen 410c/kg as our representative figure, but that's only likely to move higher in coming months, as the looming inevitability of tightness in supply sets in.
Looking at finished grainfed cattle forward-bought by processors back in mid-March for slaughter this week, at contract prices around 410c/kg, processors are currently all-square on those cattle, compared with buying the same item out of the spot market yesterday.
Beef Central's regular 100-day grainfed breakeven scenario is based on a standard set of representative production variables, ex Darling Downs. They include a 450kg liveweight feeder steer fed 105 days; 356kg dressed weight at slaughter; ADG of 2kg; consumption 15kg/day and a NFE ratio of 7.5:1 (as fed); $25 freight; typical implant program. Bank interest is included. It is important to note that variations exist across production models (feed conversion, daily gain, mortality, morbidity, carcase specification); from feedlot to feedlot; and between mobs of cattle. For a more specific performance forecast on a given mob of cattle, consult with your preferred custom feeder.