CATTLE numbers on feed in Australian feedlots remain at high levels, falling less than one percent from December in results for the March quarter industry survey released just minutes ago.
The survey shows that the impact of drought continues to drive cattle into grainfed programs this year at levels unseen since 2008, hitting 959,141 head for the survey period ended March 30.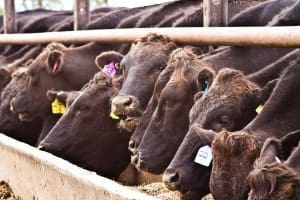 The figure was barely 1 percent lower than the previous quarter.
Both Queensland and NSW, the two largest lotfeeding states and also the two states most impacted by current drought conditions, continue to operate at high levels. Queensland numbers on feed were close to 520,000, down about 3000 head on December, while NSW recorded 308,000 head, back about 5000 head.
Feeding capacity in both states also continues to drift higher, rising 17,000 head in Queensland over the past year to 615,000 head in March, while NSW capacity rose another 7000 head to 365,000 head.
Utilisation of available pen space has drifted a little, back 2pc in Queensland to 84pc, and down 4pc in NSW to 84pc.
In other states, Victoria saw 58,582 head on feed at the end of March, down 2000 head on the December number; WA reported 39,929 head on feed, a seasonal rise of 5000 head; and SA, 33,108, down 2000 head on December.
Australian Lot Feeders Association president, Don Mackay said the result reflected the ongoing dry conditions in many areas – making it difficult for grassfed cattle operators to sustain paddock numbers – as well as continued strong demand for Australian beef overseas.
"Small declines in feedlot cattle numbers in the large feedlot states of Queensland and NSW were largely offset by increases in SA and WA, while capacity utilisation remained at the record level of 84pc across Australia."
The Eastern Young Cattle Indicator reached an average of 437¢/kg during the March quarter, up 24pc from the December quarter and 46pc year-on-year, becoming the highest nominal quarterly average on record.
Importantly, despite high feeder cattle prices, strong export demand continued to encourage lot feeders to maintain cattle numbers on feed.
The March quarter saw Darling Downs grain prices fall by up to 12pc year-on-year, yet prices remained reasonably similar when compared to the previous quarter. Darling Downs wheat averaged $312/tonne, back 10pc year-on-year. Sorghum averaged $292/tonne, back 12pc year-on-year, while barley averaged $303/tonne, back 9pc.
Meat & Livestock Australia senior analyst Ben Thomas said that during the March quarter, 60,394 tonnes of grainfed beef was exported, back 7pc on the December quarter but up 15pc year-on-year.
Grainfed beef export results for individual export markets were again mixed with Japan, Europe and the US up 32pc, 5pc and 114pc year-on-year (to 35,704, 3802 and 3550t respectively) while Korea, China and the Middle East were down 6pc, 48pc and 22pc (to 8101, 3030 and 2158).