CATTLE numbers in Australian feedlots are likely to ease a little over the next 12 months, as the drought pressures start to diminish and paddocks return again to green feed.
Meat & Livestock Australia's 2015 industry projections released earlier today suggests average quarterly numbers on feed will ease slightly this year to 875,000 head.
While lower than last year when many feedlots were full to operating capacity due to drought pressures, the 2015 number is still well above the pre-2014 five-year average of 767,000 head, MLA points out.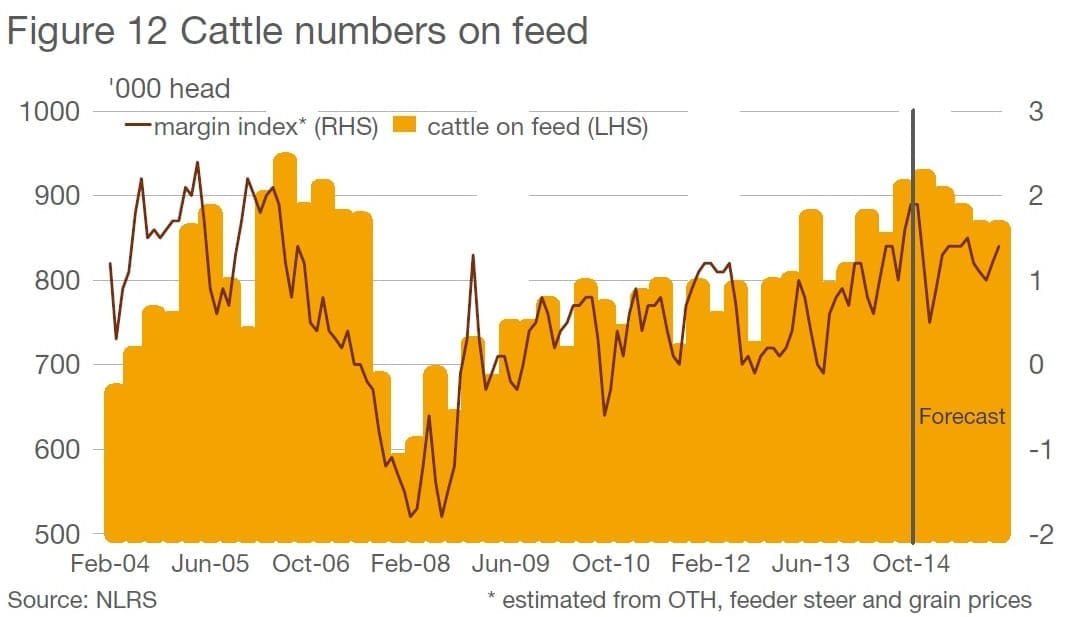 After averaging 211¢ and 199¢/kg liveweight in 2011 and 2012 respectively, national yearling feeder steer (330-400kg C2) prices eased to 174¢ in 2013 and 187¢/kg in 2014.
Easing feeder prices supported the build-up of numbers on feed between mid-2012 through to the end of 2014, along with deteriorated feed conditions across many regions leaving producers with little option but to offload or grain-finish cattle.
Assuming improved seasonal conditions throughout 2015, feeder steer prices are expected to increase as lotfeeders compete with restockers and trade buyers on the shrinking pool of suitable cattle. This competition is already evident, with the eastern states feeder steer indicator jumping 30¢/kg lwt at the resumption of markets in 2015.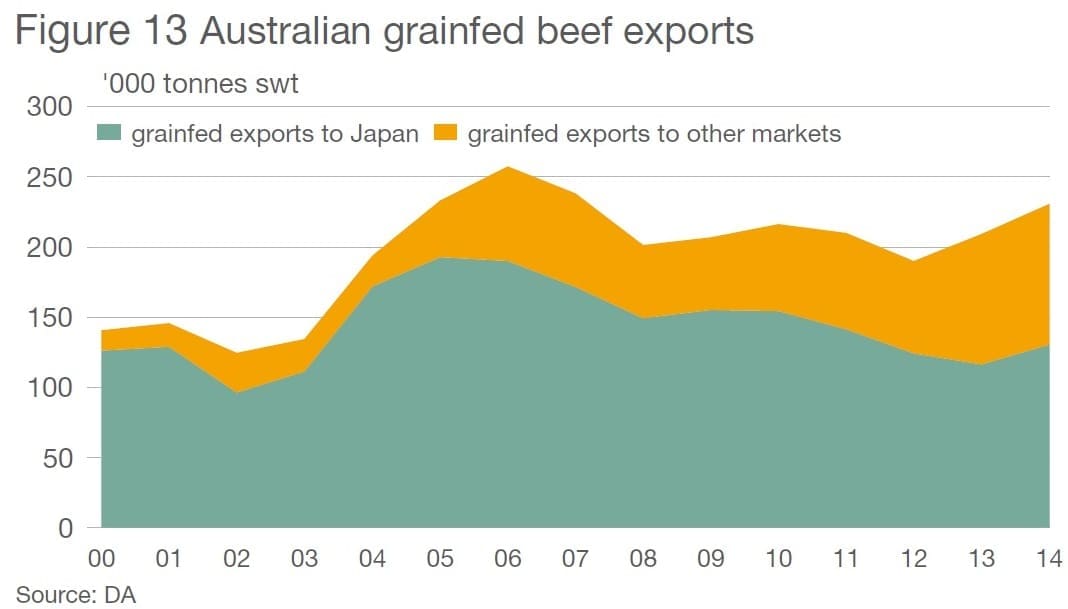 While feedgrain prices eased in the back half of 2014, they remained above the historical average. Feed wheat (delivered Sydney) averaged $306/tonne throughout the year, up slightly from 2013 and 16pc above the five-year average.
Feedgrain prices are expected to remain relatively steady going into the first half of 2015.
In 2014, Australian grainfed beef exports reached just over 230,000 tonnes, 12pc above the five-year average, driven by strong demand from Japan, Korea, the US and Europe. This demand was supported by the A$ depreciating against the US$, averaging 6pc lower year-on-year in 2014, with similar trends evident against the Euro and Korean Won.
In contrast, the A$ rallied against the Yen, increasing 2pc year-on-year, however, despite this, Japan maintained its market share.
Strong international demand flowed through to over-the-hooks cattle prices, with average Queensland 100-day grainfed steers averaging 398¢/kg cwt in 2014, 13pc above the five-year average, and finishing the year at 421¢/kg. Strong demand is expected to continue to support grainfed beef prices throughout 2015, MLA's Projections said.
While grainfed prices are expected to remain high, as seasonal conditions improve, the reduced supply of suitable cattle is expected to put pressure on feedlot margins. Subsequently, cattle on feed are forecast to ease in the first two quarters before levelling-out at around 860,000 head.
That said, this level is still historically high, with 2006 being the last time cattle on feed persisted above 850,000 head.