CATTLE numbers on feed in Australian feedlots remained at near-record levels at the end of September, the latest quarterly feedlot industry survey released today shows.
Numbers at September 30 reached 961,328 head – the second highest on record, eclipsed only by the December quarter last year when numbers hit 965,000 head.
The graph published here show numbers on feed have changed little over the past 12 months, influenced by widespread drought across Eastern Australia.
On a state-by-state basis, the survey suggested a dramatic 46,500 head rise in numbers (8.7pc) on feed in Queensland between the June and September quarters, to +575,000 head. The size of that reported change has raised some eyebrows, but if it is accurate, it represents an all-time record number on feed for the state.
NSW numbers were down 18,000 head from June to September to 282,000 head, while Victoria eased 3000 head to 67,000. South Australia declined by 5000 head to 24,400, while Western Australia reflected its normal seasonal cycle, dropping sharply from almost 30,000 in June to 13,000 in September.
Nationally, feedlot utilisation rates reached 84 percent of operating capacity by September 30, ranging from 91pc capacity in Queensland to 77pc in NSW, 86pc in Victoria and just 26pc in WA.
Australian Lot Feeders Association chief executive Dougal Gordon said the result continued to reflect the ongoing dry conditions, particularly in Queensland, which made it difficult for grassfed cattle operators to sustain numbers. Strong international demand for beef was another factor.
"Strong international demand, as well as some rain across the eastern states, saw feeder cattle prices record robust growth during the quarter," Mr Gordon said.
Nationally, saleyard feeder steer prices (330-400kg, C2) averaged 312¢ during the quarter, up 61pc year-on-year, while the eastern states domestic paddock feeder steer indicator (280-350kg) averaged 299¢ over the three months, up 52pc year-on-year.
"Darling Downs grain price trends were mixed year-on-year. Barley averaged $301/tonne during the quarter, back 2pc year-on-year, while sorghum and wheat both averaged 3pc above year-ago levels, at $293/t and $328/t, respectively," Mr Gordon said.
Anecdotal evidence from lotfeeders providing information to Beef Central for tomorrow's regular feedlot breakeven report suggests numbers on feed are now in significant decline, across Queensland and NSW at least.
That evidence is supported by Mr Gordon's comments in the September feedlot survey summary.
"It is expected that cattle numbers on feed will reduce for the current December quarter, due to high feeder cattle prices and tighter cattle supply brought about by the declining herd and increased backgrounder and re-stocker demand following good November rains," he said.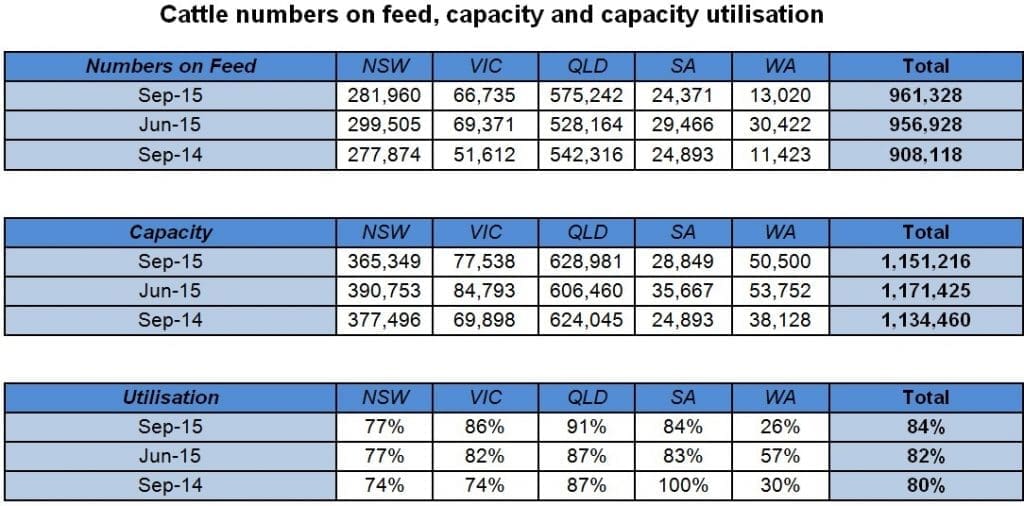 Grainfed exports hit decade-long quarterly record
Not surprisingly, given the statistics discussed above, Meat & Livestock Australia's market information manager Ben Thomas said 2014/15 September quarter shipments of grainfed beef were the highest since 2006, with 68,000 tonnes exported over the three months – up 14pc year-on-year and 22pc above the five year September quarter average.
Japan (down 4pc year-on-year to 33,000t) continued to be the dominant export market for grainfed beef taking 48pc of total shipments during the quarter.
Volume to Korea was the highest on record since 2006 for the September quarter, with 12,700t shipped during the three months, up 31pc year-on-year, while shipments to China more than tripled year-on-year to 6500t.
Exports to the US and Middle East also grew (up 68pc and 26pc above year-ago levels to 4700t and 2600t respectively) while shipments to the EU market remained steady at 4500t.
Click here to view more September quarterly feedlot survey tables.