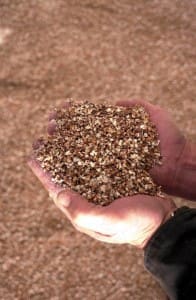 Feedgrain buyers in Eastern Australia are spoilt for choice with ample supplies of sorghum, barley and wheat sitting on-farm, at centralised storages, on trader's books and with spot prices at least 10 per cent below levels of early September.
Add to that protein and oil products trading at a discount of around 20 per cent to pre winter-crop harvest prices, feedgrain buyers look content to keep buying hand-to-mouth in the hope of further price easings.
A feedlot industry source told Beef Central that for three years input prices have been higher than current levels and that while the yards in the south may have plenty of grain bought for the year, those in the north are purchasing grain on an as-needs basis. Summer crops in the north give those feedlots a second chop at buying their grain.
National forecaster ABARES further fuelled the bearish outlook at its 2016 Outlook Conference last week, predicting increased world stocks and lower demand, as well as government-imposed feedgrain import restrictions in China to account for another 3 per cent decline in nominal value of Australian feedgrain exports from 2015-16 to 2016-17.
Underpinning the lacklustre export outlook for feedgrains is ABARES' assumption that the Australian dollar will continue to hover around 71 cents over 2016 and 2017.
World stocks of wheat and coarse grains
"Corn is well supplied the world over," Matthew Pattison, Nidera's Australian trading manager said.
"Along with more than 150 million tonnes of corn stored in China, the world stock of wheat has increased over five to six years to 238 million tonnes.  In this past calendar year, China's imports of corn, barley and sorghum were around 20 million tonnes and the central government presently is tempering imports in order to consume existing stock," he said.
Export market demand lacklustre
The export market has not yet made inroads into the Australian 2016 sorghum crop, and while shipments of wheat have been active since harvest started in November last year, barley and sorghum export commitments have been slow. That makes the early sorghum crop, harvest of which is now just about finished in Queensland and northern New South Wales, an unattractive proposition to buyers.
That could change if China were to approach Australian shippers to buy southern Queensland sorghum in volumes anything like they were shipping one year ago and the local effect on sorghum demand could be significant.
ABARES' projections for exports of feedgrains to China forecast a decline, but demand for barley in the manufacture of malt and for grain sorghum in the production of liquor is forecast to remain strong.
Australia's late sorghum planting has faced mixed seasonal prospects
Early hope of a big sorghum crop in Australia has failed to materialise as December and January-planted crops on Queensland's Darling Downs, for example, have faced hit-and-miss storm rain and have been subject to high heat conditions evaporating available moisture from topsoil.
Temperature deciles in the NSW and Queensland crop areas in February were mostly above average.
Around double the quantity of sorghum is grown and consumed in Queensland compared with New South Wales.  Queensland feed consumers for beef cattle and poultry compete alongside ethanol demand for sorghum.
Queensland ethanol mandate from 2017
The ethanol industry is a mid-level consumer of sorghum in Queensland including the Dalby Bio Refinery with an appetite to increase production in 2016 as Queensland prepares for an E10 mandate in 2017.
While lower feedgrain prices may drive increased demand from Australia's poultry and feedlot sectors, it is likely to underpin rather than boost prices for barley, sorghum and feed wheat.