THE big declines witnessed in feeder cattle prices since the start of the year are starting to have a bearing on lotfeeder and processor profitability in grainfed cattle.
After two years when lotfeeders were in deeply negative margin territory due to the astronomical rise in feeder prices in 2021 and 2022, feeder steer and heifer prices have lost a lot of ground this year, taking some of the cost-of-production pressure off lotfeeders.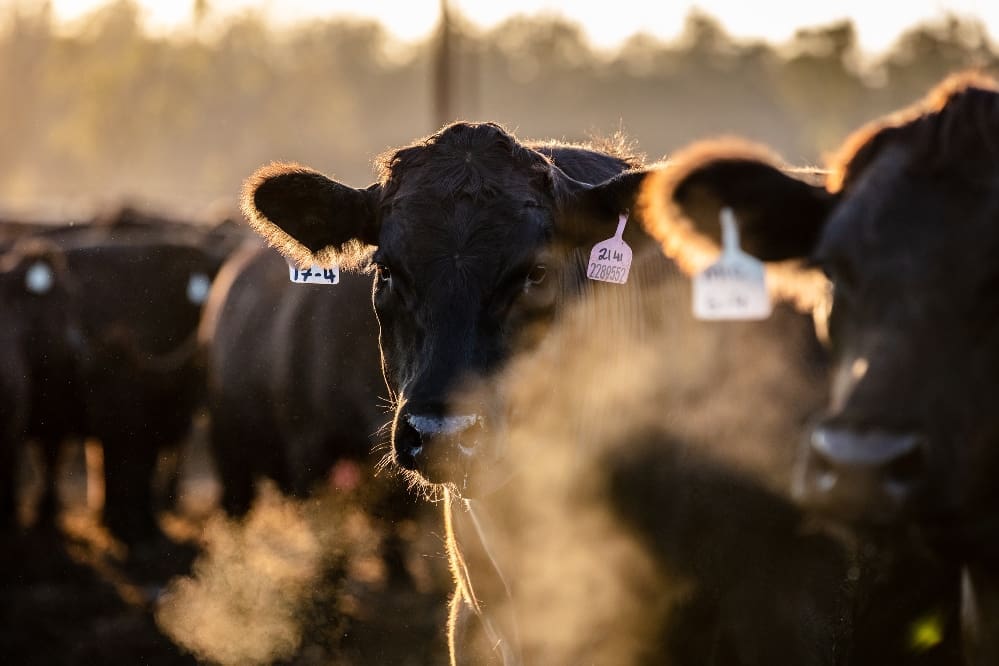 The NLRS feeder steer indicator hit a new recent low of 329c/kg yesterday, after ending 2022 at 446c – a fall of 117c or 26pc in five months. This time last year, the indicator was still sitting at a colossal 561c/kg, due to limited supply.
Heavy feeders +400kg at Roma's weekly store sale on Tuesday averaged 335c, down another 4c on the previous week, but ranged as low as 296c. Heavier feeders +500kg in the same sale averaged just 315c.
So what does it mean for lotfeeders?
One of the largest feedlot operators in the country told Beef Central yesterday his company was currently paying around 335c/kg liveweight for flatback heavy feeders for its northern yard, and 380-390c for Angus types, depending on performance.
"A month or two ago, producers weren't in a rush, because they had time and feed on their hands, and plenty of cash in their accounts – all the balls were in their court.
"But a number of things have happened – they've watched feeder prices continue to drift lower, and a bit of cold weather has kicked-in, knocking feed around," he said. "The ball's back the other way a bit now."
Asked whether there was a risk of feeders getting too heavy because owners were holding young cattle back, he said there was – but most vendors were well aware of where the grid penalties cut in.
"We're seeing more feeders in the high 400s (kg) in our yards this year, but few above 500kg where discounts apply. But there's a lot more feeders that in earlier times may have been 450kg that this year are 470-480kg in recent months," he said.
"From the lotfeeders' end, daily gains on those heavier cattle aren't as good, and it produces a bigger carcase and cut-size, that can be harder to sell in some export and domestic markets. With high beef prices and a more financially wary global consumer, there's a general push for more moderate carcase weights that produce a smaller T-bone or cube roll," he said.
Breakevens trending positive
While some private grainfed programs still have offers for direct consignment flatback heavy feeder steers this week in the 340-345c/kg range, the larger operators are more commonly offering 330-335c, Beef Central was told by another large supply chain manager this morning.
Angus cattle are still 405-420c, representing a large and growing premium. Some of that represents a little more demand emphasis presently from international customers for a product carrying a little more marbling.
The last time heavy flatback heavy feeders were as low as today was back in February 2020, Beef Central's records show, when the drought ended in regions further south. In fact the 300c/kg mark was first reached briefly back in August, 2015, before it backed-off during 2016 in the post recovery period after the earlier drought cycle. By August 2018, feeders fell to around 265c again, as a result of the herd buildup and early signs of drought.
There has clearly been some hesitancy among both lotfeeders and backgrounders recently, after backgrounders got 'pretty bruised' having bought light cattle at outrageous liveweight prices last year, only to tip them into feedlots in recent months at rapidly deteriorating prices.
Some of that reluctance to 'own more cattle' may be related to weather concerns heading deeper into winter and a possible El Nino cycle, or some uncertainly about international beef demand due to rising costs of living, energy prices and geo-political pressures.
At the same time, export beef processors have now re-entered trading profitability on grassfed cattle, and are getting closer to achieving that on grainfeds, Beef Central is told.
EYCI hits new cyclical low
Yesterday's Eastern Young Cattle Indicator hit a new cyclical low of 589c/kg, dropping another 28c on Friday's figure and back 526c in the past year.
Both backgrounder and feeder types within the EYCI have dropped at least 10pc since just before Easter, as the indicator continues to descend.
While there has been some modest drops in feedgrain prices over the past week, breakevens on feeder steers bought this week, and due to close-out their 100-day programs around the end of August, are around 640-650c/kg. That is line-ball with forward contracts on 100-day finished cattle being offered by some large grainfed processors for late-August/early September delivery. In essence, it means lotfeeders could start to see  a small profit on standard 100-day cattle in three or four months.
That calculation is based on a current finisher ration price of around $475/t, but there are rations anywhere from $450/t to $490/t being touted in the Darling Downs market, depending on performance.
For grainfed cattle being processed this week, heavy feeders being bought back in early February were still making around 400c/kg, delivering a breakeven today well north of 700c/kg. Forward prices on those cattle were around 640-660c, suggesting losses could still be as high as $250-$300 a head, Beef Central was told. Spot market prices for kills this week are following the general slaughter cattle market trend, at around 640c, down from around 660c/kg only a month or two ago.
It wasn't until late March that the feeder market really started falling away (350c/kg quoted in the first week in April), suggesting margin relief on those 100-day cattle may not start to be seen until early July.
So what happens in August-September, when grainfed supply chains are close to, or actually making money on 100-day cattle again? Does that motivate lotfeeders and grainfed processors to chase more cattle?
Coming off a lengthy, and significantly negative trading period, many players have been somewhat reluctant to jump in too deep, Beef Central was told.
But as processing capacity gradually builds (as yesterday's weekly kill report flagged, processors are very gradually finding a few extra skilled and semi-skilled staff to add to kill rosters), demand may start to grow.
Just a couple of months ago, processors were wanting to kill less cattle – not more – because of the extreme losses being recorded. Limiting volume in that way could help reinforce export customer demand a little, and thus help relieve some of the margin pain.
But as cattle prices have crept lower this year, and a little more vigour has returned to some export beef markets, that attitude is slowly turning, it seems. And at some point, US fed cattle slaughter volume will start to be significantly impacted by the drought effect, suggesting international demand for good quality grainfed Australian beef may find more favour in Japan, Korea and elsewhere.
It's hard not to get excited from a meat marketing/sales perspective when graphs show the rapidly widening price gap between Australian feeder cattle and their equivalents in the US continues to blow out (see MLA's recent graph here – US in yellow, Australia green).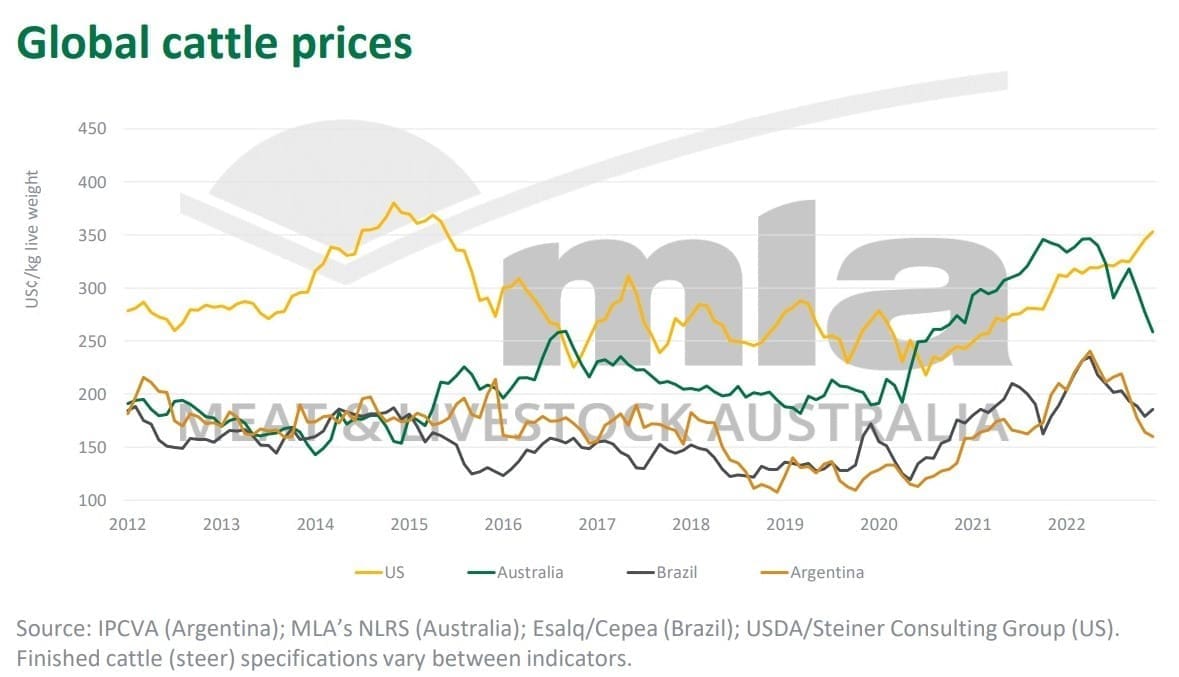 While cattle continue to flow as they currently are, most of that spread will be captured by Australian grainfed export processors, it seems.
The StoneX swaps market continues to flag a good 10pc rise in forward pricing on feeders, with the current May figure of 350c dipping to 343c in July, before recovering to 393c/kg in January next year.
Some stakeholders are surprised by how strongly that Swaps market price trend appears to be sitting, for later this year.
Beef Central's 100-day grainfed trading budget calculation is based on a standard set of representative production variables, ex Darling Downs. The trading budget should not be interpreted as a comment on the viability of the lotfeeding sector – it is simply a comment on the viability of the exercise of a beef producer buying feeder steers, sending them to a feedlot for custom-feeding, and then selling them at the expected grid price at an abattoir. The opportunity costs of the exercise are often missed by producers. The trading budget summary is built on a feeder steer 450kg liveweight, fed 105 days; 356kg dressed weight at slaughter; ADG of 2kg; consumption 15kg/day and a NFE ratio of 7.5:1 (as fed); $25 freight; typical implant program. Bank interest is included.