PRICE and supply of feedgrains has rapidly approached crisis point over the past ten days, with credible reports suggesting a number of smaller southern Queensland feedyards have recently run out of grain altogether.
Logistical challenges in getting grain off-farm or into a feedyard after the recent extreme wet weather, combined transport and logistics issues, on top of rampant export demand for Australian grain in the wake of the Ukraine crisis has created enormous feed commodity headaches for lotfeeders this month.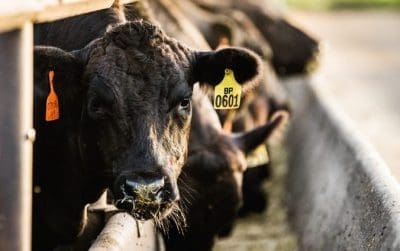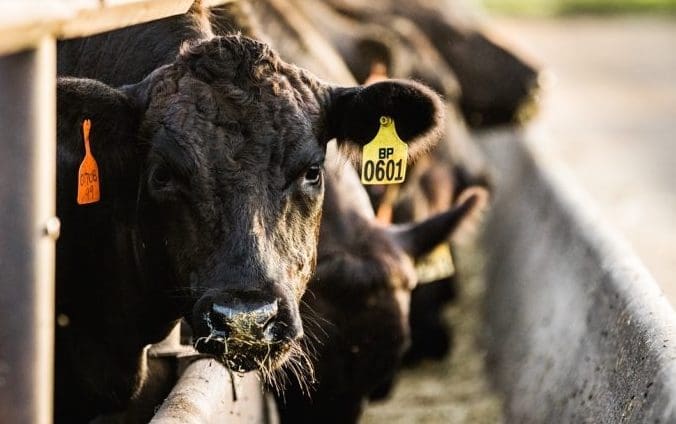 The situation is being felt across eastern states lotfeeding areas, but is particularly acute on the highly concentrated Darling Downs region, where recent rain impact has been heaviest, Beef Central has been told.
The market for white grains has shot to as high as $530/tonne on the western Darling Downs this week.
The manager of one of the largest commercial feedlots in Australia told Beef Central that his yard normally liked to have around 120 days' feedgrain supply secured, but had recently got down to just 16 days supply – a 'crisis point,' in his words.
"We had had 65,000 tonnes on the books, between silos and what's contracted in. We got down to just 8000t," he said.
"Last week we were literally screaming to people to deliver us grain. We were already losing the battle around the short weeks during Easter and ANZAC Day, but it has obviously got considerably worse since then.
The rain obviously played a considerable part, but so to had the issues surrounding export demand, and lack of offers, the lotfeeder said.
"Fortunately we were able to improve our grain position a little at the end of last week, but at a price, especially since India had placed its ban on grain exports," he said.
The unusual feature of the current feedgrain price charge is that it is happening in the middle of a period of abundant grain supply, rather than extreme shortage due to drought.
The current situation appears to be reviving some tensions over security of domestic grain supply between lotfeeders and graingrowers, that has emerged at different times in the past. Older readers will remember the vigorous exchanges between former ALFA president Kevin Roberts and Graingrowers equivalent Ian McFarlane in the 1990s over domestic supply, including threats over grain imports.
""You have trading houses sitting on inventories of grain, and all they want to do is stick it on a boat," one large Queensland lotfeeder said.
"Then you have producers with grain either on-farm, or in the system, who are watching the price ratcheting up, and up. At the same time many are still madly trying to get summer crop or cotton off, or fertilise for winter crop."
"So they are more than happy to just sit back, and wait, confident that not selling grain this week means it will be even more valuable next week."
"And the big guys (grain traders) won't offer to feedlots, because it is so much easier (and more lucrative) to direct supplies onto a boat. No-one will quote. We would not have bought trade grain for the past four or five weeks," the lotfeeder said.
A prominent feedlot nutritionist confirmed reports about smaller yards in Queensland grinding to a halt because of lack of access to grain over the past ten days.
"Securing feedgrain at present is certainly extremely difficult," he told Beef Central yesterday.
"Even if they do manage to purchase, it then becomes a logistics challenge, with major rivers like the Condamine (in the heart of the concentrated Downs lotfeeding region) flooding four or five times since March.
"Some of the larger grain entities are not even prepared to supply offers to lotfeeders, focussing entirely on export."
"I've heard of several smaller lotfeeders (2000-3000 head) who got down to only two or three days' supply, and other that literally ran out," he said.
"You're not going to sleep well at night, in that situation, and the price makes it that much worse."
The contact said there had been a tendency after the previous very good grain harvest for lotfeeders to sit back and wait before securing grain supply.
"Nobody was expecting the Ukraine invasion, and it has left some operators very short, as prices have gone through the roof.
"But its haves and have-nots. Some lotfeeders already had grain coverage out to August-September. For whatever reason those feeders committed forward at what now looks like very attractive prices, and they are now looking relatively healthy. To be fair, those people would be in the considerable minority at present, but at some point, they are going to run out too."
"They still had to cover September, October, maybe November, before new season harvest gets underway. They could still get hammered for three months."
"It's been very difficult for some lotfeeders this month. During the drought, they accepted the price, because there wasn't the grain availability. But this year, there's grain everywhere. Access is the issue."
"And perhaps the most frustrating part is that even when they secure supplies, lotfeeders end up paying a premium for poor quality grain. In the past, there's often been a premium for export quality ASW and AP1, but there's currently only a $10-$15/t differential between F1 and F3 feed wheat. That's what demand, and lack of domestic supply access does."
Normally feedlots would be reluctant to use it, as it has an impact on performance, the nutritionist said. The worse the qualify of the grain, the harder it was to process consistently.
A prominent Downs grain trader told Beef Central there had been some 'serious dramas' in the last week or so, and a lot of anxiety was evident within the lotfeeding industry over grain access – as well as price. He said words like 'panic' and 'desperate' were not out of line.
"It's a very tough time. To start with, the recent weather has made logistics very difficult. The Condamine has flooded four or five times, alone.  Grain is there in sausage bags in the paddock – but people just can't get to it. On top of that, transport access is extremely tight," he said.
Additionally, grain owners are very reluctant to sell at the moment, given recent grain price movements. It's like having a good share on the stock exchange – you only want to sell it on the downside of the curve."
"The result is, it's pretty touchy out there at present (the relationship between growers/brokers and domestic end-users). Some customers feel they are being bent over a barrel," he said.
Some lotfeeders who were saying they had grain cover in fact did not, he claimed.
"The market went up $100/t in a matter of weeks, which took everybody by complete surprise.   Downs wheat traded on Wednesday as high as $520/t, and there were reports of barley at $530. But it depends on where the customer is, who they are and how big they are."
"Relationships with suppliers has a lot to do with it. In the past couple of years, some lotfeeders have moved away from closer grain supplier relationships, shopping everyone for a dollar a tonne.
"Now that loyalty is being challenged. Grower brokers who have been supplying them are now Dutch auctioning available grain," the contact said.
A big issue at present was that the corporate grain traders are only interested in export, given current demand. It was suggested that large players like Cargill and Graincorp 'would not show an offer' currently to lotfeeders, because it was much easier and more lucrative to sell into export.
The grain trader contact said some suppliers were also 'getting a bit sick' of having to queue-up at a feedlot for six hours or overnight, waiting to open to tip off a load of barley or wheat. Some yards only accepted grain receivals from 7am to 3pm, which needed to change, under the current circumstances, he believed.
"In comparison, while there is risk and disruptions to shipping, they can load a 30,000 tonne vessel and away it goes – there is bigger margin in it, under current conditions," he said.
"It's a terrible environment at the moment (domestic market) – not good for anyone, long-term."
Asked whether Downs feedgrain prices were being artificially inflated by current market sentiment, the trader said he thought they were.
But the logistics factor was equally as important as the pressure from export.
"We just haven't been able to move grain, after so many weeks of wet weather and floods. All that grain out of NSW should be coming north to Queensland feedyards. But one, they can't get onto paddocks to pick it up, and two, it's almost impossible to find trucks to shift it.
"The freight price rise due to truck shortage does not worry the exporters so much, because the margin is greater."
Prime Hard wheat (13 protein) delivered Brisbane hit another all-time record high yesterday, reported at +$600/t, while H2 wheat (normally directed into feedlots) was $570/t for export.
Chicago wheat futures steadied over the past couple of nights, but remain volatile. July yesterday was US11.50 bushel.
The Australian feedgrain market had now shifted about $200/t since January ($310/t), to $510/t this week, the trader said.
"Any trade at present is spot price. Users are looking for July-September delivery, but few are prepared to offer it, because of obvious risk," he said.
As country dries out more and paddock supplies can again be accessed, there could be some easing in domestic feedgrain prices, he suspected.
"Two or three weeks of dry weather would help the situation a lot," he said.
"In a perfect world where we get no more rain for the next 100 days, graingrowers will get planted for winter crop. With prospects of another very good harvest later this year, growers sitting on a couple of thousand tonnes of grain will become more inclined to sell – because they don't want to carry it into next year. Tax could also become an issue.
"It could not rain again this year, and they would still grow a cracking crop this winter, provided they can complete sowing."