A record Australian cattle market plus strong rural property prices, and a favourable seasonal outlook for summer are driving demand for working capital solutions amongst beef producers to unprecedented levels.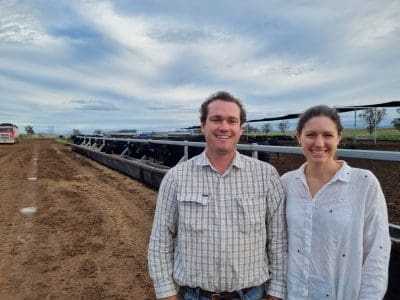 With the Eastern Young Cattle Indicator (EYCI) hitting a new record of over 1160c/kg in December, livestock producers are looking to specialised trade finance solutions to maintain lines of funding and help their businesses grow.
Jeremy and Angela Cummins (right) of Bottlejac Trading Company at Somerton, NSW, run a 1000 head feedlot, buying Angus and Angus-cross cattle to background and then feed for between 100-150 days for supply into the Jack's Creek certified premium grainfed market and Breakout River Meats at Cowra.
For the Cummins, access to fit for purpose livestock finance has allowed them to ramp up their cattle trading enterprise when they had the opportunity to increase their landholding.
"Despite having gone through the worst two years of drought on record in 2018 and 2019, we've managed to grow our landholding from 320 hectares to 1,650 hectares, while we've been developing our feedlot," Jeremy said.
"Our business has predominantly been a trading business, and I've always held the view that the more we can trade, the more ability we have to service our core debt.
"When we had the opportunity to buy more land, NAB suggested we look at trade finance to support the subsequent livestock purchases we needed to make."
At the same time as buying the new block, the Cummins' feedlot became fully accredited to supply certified grainfed beef, allowing them to access new markets for their cattle with very clear supply timeframes.
"The fact that we buy cattle and know that in say 120 days they'll be sold into a specific program means NAB's livestock finance product is very well suited to the rhythm of our business, because we have the flexibility to marry the terms of each finance package up with the particular cattle we buy on the day," Angela said.
In addition to current beef cattle market conditions and the generally favourable season, NAB's Regional Customer Executive for Northern NSW, Khan Horne, says there are several other key elements underpinning demand for livestock finance.
"Demand for livestock finance is rising. While there are many factors playing into this demand, we are predominantly seeing a rise in requests for funding for trading, background and fattening entities with short funding cycles," Mr Horne said.
"We're also seeing instances where entities may not have land as security and are looking to fund against the value of their livestock for short trading opportunities. "
Livestock finance is also an option in situations where the trading entity sits separately to the land-owning entity, or the customer might be leasing country from either family as part of a succession plan or from an unrelated entity.
"It is simple maths that with so much outlay required for land at the moment, some producers need working capital outside of their core lending and that's where our livestock funding is being utilised.
"Once the facility is set up, simplicity and speed is key for producers who wish to facilitate normal payment to their agent without any third-party involvement or complexity around ownership of the livestock.
"If you buy stock, you want to own them.
"There are alternatives on the market that either use the livestock as collateral or take ownership of the collateral, and that can complicate things in terms of valuations."
Source: NAB