FEEDER cattle prices and the cost-of-gain in grainfeeding those animals have lined-up again, for the first time in three years.
The trend is being driven by the big deterioration in the feeder cattle market this year, combined with persistently strong feedgrain prices.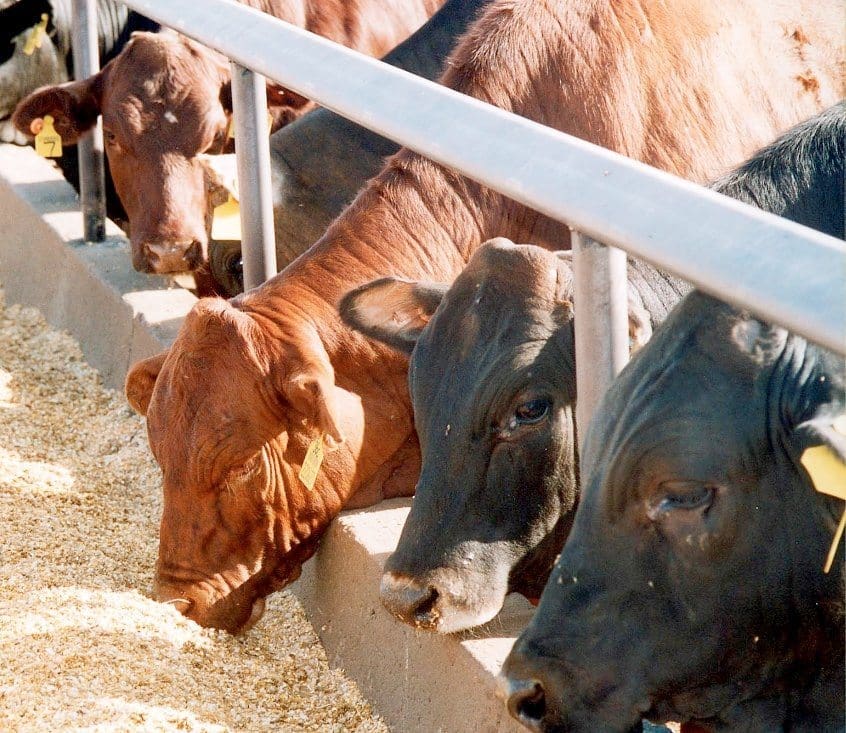 The relative cost of feeders started to press higher than the cost-of-gain around May 2020, and has remained out of alignment ever since. In May, 2020, for example, cost of gain in a typical southern Queensland feedyard was $3.51/kg, and feeder steer were just starting to edge higher, at 375c/kg.
Flatback heavy feeders in the Queensland market this week are making around 360c/kg, lifting marginally over the past couple of weeks. Those prices started to fall dramatically in the closing stages of 2022 (see earlier report).
Up until the last couple of months, the c/kg price of feeder cattle was much higher than the cost of adding weight to those cattle in the yard.
This time a year ago, heavy flatback feeders suitable for 100-day programs were making around 550c/kg Downs, and crept as high as 600c in places during 2022.
That represents a drop of close to 200c/kg, worth around $900 a head on a 450kg feeder, in the past 12 months.
Feed costs
On the feed side, feedlot finisher ration prices are currently around $475/t, but that's a mid-point between downs feedlot quotes ranging from $460/t and as high as $500/t, depending on ingredients, grain processing and likely performance.
Downs feed barley this week is being bid at $425/tonne for July, remaining very solid. New season crop money is back a little for 2024, but the industry is still a long way off accessing that grain.
Finisher ration prices have only rarely touched 500c/kg in the past ten years, normally during periods of intense local grain shortage due to drought.
Using a standard formula based on 2kg average daily gain and consumption of 15kg/day, current ration price puts the cost of gain at $3.54c/kg – within close proximity of this week's 360c/kg feeder price. Even applying a superior average daily gain of 2.2kg/day, the COG figure comes back at $3.20/kg.
These developments take any real incentive away from lotfeeders to buy lighter cattle for 100-day programs.
For long periods since the drought stated ended in 2020, it made financial sense to buy lighter feeders destined and feed them on for 100-day programs for longer periods – often 120-130 days – because the cost of adding weight was cheaper than the cost of purchasing the steer, in c/kg terms.
In fact some large Queensland feedyards have started discounting lighter feeder cattle now, for this reason. Some yards are quoting lighter feeders (say 370-400kg) 20c/kg less than heavier descriptions, suitable for 100-day programs. This time last year, they were more than happy to take those lighter cattle, at the same price.
Flatness in backgrounding market
Another surprising trend in the grainfed supply chain at present is just how flat the backgrounding market has become, relative to feeder weights.
Those 280-300kg cattle targeted by professional backgrounders are now only fetching a 20-30c/kg premium over heavy feeders – which is extremely thin, given what's been seen over the past couple of years.
At stages in the drought recovery phase, there was often a 150c/kg premium seen for those lighter 250-280kg backgrounder types, driven by sheer confidence.
There now appears to be a void for those lighter cattle in the market, driven by some uncertainty over future grainfed prospects. Some of it may be driven by people who are now gun-shy, after a very difficult trading period in the previous cycle (link).
Others take the view that some people still have some cattle around them, so they are not yet back in the market for backgrounders, moderating demand.
Plenty of suitable backgrounders this week are making only 390-400c/kg in southern and Central Queensland, with plenty of grass still in paddocks in many areas.
But doing a budget on buying those backgrounders at current prices suggest it is a very good trade.
There's a number of free access tools available online to make such calculations, including this one on the Allied Beef website. https://www.alliedmarkets.com.au/calculators
Using a rate of gain on grass of 800g (0.8kg) per day, over a 180-day program, with a purchase price of 390c/kg and production cost (animal health, implant etc) of $30/head, and a sale price as a heavy feeder to a feedlot at 424kg liveweight, it forecasts a gross margin of $404/head, or $2.25/day, over 180 days.
StoneX Swaps indicate rise in feeder values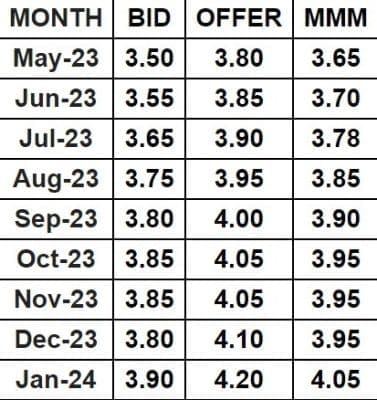 The StoneX Swaps forward pricing hedging tool is indicating an improvement in feeder values heading into the back end of this year (see table). May June is normally the historical low point for feeder prices each year (currently bid 350c/kg and MMM 355c for May on StoneX), with the forward price forecast to rise again to around 400c/kg by the end of 2023 (bids 390c, MMM 405c).
If that rise happens, it would represent a 10pc improvement on current feeder prices for flatback 100-day type feeders.
While international beef outlook, led by trading conditions in the US remains positive, for the timebeing feeder prices and the grainfed market in general remain under considerable pressure. All the indications are that beef processors are again heading into a period of profit on slaughter cattle, after a long, hard winter since 2019-20.
Interest in heifers for 100-day programs?
So is there more interest in heifers over steers, given the current larger price distinction? Heifers 350kg in Roma yesterday were making around 300-320c/kg liveweight, a considerable discount over steers.
Heifers can technically be fed for 100-day export programs, but in practice they are few and far between, mostly for management reasons – despite the big price advantage now that restocker demand has dried up for heifers. On paper, they still look a better proposition than steer, however.
A question to ponder, perhaps: Why aren't more suitable crossbred heifers fed for 100-day programs, when market forces allow?