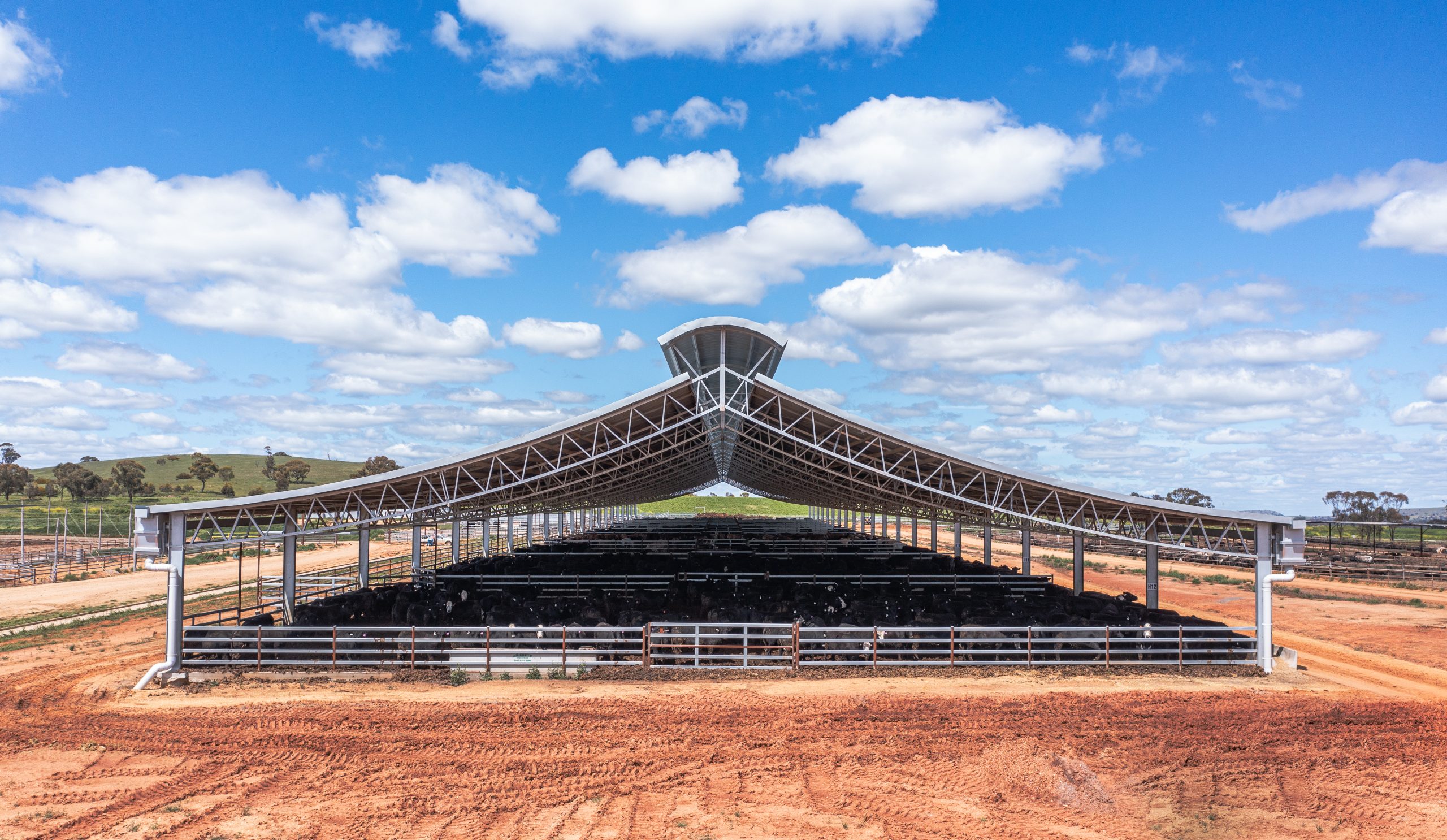 Ever considered building a shed across your feedlot?
Providing shelter for stock – regardless of the weather – and an easier working environment for staff?
You know there's productivity, profitability and animal welfare benefits from sheltering cattle – that's a given – but perhaps you have more questions, need real-life examples and tips from those in the field?
The Dalby Protein Conference might be for you.
Rangers Valley Feedlot Manager Alex Smith will be joined by University of Queensland Animal Production Science Lecturer Dr Angela Lees, AgDSA Director Matt Norton and Entegra, developers of the Ridgeback, Director Greg McCalman on a panel to discuss production improvements with shedded systems.
The Protein Conference on March 22 is an opportunity for anyone in the industry to get an insight into the considerations and processes involved in planning and constructing shade and shelter for a cattle feedlot, according to Mr McCalman.
"Angela Lees has all the information from industry trials, providing context from a research point of view and then Alex – at Rangers Valley – has boots on the ground experience operating a feedlot with older shedding and a Ridgeback," he said.
"Matt from AgDSA, who won the 2022 Rural Consultant of the Year Award, is an industry specialist in planning and compliance, and I'll draw on my experience working with the industry to hopefully join the dots for those who are looking to take the step into a covered system."
Entegra – a Protein Conference partner – has constructed 20 of its patented Ridgeback sheds throughout the country in the past few years.
Ridgebacks are growing in popularity within the feedlot sector with organisations such as Teys, Stanbroke and Rangers Valley choosing the cutting-edge air exchange design of the self-ventilating Ridgeback.
For Mr McCalman the Protein Conference is a great industry networking opportunity and a chance to learn from others with experience across a variety of protein production industries.
"When someone calls asking about a Ridgeback, we work with them brainstorming solutions – at the front end of the design and construction process – and help them create their project with our extensive network of industry experts," he said.
"We are introduced to contacts, expand our knowledge and share our experiences at events like the Protein Conference. It's also about understanding others' experiences, listening to the challenges individuals and the industry are facing, the opportunities coming our way and the key decision making drivers on the farm."
"Entegra works with the beef industry, and we offer so much more than sheds."
Other hot-button topics covered by panel discussions at the Protein Conference, facilitated by the Toowoomba and Surat Basin Enterprise (TSBE) Food Leaders Australia, include biosecurity, sustainability, animal welfare, carbon markets and new energy and projects.