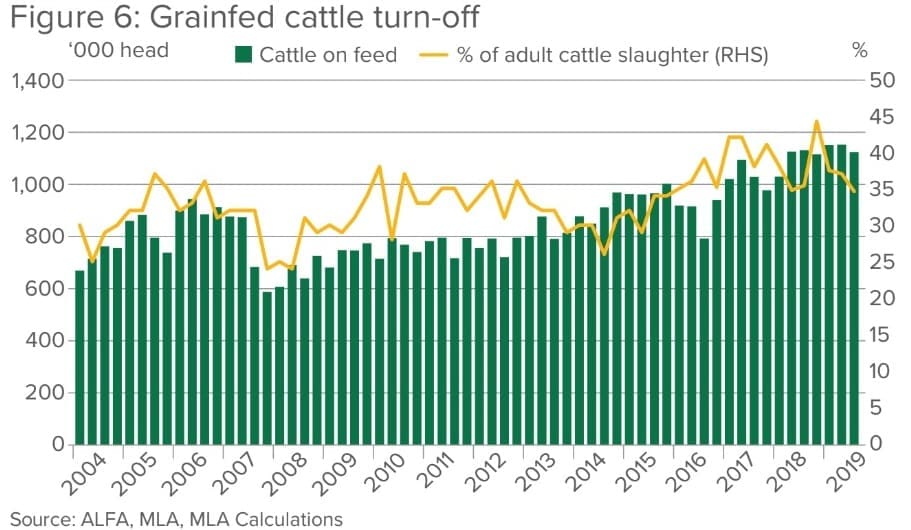 DESPITE forecasts of higher feeder cattle prices, numbers of cattle on feed across Australia are likely to remain near record levels above one million head during 2020, Meat & Livestock Australia suggests.
Releasing its cattle industry projections for 2020 this morning, MLA said cattle numbers on feed hit record levels in 2019, as the lotfeeding sector utilised increased capacity to respond to strong demand from high quality grainfed markets, and provided a key role in drought mitigation for producers.
Feedlot inventories have now been sustained above one million head for seven consecutive quarters. For the year ahead, the number of cattle on feed is expected to remain at a historically high level, albeit likely easing from the record numbers in 2019.
Feedlot capacity has been steadily increasing in recent years, accounting for a greater portion of Australian beef production, particularly during times of constrained grassfed availability. With the expectation of a sharp decline in slaughter in 2020, driven by a reduction in the number of cows and heifers being processed, grainfed cattle as a percentage of national slaughter will likely reach record levels, MLA's Projections suggests.
"Supporting the sustained high number of cattle on feed will be critical in limiting the impact of a fall in cattle slaughter and beef production on processor throughput and profitability, given robust global demand and meat prices," the document says.
Elevated feeder cattle prices
Elevated ration ingredient prices and concerns over water availability continue to provide challenges for the lotfeeding sector, however, the biggest challenge for many feedlots will be the potential price of feeder cattle. Any improvement in pasture conditions will revive restocker interest and see a quick response in young cattle prices.
In the absence of strong competition for store cattle heading back to the paddock in 2019, restocker buyers traded at a consistent discount to feeder buyers, MLA said.
A reverse of fortunes would pressure feedlot inputs, with store prices overtaking finished livestock prices. Compared to young cattle, finished cattle traded at an average premium of 10pc last year, however the ten-year average favours a 5pc premium in favour of store cattle.
The expected increase in the grainfed portion of slaughter cattle turn-off this year, combined with the lower percentage of female slaughter means carcase weights are expected to increase in 2020, MLA says. Higher weights should offset some of the decline in overall slaughter numbers, with production forecast to be down 13pc to 2.1 million tonnes carcase weight this year.
Average adult carcase weights this year are forecast at 292kg, a 3pc increase from 2019. Heavier carcase weights are forecast as the result of a decline in the percentage of female slaughter, lower stocking rates, a higher ratio of cattle on feed and the prospect of better pasture conditions.
Male and female average carcase weights are forecast to increase to 326kg and 256kg respectively. In 2019, a number of processors offered grid price premiums for HGP (hormonal growth promotants) free beef, largely driven by the growing influence of China – a HGP free destination for Australian beef – and consumer demand for more natural ('free-from') beef.
If HGP premiums remain or grow, more producers may consider sacrificing weightgain for market access, potentially curbing the upside for average carcase weights, MLA suggested.
Click here to read MLA's 2020 Cattle Industry Projections report
Source: MLA