CATTLE numbers on feed in Australian feedlots remained above one million head in the December quarter, results released from the latest quarterly feedlot industry survey released this morning show.
The survey conducted in early January reported that total numbers on feed across Australia in December was 1.048 million head, a 37,985 head increase from the September quarter
The number has surprised some industry stakeholders, but the survey may have come a little too early to capture to current feeding trend, Beef Central was told. March quarter figures may tell a somewhat different story, with plenty of anecdotal evidence among lotfeeders that pens are now thinning out.
Year on year, the December quarter figure was back more than 15 percent from the mid-drought highs, representing about 191,000 head.
Big reductions in smaller feedlots less than 1000 head have been seen over the past three months, while larger yards above 10,000 head have in fact added numbers since September.
The December result means cattle on feed in Australia have now exceeded one million head for the past three years, representing 12 quarters (see graph).
Queensland recorded a moderate decrease in cattle numbers on feed last quarter, down 2972 head, to 588,692 head. All other states experienced increases with New South Wales rising by 18,529 head or 6.3pc, to 314,281 head on feed; Victoria up by 9853 or 21pc to 56,816 head; South Australia by 4213 or 11.1pc to 42,216 head; and Western Australia by 8364 or 22pc to 46,302 head.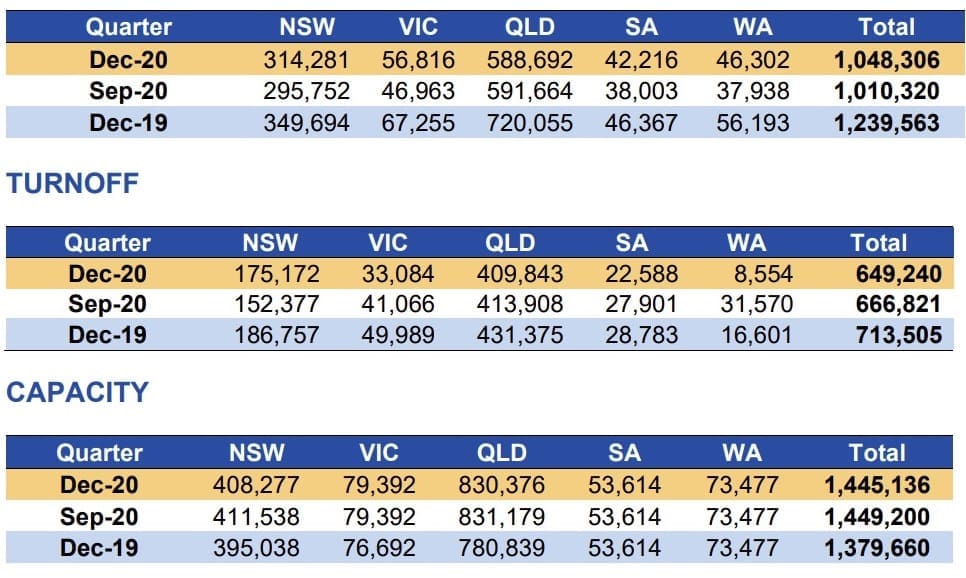 Australian Lot Feeders Association president Bryce Camm said 2020 saw the industry face unprecedented challenges ranging from COVID, the global recession, bushfires, floods, tightening cattle supply and a turnaround in seasonal conditions across Australia.
"Yet despite these challenges, lotfeeders have kept the supply chain moving with our industry partners by continuing to focus on producing high quality grainfed beef," he said.
"Cattle on feed above one million head for three consecutive years demonstrates the significance feedlots play in the Australian beef supply chain."
Mr Camm said he, personally, was surprised that December figures remained above a million head, but March quarter figures may reflect something of a decline in feeding operations. Anecdotally at least, there were yards (across Queensland at least) that now had some empty pens.
However the December quarter figures had proven to be remarkably resilient.
"Grainfed brand program business is now widespread across export and domestic markets, and may be helping support numbers," Mr Camm said.
"The growth in Wagyu longfeeding programs, and the sheer length of time those animals spend on feed, is also supportive of higher numbers on feed."
Mr Camm said softer grain prices had also helped preserve numbers. "It's nice to have a 'two' at the front of the grain price instead of a 'four,' but you wouldn't say we are in a cheap grain commodity cycle just yet," he said.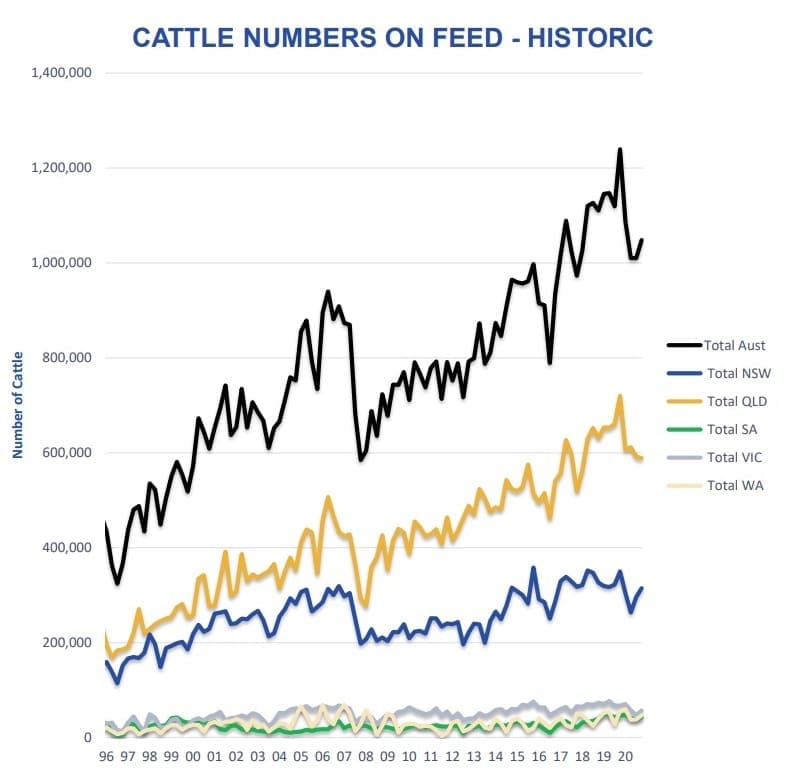 MLA's manager for market information, Steve Bignell, said key feedlot indicators for the December quarter reached all-time records, reflecting the market dynamics experienced last year.
"Strong signals for finished cattle saw the Queensland 100-day grainfed steer over-the-hook (OTH) indicator post a record December quarterly average of 669c/kg carcase weight, assisting lotfeeders on the sell side," he said.
Also boosting lotfeeders confidence was a falling grain market off the back of an outstanding winter crop. Both wheat and barley prices fell to levels not experienced since 2017, hitting averages of $301 and $262/t ex Darling Downs respectively.
On the feedlot entry side, reduced cattle availability converging with heavy restocker and feedlot competition drove the national feeder steer indicator average to a record 420¢/kg liveweight for the quarter.