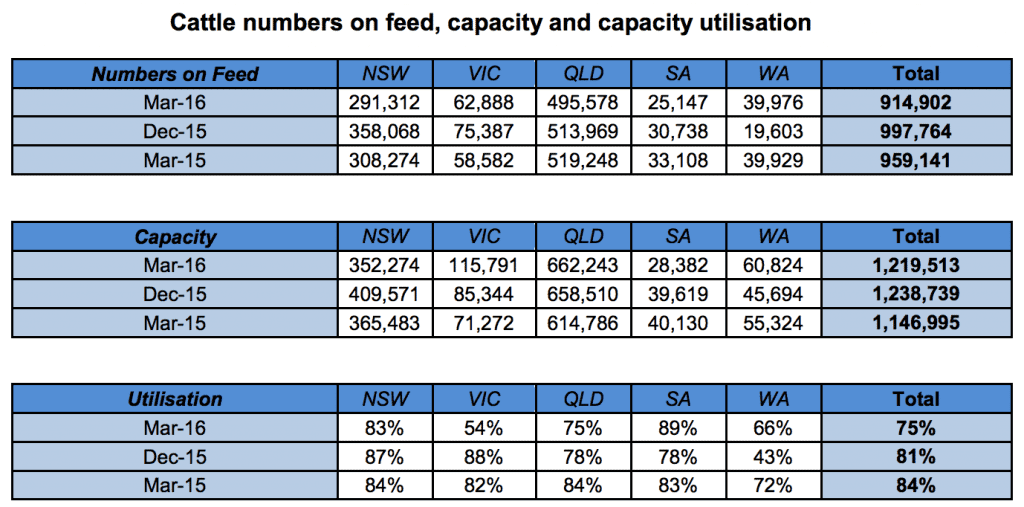 The latest ALFA/MLA quarterly survey of cattle on feed in Australia showed a decline of 8.3pc 0r 82,862 head to 914,902 head in the March quarter.
Decreases in cattle on feed were seen across all states, apart from Western Australia.
Australian Lot Feeders' Association (ALFA) President, Tess Herbert said the decline was expected due to the high cattle prices.
"Paddock-purchased feeder steer prices increased 32% year-on-year averaging 323.13/kg lwt," Ms Herbert said.
"We also saw a record breaking Eastern Young Cattle Indicator (EYCI) in February, reaching 605.75c/kg."
The high cattle prices were however offset by the decrease in feed prices.
"Darling Downs fodder prices declined 22% year-on-year, dropping to $285/tonne," Ms Herbert said.
Average prices ex-Darling Downs averaged cheaper year-on-year due to high global availability, with wheat prices easing 15% to $363/tonne for the March quarter.
Turnoff also eased across most states, decreasing 9.6% since December 2015.
MLA Manager of Market Information, Ben Thomas observed that the grainfed beef exports for the March 2016 quarter reached 62,282 tonnes swt, and was up 3pc compared to the 2015 March quarter.
"There was a large volume shipped to Korea, which jumped 63% from last year to 13,187 tonnes swt, while 5,154 tonnes swt were exported to China," Mr Thomas said.
"On the other hand, there was an 18pc decline in grainfed shipments to Japan, to 29,208 tonnes swt."
"Despite the fall, Japan still accounted for 47% of the quarter's total grainfed exports."
Mr Thomas attributed the increase overall exports to the high numbers on feed in the December 2015 quarter.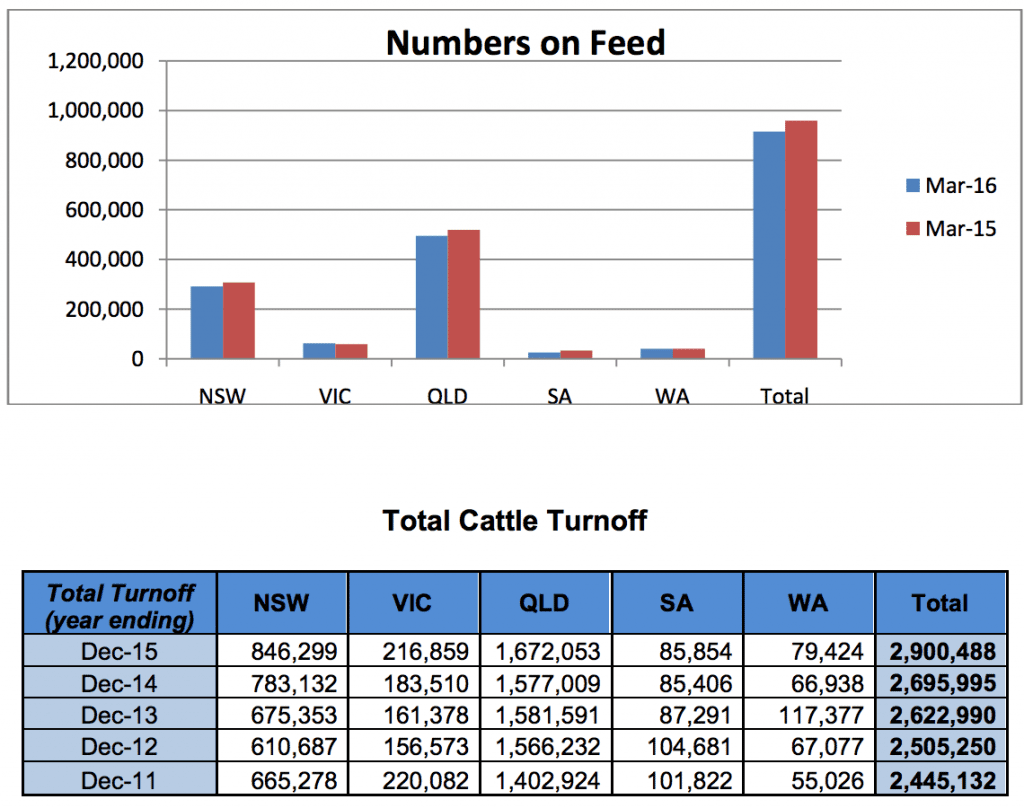 Source: ALFA/MLA