RETURNS generated from the exercise of buying a feeder steer, getting him custom-fed, and selling him for grainfed beef are looking better in Beef Central's latest 100-day grainfed trading budget, calculated this morning.
A sharp decline in feeder steer price is the primary reason.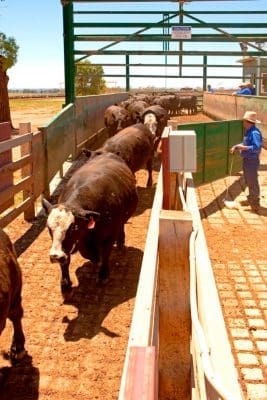 In our second trading budget projection for the 2019 year, our standard set of variables (see list at base of page) has produced a negative $60 result on a typical 450kg flatback feeder steer, entering a Darling Downs feedlot today and closing-out after 105 days on feed in late June.
That's a $21 improvement on our previous budget calculated back on 1 February, but profitability continues to be plagued by near-record high ration prices.
Feeder steers push lower to 260c/kg
The big inflow of cattle hitting the market over the past three weeks due to further intense drought pressure has pushed our feeder price (flatback 450kg, ex Darling Downs) down another 25c/kg since our previous report, to 260c/kg this week.
There are certainly offers in the market below that rate this week, but equally there's a scarcity of price signals as some yards have simply withdrawn quotes, given current high supply and fair commitments for the next three to four weeks.
That feeder price is now down 50c/kg since our December report three months ago, valuing the steer at $1170, a fall of $225 a head since then. The last time we saw a 260c/kg feeder steer was four years ago in April 2015, just before the big market surge that took hold that year.
Give the savage two weeks of pressure on the market just experienced, the question is being asked: are we yet getting close to the bottom of the feeder steer price cycle?
Historically, June represents the annual low-point in feeder prices, and we are still some way off that. But whether normal cycles follow in a year like this is the question.
Ration price ramps up to $490/t
Offsetting the impact of lower feeder prices, we've applied a finished ration price for today's budget of $490/tonne, up $40/t since our February 1 trading budget, and back close to our all-time high ration cost of $500/t seen back in August.
The reason for the jump is not grain price, but the price of other ration ingredients like cotton seed, hay and silage – all of which have shown significant price increases in the past couple of months. The grain component has actually drifted in the past couple of weeks (see Beef Central's recent feedgrain reports) to around $430/t ex Downs this week. That figure is based on a white grain ration, but there evidently is a little sorghum sneaking into some downs ration formulations in the past month or so.
Another factor in ration prices currently being asked-for by custom feeders is simply the fact they are so full (see recent December quarterly feedlot survey result). That leaves little room for negotiation over price for the cattle client.
Today's quoted ration price means the total feeding cost per beast in our calculation is $578, down a substantial $127 from rates back in early February.
Today's total production cost (feeder steer purchase plus feeding costs – using the variables listed at the base of this page) is $2040, down $54 since last time, and from a near record $2207 in December.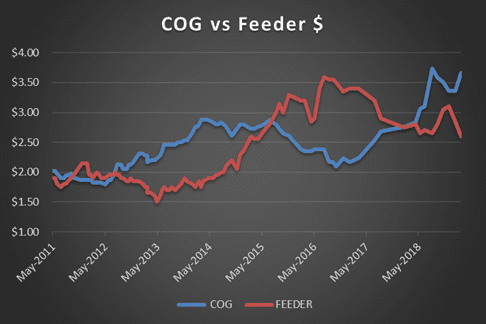 Cost-of-gain has increased substantially to around 370c/kg due to the ration price increase, up 34c/kg since early February.
Given the sharp price difference between in-spec feeder cattle and lighter weaner-type cattle at present due to drought impact (plenty of 250kg weaners are selling sub-200c for heifers and around 200c for steers, while their older brothers are the best part of 80-100c/kg more, especially for Angus), some feedyards are evidently doing some cost of gain sums on buying bargain-basement weaners and feeding them on – despite current high grain prices.
The problem with buying cheap, light cattle is that they need to gain 150kg before entering the production feeding phase, and at a rate of gain of 1kg/day (i.e. 150 days' backgrounding), given current high commodity prices, one quick calculation seen by Beef Central suggested the steer, grown to 400kg entry weight by September, would cost north of 320c/kg.
That may not look particularly attractive, when a 400-450kg flatback feeder can be bought for 260c/kg in today's market (see today's Cost of Gain Vs feeder price graph).  Having said that, some feedlots are evidently doing some backgrounding of smaller cattle, as a hedging exercise for September supply – given the sheer numbers of weaner cattle that are currently available.
Breakeven 578c/kg
The above variables deliver a breakeven in today's trading budget of 578c/kg – a 15c/kg advantage over early February's figure of 593c – due to the relief offered by significantly cheaper feeder steer price.
Queensland processors competing for grainfed 100-day cattle are this week offering forward contract prices for slaughter late June around 560c/kg, due primarily to additional numbers available due to heavy feedlot occupancy.
As we highlighted in our introduction, a 560c/kg forward slaughter price for June delivery and breakeven of 578c/kg suggests a loss of about $60 a head on our 100-day grainfed program calculation.
That's +$20  a head better than our early February budget, and on higher-performing cattle gaining at 2.2kg/day, instead of 2kg/day as used in our standard variables, the financial result reaches breakeven – depending on cost structures and how individual feedlots perform.
That's the best feeding scenario this data-set has produced for close to 12 months, since a small period around May last year when feeder steer prices slipped away briefly to 265c/kg.
Spot price versus forward contract
Looking back at cattle that went onto feed at the end of November, closing-out for slaughter this week, they were contracted forward by southern Queensland processors at around 570c/kg. That compares with spot price in processor grids for 100-day cattle this week around 560-570c/kg.
It means processors who forward-bought today's grainfed kill back in November are about even, when compared with buying the same cattle on today's spot market.
Beef Central's regular 100-day grainfed breakeven scenario is based on a standard set of representative production variables, ex Darling Downs. It is built on a feeder steer of 450kg liveweight, fed 105 days; 356kg dressed weight at slaughter; ADG of 2kg; consumption 15kg/day and a NFE ratio of 7.5:1 (as fed); $25 freight; typical implant program. Bank interest is included. It is important to note that variations exist across production models (feed conversion, daily gain, mortality, morbidity, carcase specification); from feedlot to feedlot; and between mobs of cattle. Equally, there can be considerable variation at any given time in ration costs charged by different custom-feed service feedlots. Click here to view an earlier article on this topic. For a more specific performance assessment on a given mob of cattle, consult with your preferred custom feeder.