WHAT does the colour pink, a Mack truck, Bling, Bowties, Good Food, Great Music, a Meat Auction and a Golf Course, all have in common?  The Women of Lot Feeding – Beef Bling and Bowtie Ball, that's what.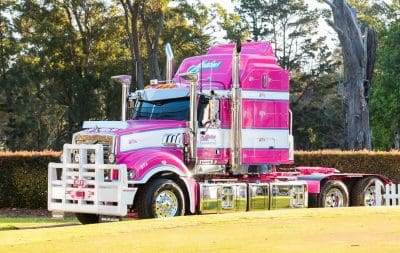 Women of Lot Feeding, annual Beef Bling and Bowtie Ball had a new location this year with the greens of the Toowoomba Golf Course providing the perfect surroundings.  The showstopper for the night was the launch of Martins' newest Prime Mover to their fleet.  It was a great privilege to be a part of the reveal of Martins Pink truck, which is a custom built, one-of-a-kind, production from Mack Trucks Australia.  The truck provided the perfect back drop to the event with more chrome, lights and bling than most of the 250 attendees.
Protein Production Vets again showed their support for WOLF and the feedlot industry by partnering with WOLF for the annual Ball. The efficient running of the event was kept on track by WOLF President Kym Ryan from RSA and Bec Donelly from Roma Feedlot and Spelling Yards who were joint MC's for the night.
The entertainment was provided by the newly formed band Kingston Crumb and Jason Grey Magician from the Gold Coast who amongst many tricks cleverly made a $50 note become a $5 and return as a $50 again.  The owner of the $50 was not worried at all.
Sarah Packer from MAA utilised her auctioneering skills for an extremely well supported "BEEF UP" Charity Auction with a new record being set for the sale of 5 boxes of premium beef donated by Stockyard Beef, Mort and Co, NH Foods, Stanbroke, and Kilcoy Global Foods.  Over $12000 was raised for the Royal Flying Doctor, Service, Beyond Blue, Channel Country Ladies Day and Pankind Australia. WOLF would like to thank the successful bidders for opening their wallets for such worthy causes.
The Raffle was of particular interest this year as three pieces of artwork created by Buttercream and Brushstrokes was won by Jason Martin of Martins who promptly donated 2 of the artworks back to be auctioned off.   Sarah went into action again and a whopping $4000 was raised for Lifeflight, which is a cause close to Sarah's heart.
The Major Raffle Prize of a Traegar Smoker valued at $2000 donated by Elders Dalby was won by Emily Lavis from Mort & Co.
Successful bidders in the Beef Up auction included: Mort & Co – Brendan Olm from Stanbroke; NH Foods – Aaron Purse from PF Install Solutions; Kilcoy Global Foods – Adam Ross from Martins; Stockyard Beef – Wendy Bryce from Freestone; and Lisa Watson from Smithfield Cattle Co.
Without the partnership of Protein Production Vets, and sponsorship from Phibro, eLynx, Feed Central, Performance Feeds, Elanco, Graincorp, Integrated Animal Production, Australian Country Choice, Lallemand, Harvest Road, Fodderlink, Rotomix, Austasia Animal Products, Feedworks, Elders, Camm Agricultural Group, Feed Central, Lallemand, Allflex, Metal Corp, Gay Group of Companies, Chase & Hide, Stance Equitec and Beef Central events like this would not be able to happen.
Every year the Beef Bling and Bow Tie Ball provides the perfect setting to create a great opportunity for people to network, catch up with old friends and make new ones.
Beef Bling and Bowties is hard work behind the scenes, and Women of Lot Feeding are always looking forward to meeting new people who would like to be a part of the organising committee.  If anyone is interested in becoming a WOLF member, our annual AGM will be held on 23 September 2023. Keep posted to our FB page to confirm time and location.  Contact WOLF on womenoflotfeeding@outlook.com.au or on Facebook.
Source: Margarget Harrisson WOLF
FACES OF BBB: