Coopers Animal Health launched the Creating Connections program at Beef 2015, part of an intiaitve by its global parent company to share the knowledge of cattle handling experts with producers to reduce cattle stress and improve overall herd health and performance.
The launch of the Creating Connections program in Australia follows the introduction of the same program in the US by parent company Merck Animal Health last November. The program will also be launched in Brazil later this year.
Spearheading the program are three low stress cattle handling experts and veterinarians: Dr Tom Noffsinger from Nebraska in the US, Dr Paulo Loureiro from Brazil and Dr Kev Sullivan from Bell in Queensland.
Creating Connections is designed specifically around the principle that calmer cattle are healthier and higher performing cattle.
Central to the program is a website which offers information and practical videos explaining how common cattle behavioral cues can be interpreted to better understand cattle comfort and well-being. The video series will be followed by additional resources, including learning modules and training seminars, in coming months.
Why would an animal health company want to teach cattle producers about cattle handling practices that will lead to healthier cattle, and in turn, decreased need for their antibiotics and animal health products?
"This company understands that if you stay in business, they stay in business," Dr Noffsinger told the Creating Connections launch seminar at Beef 2015 last week.
"If we use products judiciously and with focus and with good intent we are all better off at the end of the day."
Handle an animal poorly and you are wasting the vaccine you give it, Dr Noffsinger said.
Dr Paolo Loureiro told the Beef 2015 seminar that proper handling of cattle and how people communicate with cattle was essential to their health and performance.
"I believe that if you connect stockmanship with animal health you are going to have better performance – performance is a consequence of those things.
For example, Dr Loureiro says, good stockmanship is essential to achieve early detection of disease.
When animals do not trust the people handling them, they will perceive them as a threat and hide illness from them.
"The message is quite simple," Dr Louirero said.
"If you have good handling, you have a huge impact on what you do in your business.
"You increase fertility, decrease the damage on the carcase, improve early detection of disease, and the work environment also improves."
These are just some of the many cattle handling tips Dr Loureiro and DrNoffsinger shared with a large audience at the Coopers Animal Health's Creating Connections seminar in Rockhampton last week:
Hands free
Dr Loureiro advises against stock handlers carrying sticks or waddis in their hands. "You don't need anything in your hands to move cattle. No sticks, no flag, no poles, they don't need those things. They need guidance. Anytime you push animals too much, you start a bad cycle, that is when you increase the disease susceptibility, you have poor health, lost weight."
Educate cattle on foot
"A good exercise to do is to go to the pasture and keep your horse with you and walk around the cattle, so they can understand the horse is one thing and you are another thing," Dr Loureiro said. "Because when these animals come to the corral, you want to work on foot."
Every handling opportunity is an opportunity to build trust
"Every time you bring cattle to the corral, it is an opportunity for you to make a good interaction to make the animals trust you instead of distrust or fear you," Dr Loureiro said. "Because the second time they come back they will remember you. When they are calves they don't have any bad memories of us, but one year later, they learn."
'Cattle want to see us'
"Cattle (in yard handling situations) just want to see us. The problem is we create facilities where the cattle cannot see us (with workers elevated on platforms/catwalks), and then you expect them to work for you. It is a challenge. They want to know what to do. You need to teach them. They want to see you, the handler, and the destination simultaneously. They have two eyes so position yourself in a way they can receive guidance from you and they can find the gate." In the following presentation Dr Noffsinger added that "cattle cannot look up and walk at same time". When a cow or horse have to look up to see a handler, their feet automatically stop. Cattle could not raise their chin and walk at the same time. "But we have built these facilities and we put people up on these catwalks and we expect cattle to move for us. I very seldom see people going out to gather pasture cattle by climbing up in the tree. You don't get along too well. So we need to think about what we have asked these creatures to do." Dr Noffsinger said cattle craved to see their source of guidance simultaneous with their destination. "Try and find a place where you can greet new cattle. It is truly worthy your time. It enhances immune response, it enhances water intake, it is an important opportunity. The first impression is a big deal to these cattle."
Work from the front, don't push from behind
Cattle want to come back the place they came from, which forms the basis of the 'Bud Box' principle. "This is big," Dr Loureiro said. "Cattle think just one thing at a time. Don't put too much pressure on them. If you are looking at cattle and start talking and start waving a flag, they are going to turn around to you and say 'what?'. They need to trust us. You cannot expect those animals to follow you, to receive guidance from you, if they don't trust you."
Stress is a 'big deal'
Dr Tom Noffsinger told the audience that health data showed if an animal's heart rate was 180 beats per minute or above when they were in the chute, that animal chose to ignore the vaccine. Testing demonstrated that relaxed cattle responded to vaccines within hours. "Contrast that to an animal that if you have to use a prod to get it in a chute and vaccinate it, the endogenous steroids, the adrenalin, and the acute phase proteins that ilicits, that animal throws away the vaccine." Anxiety also decreased carcase quality, Dr Noffsinger said. Stressed cattle were five times more likely to shed e-coli and salmonella than cattle that were relaxed and comfortable. "Really great handlers can absolutely get cattle in confinement to love where they live. Cattle in a feedlot should be the happiest cattle in the world – all they can eat, all they can drink, a clean place to rest, and if one of them gets ill, there is a good person there to talk care of them. Our goal is to make sure than when cattle arrive at some place someone is there to greet them and to show them that they can communicate with the cattle very effectively."
Success is difference between 'what we could have done, and what we did'
Dr Noffsinger told the audience about a veterinarian in Texas who got tired of seeing horses dying of colic, so he went away to learn how to do colic surgery. Now horses are brought to from all over America and he saves thousands each year. "I asked him what is your definition of success in life? He said 'the ratio of what we could have done, compared to what we did'. So if you think about pen riders riding by cattle that are sick, they try to get them out of a pen but they're sick so they leave them. You talk about pen riders riding through pens of cattle that are new, and they can see that some cattle ate 40 pounds of feed and some ate five, and they don't do anything about it. That ratio is not very good. We want to empower care givers to ensure that anytime they're with cattle, with people or with horses that it should be a positive experience for the cattle and for the person."
'Look at nothing, but see everything'
Dr Noffsinger said one of the key things he learned from Bud Williams was not to look at individual cattle but to look over the herd to identify potential problems with illness. "He would say raise your powers of observiation, don't just look at one animal, you will make them sick, raise your chin and look at nothing, but see everything, and notice the smallest change. When you start doing that and you build your powers of observation, all of a sudden you see things that you have never seen before and it gives you much more confidence to intervene. If an animal drops his head when you turn away and you walk a couple of steps and you turn back and he hides from you, don't take that, he is hiding from you, he is sick."
Why cattle and sheep are the 'biggest liars of the animal kingdom'
Tied in with the previous point, Dr Noffsinger said cattle and sheep are the 'biggest liars' in the animal kingdom. If they don't trust a handler, they will perceive him as a threat, and will hide a problem from them, which prevents early detection of disease. "You've all unloaded cattle off a truck that have had foot injuries and you've watched these cattle run on these injured feet. If they can suppress the loss of a toe, if they can hide a severe laceration, it is no wonder that they can suppress a little bit of IBR in the wind pipe or lie about a little bit of early pneumonia. It is really important that we encourage their honesty when it comes to how they feel."
Performance problems are caused by people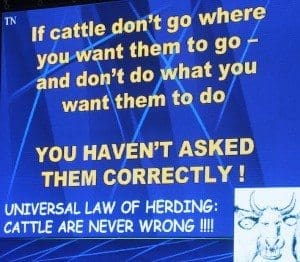 As a veterinarian Dr Noffsinger said he often saw generally similar cattle in different feedlots or ranches with completely different levels of health and performance. A lot of the variation between the ranches and feedlots he visited was "due to the people", he said. "On some ranches, the only time I was there was to preg check, (while) other ranches always had problems with footrot, pinkeye, calf scours and so on. And a lot of these diseases are secondary opportunistic diseases that are stimulated or encouraged by lack of trust within the animals."
'Anyone should be able to move cattle'
"If we create a scenario where the cattle can see the people, almost anyone can load a truck," Dr Noffsinger said. "If you want to speed up cattle you need to walk on by them, never push from the back, and if the front stops you have got to move the front. The point is about anybody should be to move cattle, if you create a scenario where the cattle can find you."
Managers/owners must be onside
"With Creating Connections, the key is ownership and management supports this idea. All of you know in the operations you work in that harmony and support comes from the top. Dr Paolo and I can go to a feedyard and work with the people that are out with the cattle all day long and if the manager or the owner doesn't support that, it is a waste of time. That owner or manager doesn't have to know exactly how to do these things to leave somebody out there in a pen of cattle doing this for four or five minutes, and allow that."