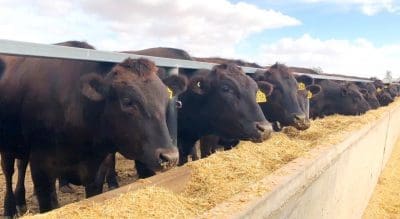 A NEW study has found the amount of feed cattle consume at the back end of the lotfeeding process could have a significant impact on profit.
Hosted by Queensland grainfed beef supply chain Australian Country Choice, the year-long study compared the amount of time cattle spent off-feed to the amount of effluent they generated on a seven-hour truck journey. Speaking at the Australian Lot Feeders Association's SmartBeef Bites webinar yesterday, the company says it combined 1.6 million points of data.
Pens of 320 heifers, exiting at about 480kg, were divided into four lots before making the trip from the Brindley Park feedlot to ACC's Cannon Hill abattoir in Brisbane. One mob spent 12 hours off feed, one spent eight hours, another four hours and one was not taken off feed at all.
Before the journey from the feedlot to the abattoir, effluent tanks were fitted on the trucks and weighed at Dalby and Cannon Hill – samples were also taken and sent to a lab at the University of Queensland.
"There was a hypothesis that cattle on full feed at exit produce larger amounts of effluent, potentially spilling out to roads and leading to hide contamination and food safety concerns," Bovine Dynamics' veterinary consultant Dr Melissa George said.
"We found no meaningful  microbiological impact of hides or carcases, quashing those concerns," she said.
Researchers are currently statistically analysing the data on total effluent loss, adjusting for fuel consumption of the trucks.
Significant impact on profit
Dr George said time off feed could have a major impact on the bottom line – with cattle not taken off feed averaging a hot carcase weight of 1.8kg more than the 12-hour pen.
She said while the lotfeeder was paying for the extra 12 hours of feed, the cost was insignificant compared to the gains.
"These results show potential to fulfill goals for sustainability and increased productivity with more beef produced per animal," she said.
"It also shows an increase in profitability for both lotfeeders and processors."
A landmark study
ACC's research, development and innovation manager Paul Gibson said the study was likely to have wide-reaching impacts.
"It will have implications for the Australian cattle industry and the livestock transport industry," Mr Gibson said.
"National and state governments will probably be looking at this data because it is a landmark study for what it is, with 1.6 million data points."
Mr Gibson said effluent in transport was a significant issue for the industry and he was hoping the study will help manage it better.
"Effluent poses potential environmental, commercial and social risks to the industry," he said.
"We can now look at some management techniques for how we hold volumes on these trucks and work with industry and government to look at discharge points over long hauls.
"Hopefully this supports the development of standards and systems to manage it in a better way."