Results in Beef Central's latest grainfed trading budget calculated this morning might look less than attractive, but equally importantly, prospects for improvement in coming months look particularly strong.
Our latest fortnightly 100-day grainfed trading budget calculated today, using our standard set of variables (see full list at base of page) has delivered a loss of minus $74 a head, a considerable deterioration on our previous calculation in mid-July when the figure was -$43.
That's based on a flatback heavy feeder steer entering a typical Darling Downs feedlot today, and closing out after 105 days in late November.
Strong prospect ahead for cheaper ration prices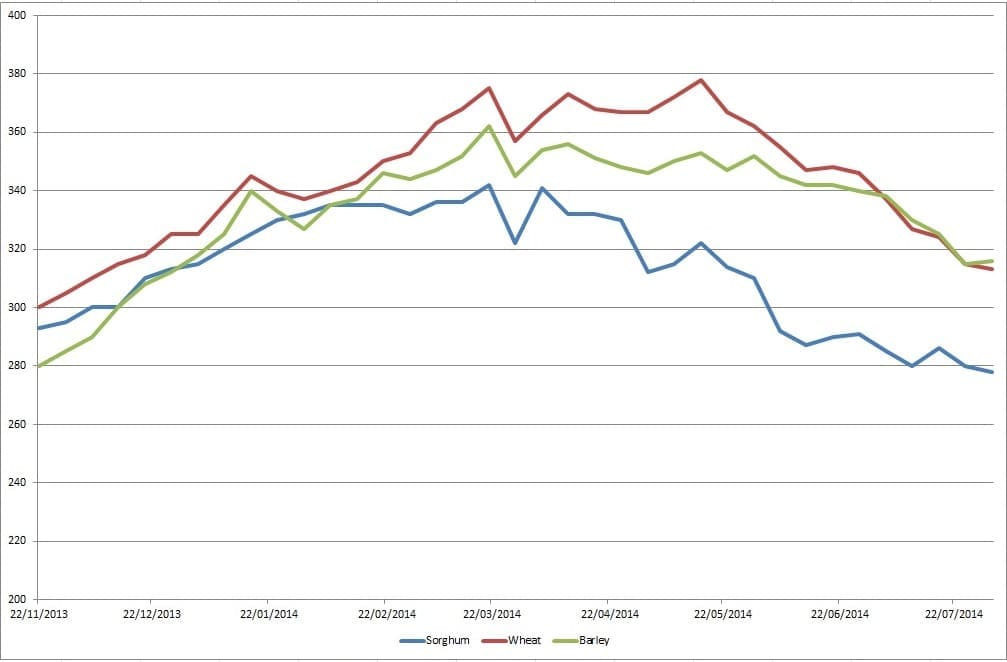 Before we explore the current grainfed trading budget variables in detail, it's worth shifting focus for a minute to have a look at the graph, published here, provided by Luke Walker from Robinson Grain Trading in Toowoomba.
It shows the significant decline in spot pricing for feed wheat, barley and sorghum over the past two months, which inevitably will have a big bearing on feeding costs, going forward.
Currently, however, those spot price trends are not really being reflected in ration prices being quoted by downs lotfeeders, because most still 'have grain around them' that was forward-bought at much higher prices. Some of the wheat stocks on hand could easily have cost feedlots +$360, whereas the spot price for wheat last week, in the graph, was around $315.
A feedlot on a back-to-back spot price basis today could potentially have a wheat-based ration price of sub-$340/t, a reliable market source told Beef Central this morning.
However with higher pen occupancies pushing demand for feedlot space, and the forward buying strategies of many feedlots,  current representative Downs feedlot ration prices are currently anywhere from $350/t (likely to be higher-moisture rations) to $410t. That's an abnormally wide spread, which reflects different moisture levels, different grain inclusions, and influence, at the lower end of the range, of reduced grain price.
The million dollar question for custom-feeding clients is how long will it take to clear those stocks of more expensive grain?
With new season crop typically coming on the market around October, if a feedlot six weeks ago took a fair percentage of cover at considerably higher prices, it could be a couple of months yet before lower pricing is seen.
High occupancy levels, meaning grain is consumed faster than anticipated, may hasten that process a little, however.
On the basis of what's been said above, we've allocated $380/t as our indicative ration price for today's budget – up $5/t from our previous exercise. One of the contributors to that mild rise is some issues at the Dalby ethanol distillery, which has meant the availability of WDG in a number of rations has reduced. That, in turn, has pushed some rations marginally higher on price, despite the grain price trend.
Today's nominated ration price of $380/t is within sight of our recent record high of $385/t, at the height of the grain price spike.
Feeders rise to 200c/kg
Getting back to the other key variables in today's budget, we've lifted our nominated flatback feeder price to 200c/kg – the highest price seen in two years. That's a rise of 5c/kg on a fortnight ago, and simply reflects the seasonal conditions and the general shortage of those heavier in-spec feeders that feedlots are looking for. Higher Indicus steers this week are still close to 180c/kg, which takes the edge off the feeder input cost.
A point worth noting here, during the current period where the right feeder steers are difficult to procure and conditions remain as they are, is the numbers of females currently being fed for 100 day 'Jap ox' programs.
One of Australia's largest feeders of export-weight cattle acknowledged that there has been an increase recently in the proportion of females being fed for 100-day programs. One SEQ grid this week is offering 375c/kg for 100-day cow, six teeth and less (appropriate breed type, preferably some Euro content to guard against over-fatness), with steer value just 5c/kg more.
Valuing today's 450kg feeder steer at 200c/kg values him at a neat $900 at induction – again, the highest figure in two years. The steer price bottomed in May last year when it hit 150c/kg briefly, meaning the steer investment has risen $225 a head since.
Ration price higher, despite softening grain trend
As mentioned above, we've lifted ration price $5/t today, to $380/t, despite the softer spot grain price trend.
That price is still very high, by historical standards, being just $5/t shy of our all-time record of $385/t recorded in May, based on data collected by Beef Central back to May 2011.
Today's ration price represents a total feeding cost over a 105-day program of $595, another $8 above where it sat a fortnight ago, and $60/head more than mid-December's rates.
All that delivers a total production cost (steer price plus custom feeding price, freight, interest, contingency, levy and induction costs) of $1591, up $31 on mid-July.
Cost of gain, using our chosen variables (2kg/day ADG, for 210kg gain over 105 days) now sits at 284c/kg, +4c/kg on last time.
Breakeven hits another record high
The shift in variables as outlined above means the breakeven on today's trading budget sits at 451c/kg – up 9c/kg on a fortnight ago, and the first time in the three and a half years this report has been compiled that it has entered the 450's.
That's no surprise, as it's been pushed by the higher feeder price, while ration prices remain close to historic highs. The last cycle when the breakeven got remotely close to current figures was back in early 2012, when it got to 412c during a period when feeders shot up to 215c/kg.
Just for reference, a higher indicus steer bought at 180c/kg, instead of 200c/kg has a considerably lower breakeven this week, at 425c/kg.
Forward pricing unchanged at 430c/kg
Based on Southeast Queensland direct consignment processor quotes provided yesterday, our forward price for 100-day flatbacks going on feed now and closing-out in November, week four, is at 430c/kg, up 5c/kg on last time. That's equal to the record high set a month ago for grainfed ox, the highest seen since Beef Central started this analysis series back in May, 2011.
Qualifying that price, however, offers in the market for delivery around that time appear limited, heading into the Christmas holiday annual plant shutdown, and a lot of cattle going onto feed at present for 100-day programs, due to drought pressures.
All that means the difference between today's breakeven figure and the forward 100-day price delivers a trading budget result in today's calculation of minus $74 on a feeding program starting today, and closing out late November. That's the worst results seen since a minus $66 result around this time last year.
Worth noting however, the Queensland slaughter cattle market traditionally does peak around November/December, therefore the market cycle historically can assist the market at the back end of the year.
Looking back at 100-day cattle forward-bought back in May, for slaughter this week, they were selling for 430c/kg, against a spot market today of 420c/kg, meaning processors would be 10c/kg in the red on forward-bought cattle.
Lower ration price scenario
If, as we've discussed above, lower grain prices push ration prices considerably lower, the trading budget in coming months will start to look much more healthy.
If rations were to get to, say, $340/t, maintaining a feeder steer price at 200c/kg, the production cost would drop nearly $70 a head, based on our standard variables (see list at base of page) including a consumption level of 15kg/day. That would take the budget outcome back very close to breakeven, even without any further improvement in finished cattle price.
On top of that, given a reasonable seasonal start to spring, feedlot numbers will inevitably decline, meaning custom feedlots may sharpen their offers (in terms of margins) in order to continue to attract business.
Beef Central's regular 100-day grainfed breakeven scenario is based on a standard set of representative production variables, ex Darling Downs. They include a 450kg liveweight feeder steer fed 105 days; 356kg dressed weight at slaughter; ADG of 2kg; consumption 15kg/day and a NFE ratio of 7.5:1 (as fed); $25 freight; typical implant program. Bank interest is included. It is important to note that variations exist across production models (feed conversion, daily gain, mortality, morbidity, carcase specification); from feedlot to feedlot; and between mobs of cattle. For a more specific performance forecast on a given mob of cattle, consult with your preferred custom feeder.