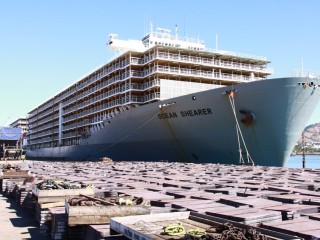 A new world record for the largest shipment of live cattle has been set by the MV Ocean Shearer and Queensland and Northern Territory cattle producers.
A total of 24,683 steers and heifers were loaded on board the vessel in Townsville and Darwin this week, breaking the previous record of 23,372 cattle set by the same vessel (previously named the MV Stella Deneb) in July 2008.
The Wellard-owned and operated ship, the largest livestock vessel in the world, set sail from Darwin this morning for the Indonesian ports of Jakarta and Panjang, Wellard said in a press release issued this morning.
Queensland producers supplied 6465 cattle in Townsville late last week, while a further 18,218 feeder cattle were loaded in Darwin by Wellard Rural Exports and another exporter. They will be supplied to Indonesian customers that have previously received Australian cattle under Australia's new export regulations and new importers that have recently completed a successful independent audit of their animal welfare and traceability systems.
Wellard Rural Exports managing director Steve Meerwald said the large shipment would assist with the restocking of part of the disrupted Indonesian cattle pipeline, but a return to more 'normal' trading would still to take time.
"We are continuing to work with our Indonesian customers to get more feedlots and abattoirs accredited to meet the new Australian guidelines so we can increase cattle supply to Indonesia and purchases from Australian stations," he said in the press release.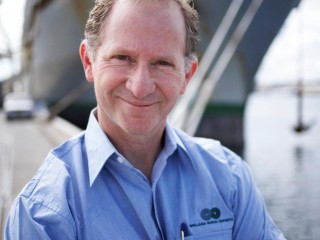 Mr Meerwald said the logistics involved with assembling and loading such a large consignment of cattle was both immense and complex.
"The fact that we have been able to load so many cattle without issue is testament to the professionalism of the producers, helicopter pilots, truck operators, veterinarians, pre-export feedlots, stevedores, ship crew and Wellard stockmen who support this important trade," he said.
"The cattle have been loaded efficiently and safely."
Induction into pre-export quarantine was assisted by cattle producers who have also responded well to Wellard's new requirement that all cattle must be tagged with Radio Frequency Identification (RFID) tags to assist with the traceability requirements in Indonesia.
Mr Meerwald said the ability to set the new world record was aided by the fact that the ship has never been filled to capacity and also the imposition of Indonesia's 350kg weight limit which has caused a reduction in the size of the cattle on-board. Despite the record cargo, the vessel was loaded at less than 80 percent of her capacity when she sailed, allowing the crew to allocate each animal significantly more space than the Australian regulatory standards prescribe.
One of Wellard's newest vessels, the MV Ocean Swagman, is due to load 7000 cattle in Darwin early next week. It has just completed a voyage to the Philippines largely with cattle that had outgrown Indonesia's 350kg weight limit during the recent trade suspension.