Australia's relationship with Indonesia appears to be back on a far more positive footing following Indonesian President Joko Widodo's historic visit to Canberra this week.
The trade in cattle and beef that has developed between the two neighbours is one founded on innate mutual benefit, providing an important market within close proximity for cattle bred in northern Australia, and a valuable source of fresh protein and feedlot industry jobs for Indonesia.
Indonesia is today the largest importer of Australian cattle and fifth largest customer of Australian boxed beef.
Despite the strength of the long-term commercial relationships that underpin the trade, several issues have strained inter-government relations between the two countries over the past decade, most famously Australia's decision to impose without warning a snap ban on cattle exports to Indonesia in 2011.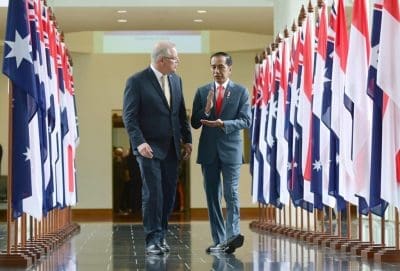 However this week's visit to Australia by Indonesian President Joko Widodo, which enshrined a new economic partnership agreement between the two countries and included an historic address to both houses of Parliament in Canberra yesterday, has clearly helped to restore confidence in the future of the relationship between the two neighbours.
Australian mainstream media outlets have reported on the significance of the Indonesian President's declaration that Australia is "Indonesia's closest friend", and that "a new era" is now underway in Australia-Indonesia relations.
Another moment not reported by mainstream media but which underlined the importance of the cattle trade between both countries occurred at a private business roundtable.
That was in the form of a personal invitation extended by the Indonesian Government to Consolidated Pastoral Company CEO Troy Setter to make a direct presentation to President Widodo, alongside Coca Cola, Blue Scope Steel and Monash University, at the roundtable about the red meat trade and their business in Indonesia while he was in Canberra.
CPC is a leading Australian investor in Indonesia, with two world-class feedlots in Medan and Lampung, the latter of which President Widodo has visited twice before.
Honor to present to Indo President Joko Widodo today about red meat investment in Indo and Indo Aus trade @AusLiveCorp @ConPastCo @redmeatcouncil @IndonesiaAust pic.twitter.com/TJ8HBbjCw5

— Troy Setter (@troysetter) February 10, 2020
At the Indonesian Australian Business Roundtable, President Widodo presented the five pillars that will be his central areas of focus to reform Indonesia's approach to trade over the next five years, which were:
– Prioritising human resources development;
– Continuing infrastructure development;
– Regulation simplification;
– Bureaucratic simplification; and
– Economic transformation from resources to manufacturing and services.
Indonesia's intentions to create a stronger investment climate are contained in new legislation which is expected to pass the nation's Parliament March 2020.
(see Antara News article for more details here: https://en.antaranews.com/news/140513/spokesman-believes-omnibus-law-on-job-creation-will-spur-economy, "
Mr Setter said the Indonesian Australia Comprehensive Economic Partnership Agreement (IA-CEPA) signed between the two countries is more than a free trade agreement, representing a deeper commitment by both to develop economic partnerships.
Asked if the agreement will be of genuine significance to the Australian-Indonesia cattle trade, he said he believed it will.
The high price of Australian cattle and beef in Indonesia relative to lower quality Brazilian and Indian meat remains an ongoing challenge for the trade.
The tightening of supply caused by rain across northern Australia in recent weeks has pushed offer prices for feeder steers ex-Darwin from 330c to 370c, which is expected to add some short-term challenges to the trade before supply evens out at the end of the wet season.
Beef Central is aware of some cattle having been trucked from as far south as Dubbo to Townsville due to the rain-caused difficulty of obtaining cattle from normal supply areas.
But while Australian product is facing some potential price-resistance in Indonesia, cheaper frozen beef imports from other countries are also facing some resistance within Indonesia from a different source.
Indonesian farmers have recently started protesting about the impact of cheaper Indian buffalo meat in the country, which they say is being dumped into their traditional markets where it is not supposed to sell and being dressed up and sold as local meat.
Immediate trade issues aside, the bigger picture is that the removal of import duties ushered in through the IA-CEPA will be of significant benefit to the Australian-Indonesian cattle and beef trade in future, Mr Setter said.
"The removal of the 5 percent import duty on 600,000 cattle effectively means we will be tariff free," he said.
"And if you consider the average days on feed is 100 days and you annualise that 5pc, it amounts to an annualised 18 percent tax cut on live cattle, and the same goes for boxed beef."
Mr Setter said the continuation of moves by Indonesia to provide clear and transparent permits for investment and for imports will also provide significant benefits for the trade in future.