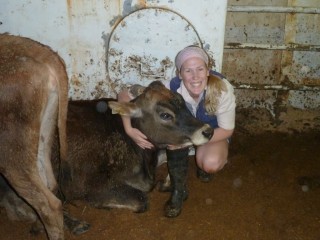 My name is Steph Coombes, and at just 23 years old I may just be the loudest advocate in support of the live animal export industry.
On Monday night I replied to almost every single tweet that had the #banliveexport hashtag. Twitter actually made me take a timeout, as I had exceeded my 'tweet limit'.
But, I have a confession to make. Back in high school, I was a member of the organisation Animals Australia, the same organisation spearheading the campaign to ban live animal exports.
So how could an animal loving, city girl go from one extreme to the other on such a complex issue, that so many of us know so little about? How did I end up working on the boats that take our animals overseas?
A combination of my involvement with the agricultural industry and participating in conversations of change, has opened my eyes and given me the tools to think critically about big issues, and no longer jump on the bandwagon to "like" a facebook page, send a tweet, or sign a petition, when a strategic advert appears on my screen.
Take the time to really look into the live animal export industry, and I think you will be surprised. Sure, it's worth a lot of money, sure, it provides a lot of jobs and sure, it underpins the domestic livestock market prices to support our farmers, and while these are very important points, they aren't the real reason I am so passionate about this industry.
Australia has the highest standards in livestock transport in the world, by far. We have the best livestock, vessels, quality control and implementation of research and development.
What excites me though, is our presence in our destination markets. Australia is the only country in the world, who invests in training and education, infrastructure upgrades and research and development in destination markets. Simply, we spend our money improving animal welfare in overseas countries.
The benefits aren't limited to Australian livestock grown and processed overseas, but to all livestock in those countries, whether they be imported or local.
There are Australian people who spend each and every day overseas teaching other cultures in how to improve their treatment of livestock, and as you have seen, sometimes people do the wrong thing. Should we punish everyone who does the right thing, for the mistakes of a minority doing the wrong thing, in isolated incidents?
So I ask you, if we ban live export, what will happen to animal welfare standards overseas? If our animals are no longer there, is it no longer our problem? Live export will continue, with or without Australia. This industry is a legitimate and sustainable trade, but I also see it as an opportunity to raise the standards of livestock production worldwide.
We are all looking for permission to believe that we support the "right things". Don't look to other organisations with an agenda for permission, take the time, think about it, and make up your own mind.
Stephanie Coombes is the author of Live Export Diaries