THE large sea shipment of cattle now on its way from Brazil to a feedlot in Vietnam is distinctive for a number of reasons, not only because it opens the large cattle import market to a significant source of supply outside of Australia.
The second is that the shipment is made up entirely of bulls.
These bulls are not being exported for breeding purposes, but rather to enter feedlots as feeder cattle to supply meat for Vietnam's population of almost 100 million people.
Beef is a popular protein in the Vietnamese diet.
Despite lower per capita consumption when compared to pork, chicken, fish and seafood, it is regarded as a superior meat and an important source of nutrition essential to a healthy diet for the family, especially for children.
Vietnamese consumers also prefer to buy fresh meat which can be cooked on the same day, another factor that has helped to drive the country's big increases in imported cattle from Australia over the past decade (read more about Vietnam's beef market in this MLA market snapshot here).
Bull market
Feedlot operators in many export markets throughout Asia including Vietnam have a preference for importing entire male cattle.
This is based on a range of factors including traditional cultural preferences, superior average daily growth rates and meat yields from bulls compared to castrated steers, and the leaner meat that entire males produce, which is preferred in some Asian soups and stir fries.
While Asian importers and lot feeders have long expressed a preference for young bulls over steers, Australian cattle properties are not typically geared to produce large lines of bulls, largely because such production systems are more difficult to manage, particularly in terms of maintaining control over breeding programs and handling of bid numbers of bulls compared to steers.
That is not to say it cannot be done, and there are operations across the north that successfully concentrate on raising young bulls specifically for live export customers, for which they can benefit from price premiums due to higher demand.
Cattle handling practices can have a big impact in minimising behavioural problems, including employing low-stress handling techniques during mustering and yard handling, as this earlier MLA report highlighted.
Raising bulls for delivery at younger liveweights such as 300kg is another strategy designed that can reduce the handling issues involved with managing more-active entire cattle.
As one exporter seeking to buy young bulls explained while trying to convince more producers to breed bulls a few years ago, rearing bulls can provide a production advantage in that it can be more straight-forward to raise a bull calf to 250-300kg in difficult seasons than to get a steer to bullock weights over a longer time frame.
Despite the stated interest in bulls the vast majority of cattle that have been imported to Vietnam are steers from northern Australia, which remain highly valued for their genetics bred for productivity and performance in tropical environments, meat quality, temperament and ease of handling.
Trade watch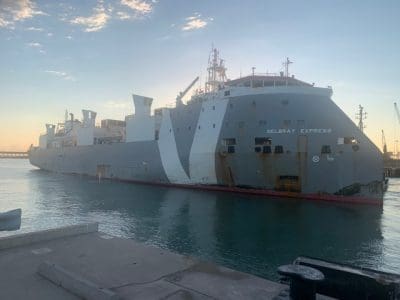 The live export market from Australia to Vietnam has held up relatively strongly in recent months with five shipments out of Townsville in August from a range of exporters including Frontier, Australian Cattle Exports (ACE), Bondstock and a relatively new entrant in Melbourne-based Aussie Beef.
Procurement and loading for the Aussie Beef shipment was handled by Michael Spencer and Patrick Burke of Adcock Partners Property & Livestock (see pictures on this page).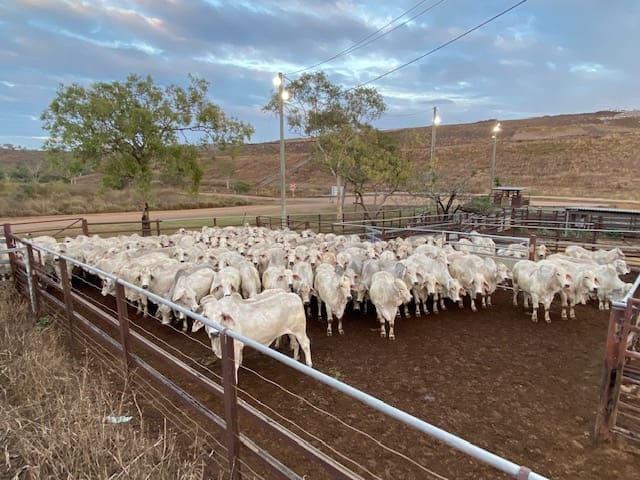 The consignment comprised 2204 Brahman steers and bulls in the 500 to 700 kilogram weight range, drawn from the Clermont, Richmond, Hughenden, Chillagoe and Charters Towers area, and was shipped on the Gelbray Express to Vietnam in mid-August.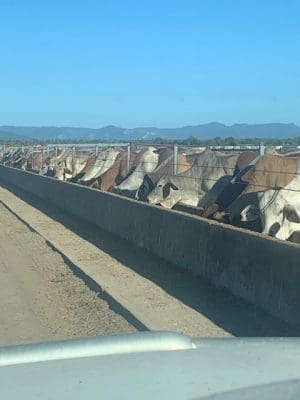 How Vietnamese orders from northern Australia hold up in coming months is now a key question, amid strict COVID lockdowns in Vietnam and the addition of an additional source of cattle from Brazil.
The bulk of cattle exported from Australia to Vietnam are sourced from Queensland and exported out of Townsville, which has supplied about 60 percent of the 124,867 head exported from Australia to Vietnam this year (the rest from Broome with 24,947 head, Fremantle 14,013 and Darwin 12,027).
After a relatively busy August, with shipments that were organised months before the Delta-variant Covid outbreak forced widespread lockdowns in Vietnam, there are currently no live export vessels scheduled to load at the port in September.