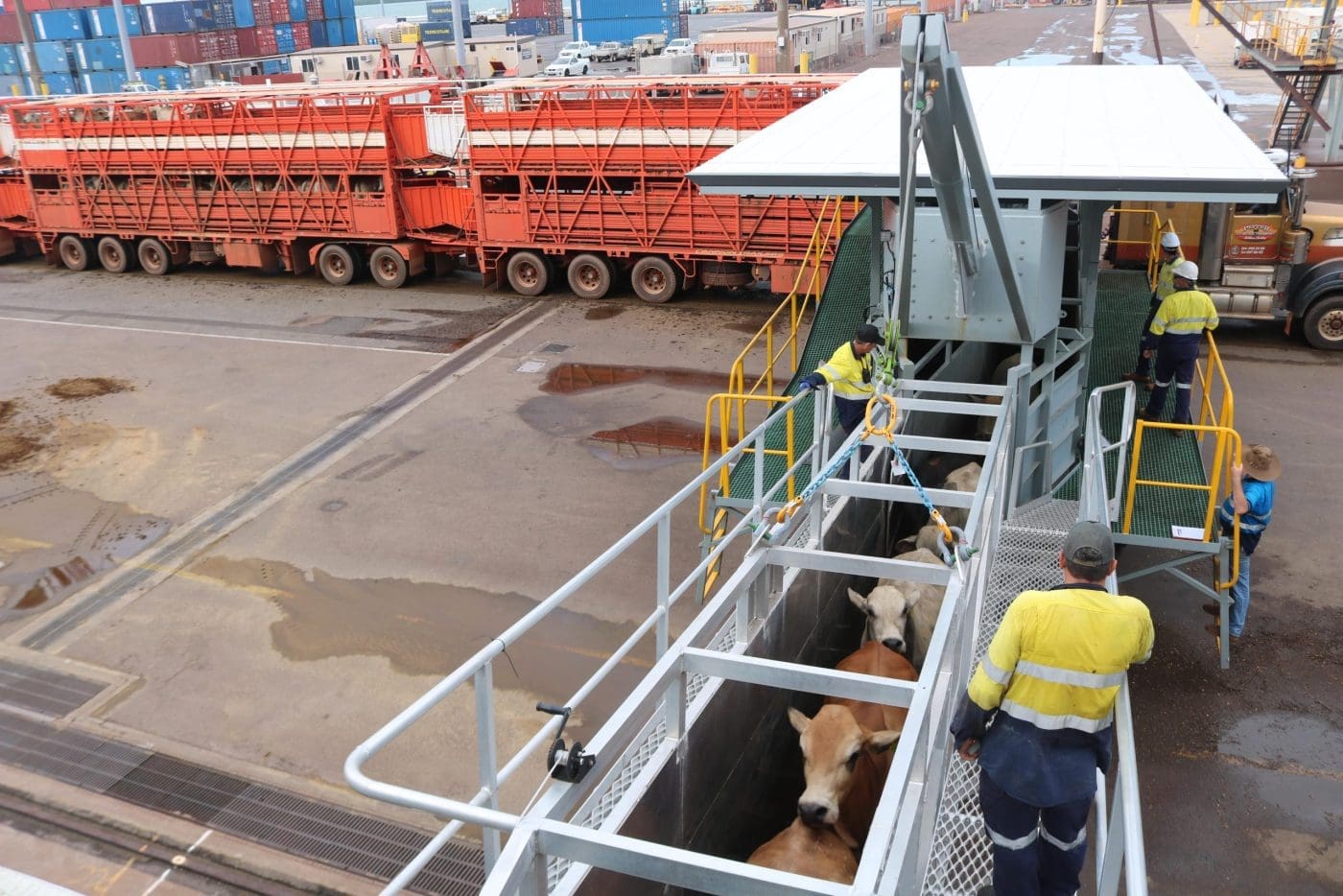 A NEW loading ramp for export cattle at the Darwin port is delivering a big efficiency dividend, while also upholding best-practice animal welfare and worker safety standards.
The new ramp, which has been built for stevedoring company Qube's Darwin livestock operations, was conceived in close collaboration with major cattle exporter Frontier International.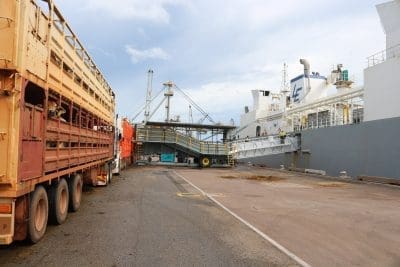 Frontier's Tick Everett said the new ramp was a significant investment by Qube and was a positive sign of logistics company's confidence in the future of the livestock export industry.
"This sort of new infrastructure, in time, benefits our entire industry," Tick said.
"We first used the ramp on some smaller shipments before Christmas and that allowed us to test the systems out and make sure the last touches and modifications were fit for purpose.
"Frontier is really proud to be working with Qube and huge credit goes to their team for their commitment to the live cattle trade and their investment in this sort of very modern, very impressive infrastructure."
Qube operations manager Scott Sims said while COVID-19, together with labour and material shortages meant the new ramp was a long time in the making, the final design was the product of a strong and productive collaboration between amongst industry professionals, including the Frontier team and Cam Mackie from Argyle Engineering at Kununurra.
"Collectively, innovation, safety and welfare have been at the forefront of our effort and we're proud to be supporting this important industry with this investment," Scott said.
"The complete unit is easy to set up, reduces wait and load times and includes a raft safety features for both animals and crews."
Tick said the shared desire for continual improvements in efficiency and handling had guided the ramp design.
"They say that if you do what you've always done, then you'll get what you've always had. I think in terms of handling livestock, and especially in live export, we're always looking for innovation to improve efficiencies and streamline our systems because good animal welfare is good for business."
The new ramp is custom built to act as a bridge connecting unloading trucks to the awaiting ship and is designed specifically for smooth, controlled cattle movement in mind.
"The hydraulic feet take the weight of the ramp and is a massive game-changer because with the greater stability means there's less bouncing around and less noise. That makes a huge difference to the cattle because they move more smoothly and safely from the truck, through the ramp and onto the ship," Tick said.
"We can also adjust the height of the ramp at either end, so we're less likely to be delayed by a low tide and we can also unload cattle from trailers of any height."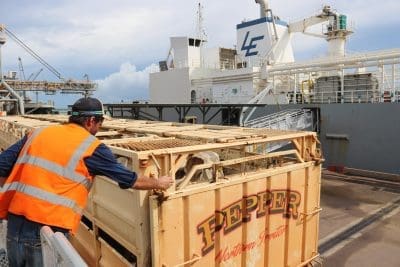 "The solid floor allows us to 'bed down' the ramp with saw dust, which just adds a bit of extra comfort for the cattle, and the hydraulic gates are fantastic because they allow us to control the flow of the animals into the ship, which is really important in working with the livestock crew on the ship."
From an efficiency perspective, the ramp has also provided Frontier and its livestock carrier Pepper Transport to trial 'run throughs', where the truck only stops once and cattle across three trailers are walked out the front trailer, instead of trailer-by-trailer.
Lisa Pepper, who owns and operates Pepper Transport with her husband Jason, said run-throughs had worked very smoothly which was a good outcome for Pepper Transport's drivers and subcontractors.
"The drivers stay in their vehicles, and a representative employed by Frontier and Pepper's manages the run-throughs and setting up the trailers," she said.
"The new ramp has good wide catwalks beside the trailers which are easy to use. We have been able to help with input to both Frontier and Qube to assist in the design to manage any potential risks and improve ease of use."
Lisa said the new ramp was also reducing queue times at the port.
"In terms of efficiency, the new ramp and the ability to do run-throughs means cattle are spending less time to be standing around on trucks," she said.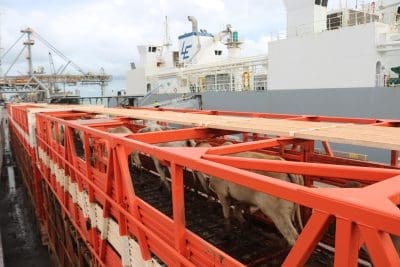 "At the export yard, we can load up to four trucks per hour and now, depending on the lines of cattle, the new ramp has meant we can achieve the same rate unloading at the port.
"Less time sitting at the wharf waiting to unload is also helping the drivers with their fatigue management."
Loading 3500-4000 cattle on to a typical G-Class vessel could now be completed in five-to-six hours with the new ramp, representing a significant improvement in efficiency.
"To load a G-class ship from the Bridge Creek quarantine yards south of Adelaide River to East Arm Wharf, we aim for 13 or 14 trucks, which ensures that there is always a truck at the port unloading cattle onto the ship," Lisa said.
"Loading a ship is a significant logistical operation and time is always critical. So now with the new ramp we have more time to load the ship, but we are taking less time to do it.
It has streamlined the ship loading process which benefits all of us in the supply chain, including the cattle in our care."