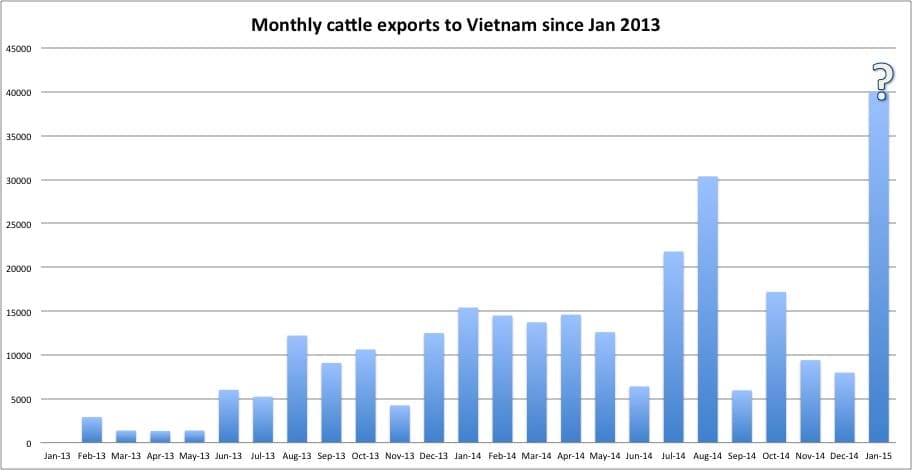 The increasing importance of the Vietnamese market to Australia's northern cattle industry was further reinforced in the first two weeks of this year as exporters awaited the delayed release of import permits from Indonesia.
Strong continued demand from Vietnam while Indonesia's Ministries of Trade and Agriculture debated over how many permits to issue for the first quarter allowed many exporters to keep shipping capacity operating through the first two weeks of the year and to avoid heavy demurrage penalties at port.
Live export industry sources say Vietnam is on track to take 40,000 cattle for the month of January 2015, which if achieved would be a monthly record for the market.
Vietnam has grown rapidly to become Australia's second largest cattle export market behind Indonesia, increasing imports from just 3533 cattle in 2012 to 66,951 in 2013 and 169,960 in 2014 (see above chart).
As first reported by Beef Central earlier this week, the Indonesian Government has approved permits for the first quarter for 100,000 head of cattle.
If exports to Vietnam in February and March sustain a similar pace to January, Vietnam could potentially displace Indonesia as Australia's largest destination for cattle exports in the first quarter.
Asked if that was likely, Wellard Rural Exports general manager for Asia, Scot Braithwaite, said export activity to Vietnam would most likely ease after the Vietnamese New Year next month.
"There has been a greater focus on Vietnam from some exporters in early January because they knew it was likely there would be a delay to the release of Indonesian import permits," Mr Braithwaite explained.
"At the same time Vietnam importers wanted to get stock in for Tet Nguyen Dan (the Vietnamese New Year which this year falls on February 19), so there has been a big shipping program to Vietnam in the past few weeks.
"Vietnam closes down for 10 days over Tet and after that demand decreases quite substantially, so I don't think cattle exports will quite get to the same level as Indonesia, but they will go close."
100,000 will present challenges
While Indonesia has released a reduced volume of import permits for the first quarter of 2015 than for the same period last year (133,000 head), 100,000 cattle remains a large number and a quantity that will still take some sourcing given the wet conditions across the Top End.
Last year saw record numbers of 490,000 cattle exported out of Darwin, 340,000 of which were sourced from the Northern Territory with most of the balance trucked to Darwin from Queensland.
Northern Territory Livestock Exporters Association (NTLEA) president Andy Gray said exporters had excellent relationships with their Indonesian customers and with advanced warning of the permit delays they had generally been able to redirect shipping capacity towards other markets while awaiting new permits from Indonesia.
"A lot of the exporters as I understand it have forward contracted livestock for Indonesia so they will start putting those together now," Mr Gray said.
"It is very wet up here, which imposes a series of challenges at this time of year.
"That isn't anything new, the whole supply chain from exporters to road transport operators to cattlemen are resilient and they will rise to the challenge."
Mr Gray said rain over the past week had pushed some cattle off the flood plains and into export depots. The re-commencement of orders to Indonesia from now on would help to move some of those cattle onto boats and to ease the pressure on the depots.
Reports of prevailing prices for live export cattle ex Darwin range from 260c-275c/kg for feeder steers to Indonesia, while recent orders for slaughter steers to Vietnam were priced at around 250c/kg.
Trade awaits news on China
Despite significant media fanfare last November about the imminent opening of a feeder and slaughter cattle trade to China, the industry is still waiting for official confirmation of the signing of the requisite protocol before the trade can commence.
Industry officials told Beef Central this week that an announcement will be made when the trade is ready to commence.