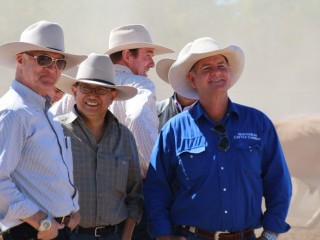 Bob Katter set the cat amongst the political pigeons while speaking on ABC 7:30 Report last week when he claimed credit for getting Australia's live cattle export trade to Indonesia back on its feet.
"By the end of this year myself and the cattle crisis committee through our endeavours and the great Christianity – even though he's not a Christian – of the Indonesian ambassador, we got the market restored," Mr Katter told presenter Leigh Sales.
That comment prompted Queensland agriculture minister John McVeigh to blast off a press release the following morning slamming Mr Katter for trying to re-write history and for engaging in 'pompous self-promotion'.
Far from helping the northern cattle industry, Mr McVeigh said, Mr Katter had failed it during the last election by allocating Katter Australia Party preferences in four Queensland seats to the Labor Party.
But then Mr McVeigh appeared to dabble in some 'pompous self-promotion' of his own by claiming that it was in fact he and his NT counterpart Willem Westra Van Holthe who were responsible for restoring the trade to Indonesia.
"The facts are, it was the Queensland and Northern Territory Governments that started to re-build the relationship with Indonesia," Mr McVeigh wrote.
"My Northern Territory counterpart Minister for Agriculture Willem Westra van Holthe and I met with the key Indonesian Ministers including Minister for Agriculture Suswono and Minister for Trade Irawan Wirjawan as well as other trade officials in April (sic: mid-May) this year."
Any fair observer would accept that Mr McVeigh and Mr Westra Van Holthe's visit played a positive role as part of a much larger and longer-running effort at industry and Federal Government level to repair relations badly damaged by the June 2011cattle export ban, as did Mr Katter's trip to North Queensland with the Indonesian Ambassador to meet with live export cattle producers in July.
But for Mr McVeigh to claim his trip with Mr Van Holthe was the sole catalyst for rebuilding of the relationship?
Mr McVeigh's own coalition partners at federal level might disagree with his interpretation of the significance of his visit, not to mention the exporters, the industry leaders, the Livecorp or Meat & Livetock Australia representatives or the federal trade officials who have been more or less consumed with the challenge of rebuilding trust with Indonesia ever since Julia and Joe took a grenade to the Australian-Indonesian friendship by banning cattle exports without consultation.
In October 2012, six months before Mr McVeigh and Mr Westra van Holthe's visit, then Federal opposition leader Tony Abbott, shadow agriculture minister John Cobb and shadow foreign affairs minister Julie Bishop met with their ministerial counterparts in Indoneisa as well as cattle lot feeders to stress their commitment to rebuilding the trade.
At the time of Mr McVeigh and Mr Westra Van Holthe's visit to Indonesia, it was already widely anticipated that Indonesia was preparing to release expanded quotas.
In reality that was likely to have had less to with any political influence from Australia and more to do with the simple laws of supply and demand, as Indonesia was becoming increasingly concerned about the impact of soaring beef prices on inflation and the need to ease the beef shortage that was driving prices to unaffordable levels.
A month before the ministers McVeigh and Westra Van Holthe arrived in Jakarta, Indonesia's Trade Minister Gita Wirjarwan had told Indonesian cattle importers that the he was preparing to increase import permits in order to improve supply and bring beef prices down.
Any politician visiting Indonesia in that environment was understandably likely to claim credit for any subsequent increase in import permits that followed, regardless of how much or how little their visit actually contributed to the result.
This is not to question the undoubtedly genuine commitment both ministers have to helping what is an important trade for their respective constituencies.
State and territory ministers such as John McVeigh and Willem Westra Van Holthe and federal MPs such as Bob Katter have invested considerable time and energy in working to support the trade, and their efforts to strengthen direct relationships and understanding with Indonesian ministers and the Indonesian ambassador is clearly a positive for a trade that, frankly, needs all the support at politicial level it can muster.
States much recognise 'Australia Inc"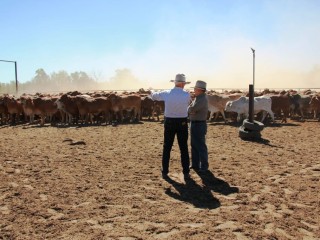 The important thing is that when non-Federal Government politicians decide to engage in market access talks already underway at a Federal level, that they do so in a way that recognises the existing efforts of others and does not hinder the over-arching 'Australia Inc' strategy.
When politicians wade into sensitive trade negotiations, clashes can quickly emerge between the desire of official trade negotiators to keep public statements to a minimum to avoid the risk of mismatched statements derailing the entire process, and the need politicians feel to speak about their involvement to ensure voters know that they're doing their bit.
A few weeks ago upon his return from a visit to China, Mr Westra Van Holthe told ABC radio that he expects China to soon lift its restriction on importing cattle from areas of Australia that are affected by the Bluetongue Virus.
That issue is currently central to long-running and complex negotiations between Australia and China, aimed at securing mutual agreement on the development of a health protocol that can allow exports of northern feeder and slaughter cattle from Australia into China.
A decision by China to soften its stance against Bluetongue would indeed be welcome news for NT cattle producers and others across the north were it to happen.
While the minister's comments were likely well-intentioned, they were also premature and risked fuelling a perception in China that Australian negotiators arrogantly believe a deal is all but in hand, when, according to trade officials, such an outcome remains far from guaranteed.
One trade representative who spoke privately to Beef Central explained that it is not sensible negotiating practice for Australian officials to discuss developments publicly until an outcome is secured, let alone to create the impression that a particular result is expected. For these reasons, officials visiting each market were routinely counselled to be cautious with public comments when they returned from overseas visits, he said.
"The Chinese are now just as likely to say it appears Australia think they have already got the deal in hand, we will teach them a lesson," the trade representative said. "That has the potential to set everything back, we might not get back at the table again for a long time."
WA state ministers have also weighed into overseas market access debates this year. In July WA ag minister Ken Baston returned from Indonesia calling for the Federal Government to gift Indonesia 10,000 breeding heifers in exchange for increasing quotas. In October WA premier Colin Barnett sparked a raft of mainstream media headlines declaring that live cattle exports to China were about to fire up after he signed a Memorandum of Understanding with a Chinese province to potentially take live cattle from WA in future. Despite the excited headlines, the reality remains that such a development means little until health protocols between Australia and the Chinese Central Government are signed.
Comments by various state ministers in recent months have created the misleading impression that it is only they who are working hard to achieve trade breakthroughs, ignoring the considerable but unseen behind-the-scenes efforts of exporters, Livecorp, MLA, and DAFF and Austrade officials.
States recognise need for unified approach: NT DPI
At the LiveXchange Conference in Townsville early last month, NT Department of Primary Industries chief Allister Trier was asked if state level politicians visiting foreign markets were going up in a coordinated way, or operating in isolation of an existing national strategy.
Mr Trier said the NT, Qld and WA ag ministers met regularly under the Northern Australian Agriculture Ministers forum, and all saw a need for a unified approach.
"Canberra is important to us as they do the protocol negotiations and see those through, they're the Australian representative in those sort of deals.
"The State Government role is about the development side as opposed to the access side, so we need to coordinate those two activities together and we are working pretty hard to do that."
South East Asian trade expert Tim Kelf from Prime Advice Consulting told the same conference he believed the states had to work harder to respect the national interest.
"What Australia needs is to go into China in a structured, national way," Mr Kelf advised.
"If we have a whole lot of these little individual states running around signing things and doing things outside of what would be a comprehensive strategy, it is not going to help."