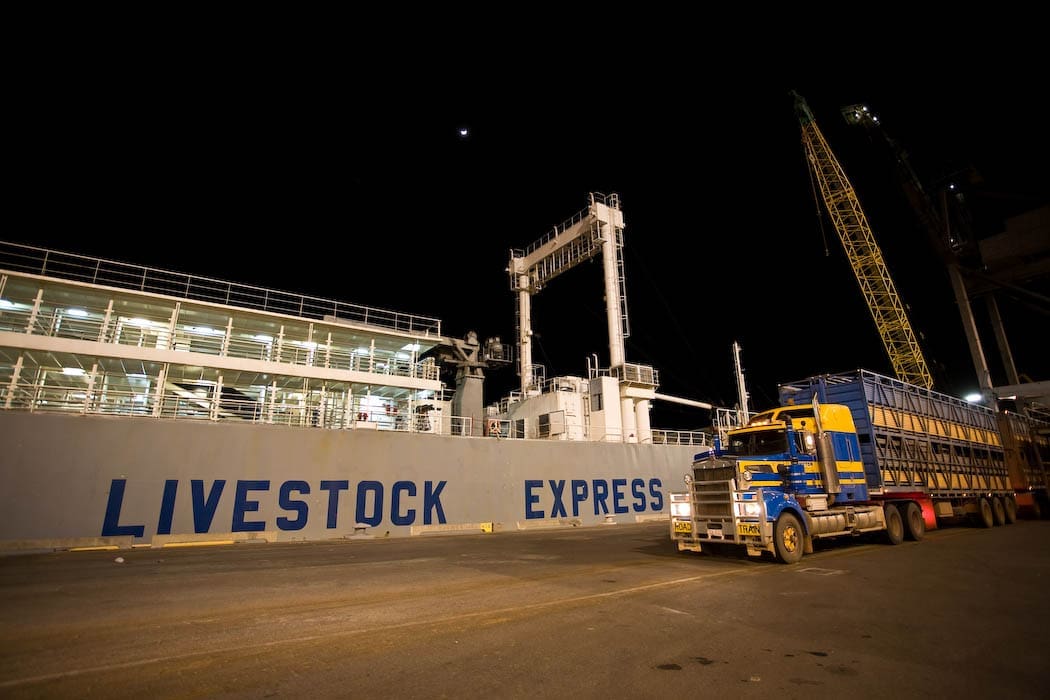 Northern cattle exporters are gearing up for a busy two weeks as they move to supply final orders to Indonesia before the March 31 first-quarter deadline.
Cattle shipped under first quarter permits must arrive in Indonesia prior to the close of business on March 31, which means exporters have until around March 24-25 to load and ship cattle from Darwin (or March 20-21 from Townsville).
Most cattle sourced for export orders in recent months have been drawn from dry north western Queensland, where many producers are enduring their third failed wet season in a row.
With orders from Indonesia capped at just 98,000 head for the first quarter (back from 160,000 head in Q1 2014), and many producers needing to sell cattle to make room for weaners coming through or simply because summer feed has run out, prices have come back by about 30c/kg in the past month.
Feeder steers that were fetching as much as 250c/kg not long ago at the Cloncurry yards are nowselling for around 220c/kg.
Heifers, which are in less demand under the current restricted permit environment, are back to around 195c/kg – a 25c/kg differential compared to steers.
Exporters appear to have sourced all the cattle they need to fill their first quarter orders to Indonesia, but a number are already offering forward prices for April in order to secure cattle in anticipation of the pending release of second quarter permits (see more on Q2 issues below).
Townsville on track for another shipping record
The drought-forced turnoff of cattle from Northern Queensland appears set to ensure Townsville breaks another record for cattle export volumes this financial year.
Latest shipping figures show that Townsville was Australia's busiest cattle export port for the first two months of the year.
Townsville exported 51,951 in January and February.
Darwin shipped 48,576 cattle for the same period.
Many of the cattle shipped from Darwin were sourced from Queensland, trucked north by exporters from the Cloncurry holding yards.
It seems that an estimated 20,000-30,000 cattle are still yet to be shipped by exporters to meet Indonesia's orders for 98,000 cattle for the first quarter.
Townsville was unable to provide a definitive breakdown of the percentage of cattle shipped to Indonesia and Vietnam during January and February. However, 2014 figures show that 60pc of cattle exports from Townsville went to Indonesia, and 40pc to Vietnam. Using that ratio as a guide, it would suggest that Townsville shipped around 30,000 cattle to Indonesia in January and February.
Port of Darwin figures show that 37,000 cattle were shipped from that port to Indonesia in the same period.
That leaves roughly 31,000 cattle to make up the 98,000 head required by March 31.
Some of that volume would have already been shipped in the first 12 days of March.
In previous quarters exporters have struggled to get access to ports in the final critical days due to congestion issues, and have been forced to ask Indonesia for special dispensations to allow cattle to be delivered after the quarterly permit deadline expires.
However, one export company source told Beef Central this week that exporters had been planning ahead this quarter in the knowledge that the March 31 deadline was final.
"I think we're all ready for it because they told us in advance they weren't going to give us any dispensations," the exporter said.
The Port of Townsville appears to be on track to again break a record for cattle export volumes this financial year.
So far in 2014-15 the port has shipped 167,291, compared to 201,810 for the entire 2013-14 year.
Trade anxiously awaits Q2 permit allocations
Both producers and exporters are hoping for a significant increase in permit allocations for the second quarter.
Townsville stock agent Tim McHugh said many north western Queensland producers were desperate for export orders to relieve pressure on dry paddocks.
"We have a situation existing right now where we have got people in Australia affected by their third year of drought, desperate to sell cattle, and we have people in Indonesia in the feedlots desperate to buy cattle, and it is all being impacted by these reduced permits," he said.
Exporters are also hopeful that permits will be allocated well before the second quarter starts, Northern Territory Livestock Exporters Association interim executive officer Tony Eggington said.
"The exporters are certainly hoping there is some sort of announcement within the next two weeks, because they need to plan well in advance, and this is the difficulty in the trade," Mr Eggington said.
"It all comes down to the fine art of planning – cattle, yards, ships, transport, it all has to happen well in advance, and being able to plan ahead is very important."
Northern cattle producers have been saying for a long time that prices of 300c/kg are needed to maintain the viability of grassfed cattle production across northern Australia.
Prices started to rise in 2014 as Indonesia released import permits for more than 700,000 cattle for the year in a bid to relieve a supply shortage and reduce beef prices at wet markets. Prices rose to around $2.70/kg for export steers out of Darwin.
However, whether the magical 300c/kg level has any chance of being reached this year will depend very much on how many permits Indonesia allocates.
Next quarter's permit allocation in particular, expected to be announced in coming weeks, will provide crucial demand signals for the remainder of the year.
The second quarter is usually when the largest permit allocations are granted, allowing importers to fill their feedlots to ensure beef supply is plentiful in Indonesia during the month long Ramadan festival in July/August, the country peak annual period of beef consumption.
In the second quarter last year, Indonesia allocated permits for a massive 273,000 head of cattle, as it sought to increase supply to bring down sky-rocketing beef prices in wet markets.
Indonesian trade sources say the process of deciding final permit allocations for each quarter has typically involved a tug of war between the Indonesian Ministry of Agriculture and the Indonesian Ministry of Trade, which in the past has led to long delays in the final confirmation and release of permits.
One respected Indonesian trade source told Beef Central that Indonesia's Coordinating Ministry of Economic Affairs has recently split permit issuance responsibilities between the departments, with the Ministry of Trade appointed to issue permits for beef products, and the Ministry of Agriculture appointed to issue permits for live cattle.
One benefit is that this system should avoid the arm-wrestling that has occurred between the departments in the past and result in the faster issuance and release of permits.
However, the Ministry of Agriculture does not have a strong history of supporting large import permit allocations.
The MoA is focused on protecting domestic agriculture in Indonesia, and was the driver of the previous ill-fated push for self-sufficiency under former agriculture Minister Suswono from 2009-2014. Under this policy the MoA oversaw successive and substantial cuts to annual import volumes, which ultimately led to a massive shortage of beef and record high prices in Indonesia.
Booking cattle shipping space early for Q2 may be a wise risk-managment move, the Indonesia import industry source suggested.