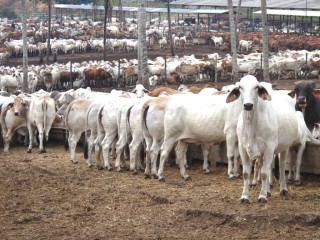 The Indonesian Government will conduct a census in June to determine the number of cattle in Indonesia, a move likely to have significant implications for Australia's live cattle trade to the market.
Indonesia has been Australia's largest and most important market for live cattle for the past seven years, taking a record 773,868 head – or 81% of Australian's total annual cattle shipments – in 2009.
Shipments to the market slowed dramatically in June last year when the Indonesian Government imposed severe restrictions on Australian imports as part of a five-year plan to achieve self-sufficiency in beef production by 2014.
The sanctions included maximum weight restrictions of 350kg, and an overall limit of 500,000 head from Australia.
The restrictions have been a major blow to the Australian livestock industry, and hopes have been high that Indonesia will rethink its position.
The announcement of an official livestock census has been interpreted as a possible sign that the Indonesian Government is considering reassessing its live and processed beef import quotas.
The Indonesian Government has based its plans for self-sufficiency on an estimate that there are 12 million cattle in Indonesia, but industry insiders believe the real number is far less.
Processors and meat importers have argued that the Government's estimate is overly-optimistic, and that without a re-expansion of import quotas there will not be enough beef to feed the nation.
Much now hangs on the outcome of the census.
Meat and Livestock Australia manager, live exports, Michael Finucan, said the decision to obtain a more accurate picture of the Indonesian cattle population was welcomed and should help to provide certainty for all sectors.
Signs were also emerging that Indonesia's beef import restrictions were working against its push for self-sufficiency by forcing more Indonesian breeding cattle into meat works to make up the beef shortfall.
"There is a concern with the reduction of Australian animals going up that there has been certainly an increase in local cattle going through the processing sector, and it is possibly making their self-sufficiency goals less achievable," Mr Finucan said.
"So there is concern, and I think there is definitely support for a census being done to really understand the current situation."
The head of Indonesia's Agriculture and Central Statistics Agency Rusman Heriawan told the Indonesian media that the census would be held simultenously in 33 provinces in June.
"After conducting the field survey, we need three months to process the data," he said.
Indonesia's Agriculture Minister Suswono told the Jakarta Post that the census would provide important fresh data on the livestock population and the condition of Indonesian livestock, "to support the Government's program to achieve self-sufficiency in livestock production by 2014".