An additional eight Australian cattle have tested positive to lumpy skin disease after their arrival in Indonesia where the disease is widespread, the Federal Government confirmed yesterday.
The development, which comes despite extensive recent testing of 1000 cattle in Australia which found no trace of the disease, is set to paralyse further trade of Australian cattle to Indonesia until the ongoing stalemate over Australia's LSD status is resolved.
Australia's Department of Agriculture, Fisheries and Forestry has confirmed to Beef Central that Indonesian officials advised their Australian counterparts on Saturday afternoon that eight additional positive tests had been recorded in cattle of Australian origin following their arrival in Indonesia.
Lumpy skin disease is a highly infectious viral disease transmitted by biting insects. It was first detected in Indonesia in March 2022 and has spread rapidly across the archipelago since that time, including the major islands of Sumatra, Kalimantan and Java.
The eight cattle cited by Indonesia as testing positive to LSD post-arrival in the country were exported from three registered establishments in Australia, two near the port of Broome and another in the Northern Territory.
Prohibitive conditions
The three facilities are in addition to the four pre-export quarantine yards in northern Australia suspended by Indonesia in late July, after Australian cattle which had been handled through those facilities tested positive to lumpy skin disease following their arrival in Indonesia.
The three registered establishments involved in the weekend's announcement have not technically been suspended by Indonesia, according to DAFF.
But DAFF has advised industry that Indonesia has imposed substantial new conditions on the three export yards in question, requiring all livestock being quarantined in the depots for shipment to Indonesia to be swabbed and blood tested for LSD.
These requirements, and the extra time they would require animals to be held in the yards awaiting results, could add costs in the vicinity of $200 per head, making use of those yards commercially prohibitive for exporters.
Given the northern Australia cattle trade to Indonesia usually relies on about ten key registered quarantine yards across the region, with seven depots no longer able to be used, it is expected the trade will effectively grind to a standstill until the stalemate over Australia's LSD status is resolved.
Beef Central believes a livestock vessel which, according to the Darwin Port website, departed for Jakarta over the weekend could be the last order locked-in for Indonesia, with exporters and quarantine yards now unlikely to gamble on further shipments until the stand-off is resolved.
Jakarta mission
According to a member update distributed yesterday by Cattle Australia, Federal Agriculture Minister Murray Watt participated in a teleconference with industry representatives on Sunday morning. During the call, Minister Watt reiterated that random testing conducted in live export yards across northern Australia since 2022, including the three additional yards now implicated, continue to show Australia is clear of LSD.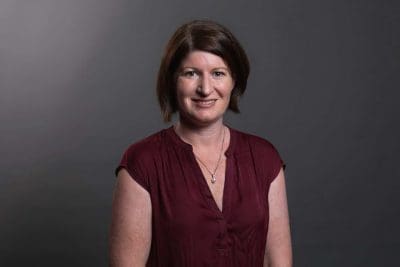 A technical team from the Federal Department of Agriculture led by Dr Beth Cookson (left) is travelling to Indonesia to meet with their counterparts in a scheduled technical meeting in Jakarta on Thursday.
The meeting will likely look for improved technical understanding and ideally a resolution and lifting of the current suspensions based on Australian testing results submitted.
"We remain confident of Australia's LSD-free status, and it is in the interests of both countries that trade be normalised in the least trade restrictive way," departmental spokesperson Dr Beth Cookson, Acting Chief Veterinary Officer of Australia, said in a statement to Beef Central this morning.
"Australia is confident of the robust systems it has for the monitoring of our animal disease status.
"Australia is working closely with Indonesia and Malaysia to resolve the issue as quickly as possible.
"The Australian Government and departmental officials are very aware of how important the live cattle trade is to Australia, and particularly to northern Australia."
Indonesia is Australia's largest market for live cattle, with more than 300,000 head exported there annually and the ongoing issue has the potential to decimate the $1bn-a-year industry.
1000 cattle tested with no LSD found
In a separate statement released to media on Sunday, Dr Cookson confirmed that recent testing of cattle in response to Indonesia's concerns about lumpy skin disease did not produce any trade of the disease in Australia. disease (LSD) has never been detected in Australia and we remain free from the disease.
She said the department, with the support of the WA, Qld and NT governments, along with industry, has conducted rapid diagnostic testing of more than 1000 head of cattle across northern Australia.
This occurred across numerous properties spanning WA, Qld and the NT, across a distance of approximately 2800 km.
"The Department of Agriculture, Fisheries and Forestry has finalised an investigation into the health status of Australia's northern cattle herds. The investigation was conducted to provide the assurances that Indonesia and Malaysia requested in response to LSD being detected in a small number of Australian-origin cattle after they had arrived and spent time in Indonesia.
"Our testing did not detect LSD in Australia and our disease status has not changed.
"The negative test results further highlight Australia's robust systems for the ongoing monitoring of animal diseases, including LSD."
She said Indonesia and Malaysia have been provided the results of the testing in a technical report that each country is now considering.
"We are awaiting advice from the relevant Indonesian and Malaysian authorities on the lifting of their cattle and buffalo import restrictions.
"I would like to thank the WA, Qld and NT governments, as well as industry participants, who took part in this testing exercise. It illustrates the cooperation that is possible between Australian governments and industry.
"Australia continues to trade livestock and animal products internationally, including live cattle to Indonesia."
Despite the fact Australia has never had a positive test for LSD, Indonesian authorities have continued to point to the incubation period for the disease, which the World Organisation for Animal Health lists as potentially being as long as 28 days, as reason to believe the cattle could have been infected in Australia.