The global live cattle shipping fleet includes 33 active vessels which are approved to carry Australian livestock.
About 16 of these vessels have been concentrating on the cattle trade from Australia to South East Asia, Japan and China for almost a decade.
As recently as early 2021 almost all of these vessels were engaged in active service moving livestock around the region with very little down time.
At a time when Covid 19 was creating havoc with international container and bulk cargo shipping, livestock vessels remained busy keeping global customers supplied with beef, dairy cattle and sheep.
A combination of factors has resulted in a relatively sudden slow-down in the trade which is likely to continue to contract in the near future.
Of the 33 ships which are currently approved for active service in the Australian live cattle trade :-
16 are employed in the Australia to S E Asia, Japan and China trades
3 usually carry mostly sheep to the Middle east with some cattle.
5 are employed in the African region
4 are employed in the Americas
5 are employed in Europe
The numbers above are always very fluid with frequent changes in location and status at short notice so they are an approximation rather than an exact figure calculated from publicly available information during the last week of October 2021.
After remaining busy up until the second half of 2020, the Australian based cattle fleet has experienced a dramatic slow-down.
As of October 2021, of the 16 cattle vessels normally operating from Australia to Asia :-
Only 7 are continuing to service the S E Asian trade
5 are at anchor at various locations around the region, mainly Singapore and Manila
3 are carrying dairy cattle from Australia and New Zealand to China
1 continues to service Japan
Of the 7 which continue to carry slaughter and feeder cattle to S. E. Asia, all will be finding it increasingly difficult to sign new charter agreements with exporters as the business case continues to crumble so the number of vessels at anchor is likely to rise.
During normal commercial operations it is common for the larger exporting companies to engage ships on a 12 month term charter party basis rather than rely on the riskier spot charter market to ensure that they always have access to a vessel when the trade is busy.
I know that a number of companies have only recently finished their long-term charters. Others are close to the end of their term charter agreements and are only continuing with their export activities because they lose less by operating at a modest loss rather than directing the vessel to anchor while still paying the charter costs which can result in an even greater loss. This situation will probably mean that during the next month or so the number of vessels at anchor will increase.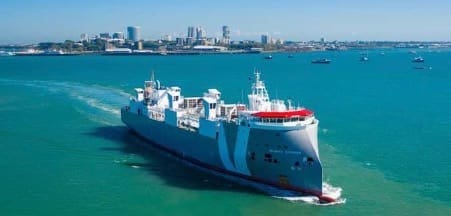 Photo from the Vroon website of the MV Gelbray. I sailed on this vessel on my last voyage.
The primary factor contributing to this rapid decline is the historically high Australian cattle prices with disruption in the economies of our key customers in Indonesia and Vietnam as a result of the pandemic a distant second.
The arrival in Vietnam of 14,000 bulls from Brazil has also put future imports from Australia under huge pressure although in the short term, the additional quarantine costs caused by the recent notification of BSE in Brazil may well place a halt on this supply option until the additional 45 day post arrival quarantine is no longer required.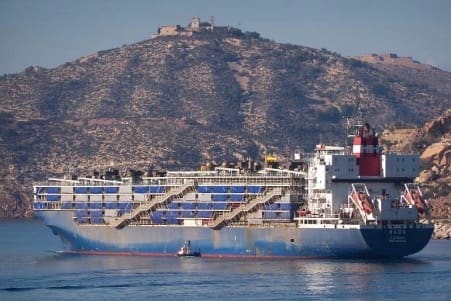 Photo from the internet : The MV Nada delivered the first shipment of 14,000 Brazilian cattle to Vietnam. It was last reported at anchor in the Mediterranean.
Expanding markets in alternative destinations is always under consideration with recent shipments to Australia's smaller export destinations such as Brunei, Thailand, Malaysia and the Philippines. These are useful backups but are not big enough to have a significant impact on overall demand. Increasing the numbers of buffalo offered as slaughter and feeder animals to reduce the cost of shipments is also a useful means of cost cutting but once again this strategy is not capable of delivering the level of savings needed to impact the current market distress.
In addition, there are a number of other lesser issues which, when combined, contribute further negative impact on the economics of today's trade. These include the much higher costs of ship operations especially in relation to crew change quarantine protocols, dramatically higher costs of ship stockmen and veterinarians who must return to Australia on the vessels instead of flying home from the discharge ports and the high cost of hotel quarantine for stockmen and vets when they do finally arrive home. Fuel prices which are a significant component of shipping rates are also rising along with worldwide increases in the cost of energy.
In some instances, the cost of operations increase as the business declines. When a vessel has no further work contracted after discharge in Asia, it will usually proceed to anchor in Singapore or Manila where the stockmen have very limited options to return to Australia.  For example, I am aware of 3 Australian stockmen who have spent the last 10 weeks either onboard their vessels at anchor in various ports or more recently in hotel quarantine in Manila with no flights available to return home. My latest advice is that they have just returned to Australia on flights from Manila to Singapore to New Zealand to Sydney where they are now in 2 more weeks of hotel quarantine before returning to their home state or territory with potential for another quarantine entry process.
In my own case, I disembarked from my vessel in Manila after the Master advised that the return voyage to Australia had been cancelled. After hotel quarantine in Manila, I was unable to find a flight to Australia so I flew to the USA to visit my daughter and her family.
The China dairy trade is a very useful alternative to the S. E. Asian beef business but considering China's current economic and energy related problems, this trade is more likely to contract than expand. If the number of unemployed vessels continues to grow then ship owners will be reviewing their options which include finding alternative employment for vessels in other parts of the world (some have already been recently deployed to other regions), sending their older vessels to scrap or reducing their rates in order to minimize their losses for ships at anchor.
Of all of the factors contributing to this dramatic slowdown in the trade, high cattle prices are the primary cause. Considering the state of the Australian cattle industry which continues to be grossly undersupplied with stock combined with the coming wet season, there seems to be little prospect of a price decline that will be large enough to kick start the live cattle trade back into action for the next 6 months at the very minimum. It may even take 18 months for prices to moderate to a level at which our customers are able to restart profitable importation.
In short, the industry has no option but to batten down the hatches and sail into the unavoidable commercial storm and hope that they emerge from the other side in good order.