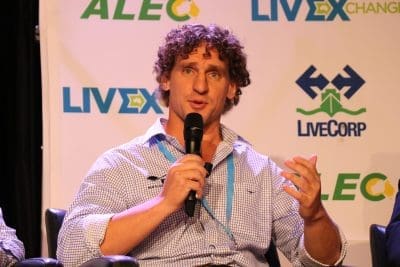 Amid signs a large shipment of bulls is set to open a trade in cattle from Brazil to Vietnam, one of Australia's largest markets for live cattle, Dr Michael Patching (pictured left) and Dr Rodd Dyer explore the shifting dynamics of the region's cattle trade.
THE live-export of Australian cattle to Vietnam and Indonesia represented a combined value of AUD $1.58 billion in 2020. So, it is understandable the prospect of competing cattle exporting countries getting access into these markets may raise some concerns.
Beef Central has previously covered the possible implications of Vietnam receiving a shipment of Brazil cattle (https://www.beefcentral.com/live-export/australias-strength-in-partnerships-as-brazil-eyes-cattle-exports-to-vietnam/) [RD1] and Indonesia importing cattle from Mexico https://www.beefcentral.com/live-export/indonesians-to-start-negotiations-with-mexican-live-exporters-in-response-to-record-high-aus-feeder-cattle-prices/).
But neither of these scenarios have yet to eventuate.
Brazilian cattle heading to Vietnam
In recent weeks industry contacts have been watching developments in Brazil closely, with reports that a ship of 14,000 bulls is set to be loaded any day for export to Vietnam. Some reports have suggested the ship may be discharged in Cambodia due to import permit uncertainty but more recent indications are that the shipment is being imported directly to Vietnam in collaboration between a Vietnamese Government connected enterprise and a current importer of Australian cattle, with the imports intended to ensure food security for the army. The ship has been near a port in Brazil for almost two weeks, and at the time of publishing this article was still yet to load and depart according to industry sources.
Implications for trade dynamics
The uncertainty around the shipment is a good example of the dynamic and competitive nature of cattle trade in the region. Irrespective of this shipment's success, there is value in considering both land and sea transport in the context of the current market.
Under normal trading conditions these cattle may be expected to follow traditional cross-border trading routes into southern and central Vietnam, with the majority entering the Ho Chi Minh City (HCMC) supply chain. Given that a Vietnamese importer, who has previously imported Australian cattle is behind the trade, it would be reasonable to expect the majority of these cattle may enter feedlots built for Australian cattle and then move into linked supply chains, competing directly with Australian cattle in ESCAS approved abattoirs.
The advantage of trading Brazilian cattle is they will have similar meat yields to Australian cattle without the trading restrictions imposed by the ESCAS animal welfare system. This is assuming they are healthy on arrival. Most of the animal welfare improvements on cattle required by ESCAS have now been well accepted by Vietnamese abattoirs including the almost ubiquitous use of stunning on both local and Australian cattle. However, lower compliance costs, and the flexibility to move Brazilian cattle into facilities based on market demand rather than regulatory restrictions is a major advantage.
The short- and long-term impact of Brazilian cattle on animal handling and slaughter practices and infrastructure in Vietnam remains to be seen. It will be dependent on the success of the shipment and quality of the cattle. However as noted in a previous Beef Central Article, it is the opinion of the authors, that under current markets conditions of high prices and low availability of Australian cattle, the short-term impact of Brazilian cattle may be beneficial to the Vietnam supply chain. One argument is Brazilian cattle will allow abattoirs to remain open, and for better abattoirs to retain the levels of throughput required to maintain their markets. The better abattoirs in Vietnam operate on a different scale to Australian abattoirs and may only process 10-20 head per night. However, they experience the same supply and operating challenges as we are seeing in Australian abattoirs.
…But these are not normal times!
Lumpy Skin Disease (LSD) and the COVID pandemic both create a dynamic in the market that wouldn't exist under "normal" trading conditions. Although one could argue these unforeseen shocks and stress are now part of a new operating "normal".
So, what are these "normal conditions" and what might be some implications…
The movement of cattle through the Greater Mekong Subregion* is best described as complex and dynamic. At a simplistic level the cattle trade traditionally flows from supply countries in the west to consumption countries such in the east in the region or north into China. The trade is a combination of some official cattle imports and a much larger number of unofficial movements. This makes quantifying the cross-border trade difficult.
Generally the ASEAN region is broken into three different areas:
1) India, Myanmar and Thailand supply countries – have relatively high cattle numbers and relatively low local consumption
2) Laos and Cambodia are transit countries that have some very small production themselves, low consumption due to small populations and are used as a route to access consumer markets; and
3) China and Vietnam, and to a lesser extent Malaysia are consumption countries that have large populations and cannot produce enough beef locally.
These trading routes are maintained by a network of local cattle traders from either side of each border who work via relationships and contacts to buy, sell, and coordinate logistics for the movement of the cattle.
COVID
We all have COVID fatigue, but it is a reality, and it is impacting trade and will continue to do so throughout Southeast Asia and China well into 2022 as vaccine rollout and Government restrictions are expected to continue for some time throughout the region. COVID is having two main impacts to the regional livestock trade: 1) Border Movements; and 2) Consumer demand.
This week Thai feedlotters and traders who normally export cattle into Vietnam and China commented that trade was currently very difficult due to the impact of COVID restrictions.
While there are still goods transported between Laos and Cambodia into Vietnam and China these are not happening as freely and border delays and closures creates uncertainty and additional costs for traders. While there are reportedly still some imports of cattle across the border from northern Vietnam into China this has largely been stopped (https://www.beefcentral.com/live-export/the-rise-fall-and-rise-again-of-australias-cattle-trade-to-vietnam/)
The other implication of COVID in the region is the impact that lockdowns are having on traditional channels where live cattle are normally sold. At present Vietnam is experiencing some serious challenges with current hard lockdowns, especially as traditional markets are either closed or restricted due to outbreaks. At different times they have even seen complete breakdown in their distribution system in HCMC as key wholesale markets have closed leaving no ability for produce to get through. This and the complete closure of all restaurants, cafés and street food stalls in Hanoi, HCMC and other major cities means the local cattle and beef industry is now facing issues with depressed demand for their products. The result being the number of cattle processed in most abattoirs is now about a third of pre-COVID volumes with some going out of business.
The implications of this market situation are large numbers of Australian cattle in feedlots are likely to get overfat and become more difficult to market. What 18,000 cattle coming from Brazil will mean for this dynamic will be interesting to see. If they can get into Vietnam easily and at a comparable price, then we will likely see them undercutting the price of Australian cattle and being sold as quickly and freely as possible into the market to avoid the same overfat-poor marketability fate as some Australian cattle.
Lumpy Skin Disease (LSD)
Unfortunately, LSD is not as fun as its alliteration suggests and is a skin disease that creates irritated nodules under the skin and production loss in cattle. It is mainly transmitted by biting insects, but the transmission is accelerated when infected animals are traded for emergency trade, slaughter or unknowingly via normal cattle trading. It has now been seen throughout the entire region. There is a vaccine available that has had varying success in eradication programs globally. Similar to Foot and Mouth Disease (FMD) the ability to eradicate the virus requires a coordinated approach for the region. This is difficult particularly due to the prevalence of informal trade.
Vaccine is reportedly now being imported into several countries in the region with Government supported programs being implemented in infected regions. Reports from producers is that the response has been too slow and therefore the impact of the vaccines will be limited. Fortunately healthy cattle are not showing major clinical signs or recover quickly and it has been more of an issue for older cows on poor nutrition and calves.
The wider implications of the virus have been on the regional movement of livestock as countries and provinces have tried to stop the movement of cattle to stop the disease spread. The recently established official cattle trade between Laos and China has also been temporarily suspended due to LSD disease risk (https://laotiantimes.com/2021/07/23/china-bans-cattle-and-cattle-product-imports-from-laos/).
The implications of this virus for the cattle coming from Cambodia to Vietnam will be interesting as there will potentially be greater scrutiny of these cattle by both Cambodian
So once again we are left postulating the impact of cattle imported from South America into South East Asia, and we are the closest that we have ever been to seeing large numbers of cattle entering the market.
And as is mostly the case and excitement of the region, the outcome will remain predictably unpredictable until it all plays out.
What we need to understand as Australian producers, is that it is a mistake to talk about what is happening in individual countries, or the impact of singular factors. It is never that simple and there is always potentially an equally complex reaction that may not appear completely logical.
This is a new series of articles from Dr Rodd Dyer and Dr Michael Patching, GSM Agri, will explore and challenge concepts regarding beef supply chains in Southern Asia and how they relate to Australia.
This activity received grant funding from the Department of Foreign Affairs and Trade under the Australia-Vietnam Enhanced Economic Engagement Grant Program 2021.

*Greater Mekong Subregion is a wide region that generally includes Southern China, Myanmar, Thailand, Cambodia, Laos, and Vietnam and is a geographical region related to the flow of the Mekong River and its associated tributaries.