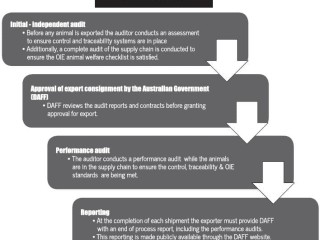 A new acronym has entered the Australian livestock export industry's vernacular in 2012.
"ESCAS" stands for Exporter Supply Chain Assurance System, a new regulatory framework that now overhangs every facet of Australia's livestock export trade.
The system was introduced in Indonesia in July last year by the Australian Government to assure the welfare of exported Australian livestock, and has since been rolled out to 99pc of Australia's live export markets. It will cover 100pc by December 31 this year.
In the past exporters have only been responsible for ensuring the welfare of stock through to the point of disembarkation.
With the trade coming under fire following numerous examples of Australian animals being mistreated in foreign markets, the Australian Government through ESCAS now places the responsibility on exporters to guarantee measurable animal welfare outcomes throughout the entire supply chain in overseas market places through to the point of slaughter.
Australian exporters seeking a permit to export feeder and/or slaughter livestock must show that their supply chain:
Meets World Organisation for Animal Health (OIE) guidelines for animal welfare
Enables animals to be effectively trade or accounted for by exporters within a supply chain through to slaughter
Has appropriate control through reporting and accountability
Is independently verified and audited
The performance of exporters must be regularly independently audited against a checklist of key performance indicators that contribute to animal welfare outcomes.
Exporters must also be able to provide evidence of being able to control all animals through supply chains, even where they do not own the feedlot and abattoir facilities involved, which is usually achieved through securing commercial contracts with importers and other businesses in the supply chain.
All cattle in an export consignment must also be individually identifiable and traceable from the Australian registered premises through to the overseas abattoir.
OIE animal welfare guidelines cover the welfare of food animals at stages throughout the supply chain, including the handling of livestock, land transport, lot feeding, slaughter with stunning and slaughter without stunning.
If a breach occurs, a range of sanctions can be applied including revocation of export licence, applying conditions to licenses, such as additional audits or the stationing of animal welfare officers at facilities, through to criminal penalties for the most serious offences.
The system also gives the Government the ability to close an individual supply chain when evidence of a serious breach occurs, without closing an entire market, as occurred in the wake of the ABC Four Corners expose of animal welfare breaches that led to last year's ban on exports to Indonesia.
For many livestock exporters the system is seen as overly onerous, is excessive in its penalties for what can be minor, non-welfare related technical issues, and requires Australian exporters to achieve higher standards and auditing procedures in overseas supply chains than supply chains in Australia are required to achieve.
For animal rights activists seeking an end the livestock export trade, the system does not go far enough because they believe it is not policed adequately – with two breaches to date identified as a result of their own footage as opposed to being discovered by Government or audit officials – and because it does not mandate pre-slaughter stunning.
The ESCAS system encourages trade participants to put their hand up when things go wrong, which happened earlier this year. An importer discovered in the early hours of one morning that three Australian cattle had been on-sold by an approved abattoir within its supply chain network to a non-approved abattoir, in order to make a quick profit.
Using RFID traceability information, the importer was able to retrieve two of the three cattle, and then immediately severed his ties with the approved abattoir, sacrificing more than $100,000 worth of infrastructure upgrades he had invested to bring the facility up to approved ESCAS standard.
Despite proving that the system worked, and the fact that it was not directly involved in that incident, the exporter, Wellard Rural Exports, still received a serious breach notice from the Department of Agriculture, Fisheries and Forestry, and could face more serious consequences such as the possible loss of its export licence were a similar incident to happen in future.
While most agree that serious refinements are needed, ESCAS has become the platform upon which the trade's future will be secured.
With the industry under constant pressure from animal rights groups which are constantly looking to secure any footage it can to undermine public confidence in the trade, exporters are under no illusions that their future hinges on their ability to successfully implement ESCAS.
In March this year, Wellard Rural Exports managing director Steve Meerwald told a field day in Western Australia that the implementation of ESCAS by Australia's live export industry had been a significant achievement for animal welfare.
"If you were to gauge it against animal welfare achievements anywhere in the world, given recent history, I think it would be the single largest step that any group of people and organisations have ever achieved, and again I think it is something we should be proud of," he said.
Mr Meerwald said that under ESCAS, every time an Australian exporter sends an animal overseas, they put their license on the line.
Despite that pressure, the industry strongly supported the animal welfare outcomes it provided.
"It is a responsibility that is onerous, but when I think about the outcome, in terms of the sustainability and the accountability of the industry, and when I think about the outcome in terms of knowing that as much as we possibly can every animal that enters our system – whether it is on farm or on delivery to our quarantine facilities in Australia – it is going to be respected in terms of its welfare and well being, up until and including the point of slaughter – I believe in what we have got to do to make sure we achieve that."