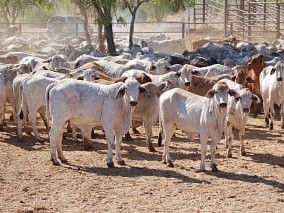 Deteriorating seasonal conditions in north west Queensland are impacting on live export prices as more cattle are pushed towards the market in the lead up to winter.
With second quarter permits for Indonesia of 117,000 head now released, northern producers, agents and exporters have been flat out in recent weeks moving cattle to fill orders for the market.
Prices for steers landed in Darwin have eased to $1.60/kg in the past week, well down on the $1.75 rate on offer when exporters began pre-contracting cattle for second-quarter permits six to eight weeks ago.
At that point uncertainty as to whether a late wet would still arrive and disrupt cattle movements during the peak shipping season helped to underpin the higher rate.
As it has transpired the late wet has largely failed to materialise, with the exception of significant falls that delivered up to 425mm (17 inches) over five days in parts of the VRD, Katherine and Daly Waters regions the week before last.
The continued deterioration of the season in North West Queensland is now having a marked effect on supply dynamics.
After a significant herd build-up in previous years, many NWQ properties are in the grip of severe drought and under pressure to destock.
As supply grows, exporters are watching the price of cattle in North West Queensland closely.
Queensland steers have been selling for $1.30 delivered Cloncurry in recent weeks, which correlates closely with the $1.60 available in the Territory when the 25-30c/kg cost of transporting steers from NWQ to Darwin is taken into account.
Some Queensland cattle were trucked to fill an export order in Darwin at the start of the month when rain in the Top End disrupted local movements.
South East Asian Livestock Services has three shipments booked for Indonesia out of Karumba in late April, mid-May and mid-June, and another two exporters are also understood to be working on filling shipments out of Karumba for Indonesia as well.
"Everyone is trying to see what the bottom of the price is in Queensland, which is making it awfully hard for the Territory," one northern agent told Beef Central last night.
The second quarter is the peak period of demand for live cattle from Indonesia, as feedlots build up cattle numbers in preparation for festivals of feasting that follow the Ramadan holy month in July-August.
Shipments for Indonesia are currently being filled at ports across the north including Wyndham, Broome and Darwin.
An export industry source said decisions on where cattle to fill remaining orders for Indonesia would be sourced would come down to where cattle could be secured at the best price, and where each exporter's ships were positioned.
Feeder heifers are also proving very difficult to sell on the current market, particularly after the Indonesian Government introduced a 5pc import tax on heifers last year.
While Australian exporters believe the move represents a breach of Indonesia's obligations under the ASEAN-Australia-New Zealand Free Trade Agreement, the tax, which has been the subject of Government to Government discussions between Australia and Indonesia, remains in place.