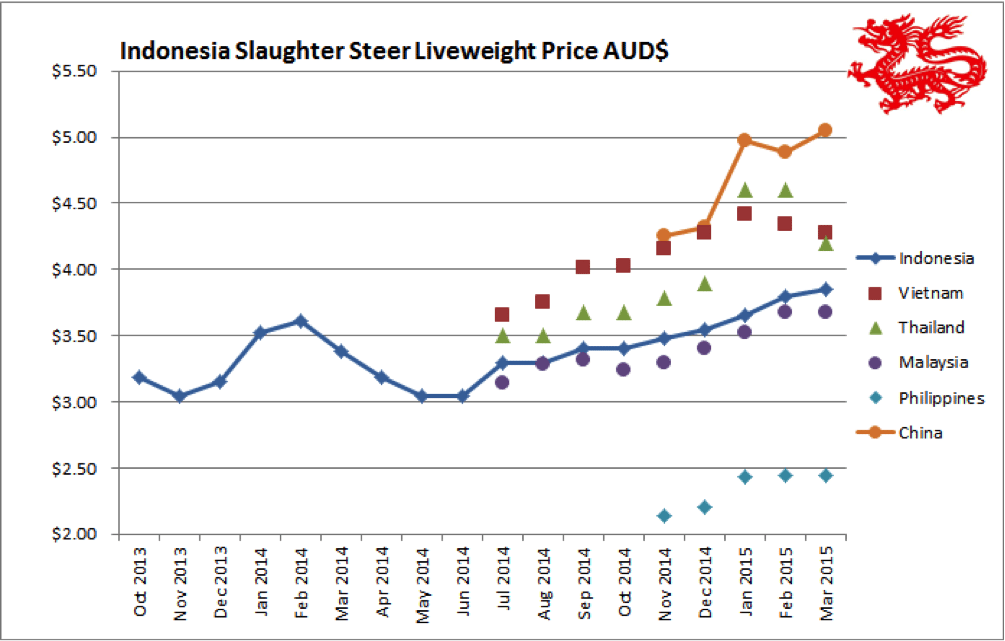 Indonesia: Slaughter Steers AUD $3.85/kg live weight
Import permit numbers have shot up from 100,000 in Q1 to 250,000 in Q2.
This massive increase might just allow sufficient imports in April to provide enough stock for the critical peak consumption period at the end of Ramadan, beginning of Lebaran.
The latest advice from importers is that about 50,000 to 80,000 head could be delivered during April.
Assuming say 30,000 head are delivered by the middle of April this allows about 90 days until the 17th of July which is the middle of the peak consumption week at the end of Ramadan and the beginning of Lebaran. It will be tight and there can't be any significant delays in delivery but with a substantial number of heifers in most consignments, this class of stock finish first and will most likely be the main sellers during this busiest period.
Some feedlots in north Sumatera have run out of stock while the balance of feed yards in this area remain quite short of cattle.
Given the low permit numbers for Q1, most of the imports were directed towards the West Java area to provide supplies to the main market of Jakarta. Prices here are rising slowly and despite the large Q2 allocation are likely to continue to climb steadily until they peak during the final week of Ramadan and Lebaran. Some West Java and Lampung feedlots still hold substantial supplies of stock so the crunch during Lebaran that I had previously predicted might just be avoided by the smallest margin.
The province of West Java alone has 46 million consumers who will all be looking for their once a year feast of beef (and other favourite specialty foods) during the June/July festival period. The two major cities of West Java – greater Jakarta and metropolitan Bandung – have populations of about 27 and 8 million people respectively.
Keeping the beef up to this enormous number of relatively wealthy Indonesians is no simple task as beef for tomorrow must be slaughtered tonight and delivered to the wet market by dawn ready to be all sold out by about 10 am every day. When you consider that wet markets are located usually only a maximum of a few kilometres from their customer base, the logistics of this daily task are daunting. Throw in traffic chaos and slaughter cattle supply issues and you can only admire those tens of thousands of people who make this daily miracle happen.
Box beef supplies appear to be holding up so they will also help to provide additional product for the peak festival period.
Cross rates have been relatively steady this month with the average once again sticking around Rp10,000 to AUD$1.
A high end Indonesian supermarket chain "Ranch Market" just opened a new store in my suburb on the outskirts of western Jakarta. They have about 25 stores around Indonesia. The range and quality of products available and their presentation would rival any up market Sydney suburban offering. However, with 1824 cube roll retailing for AUD $54 per kg, Wagyu Rib Eye for $92 and Wagyu burgers for $32 per kg, I buy my beef from Dick and Jason at PT Elders Indonesia!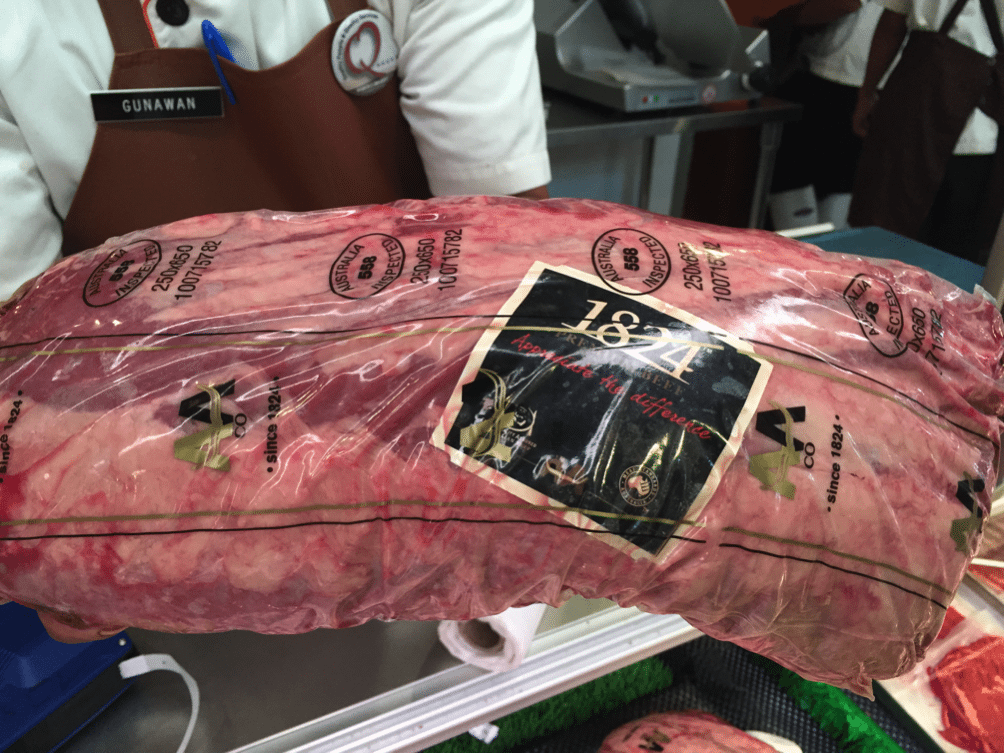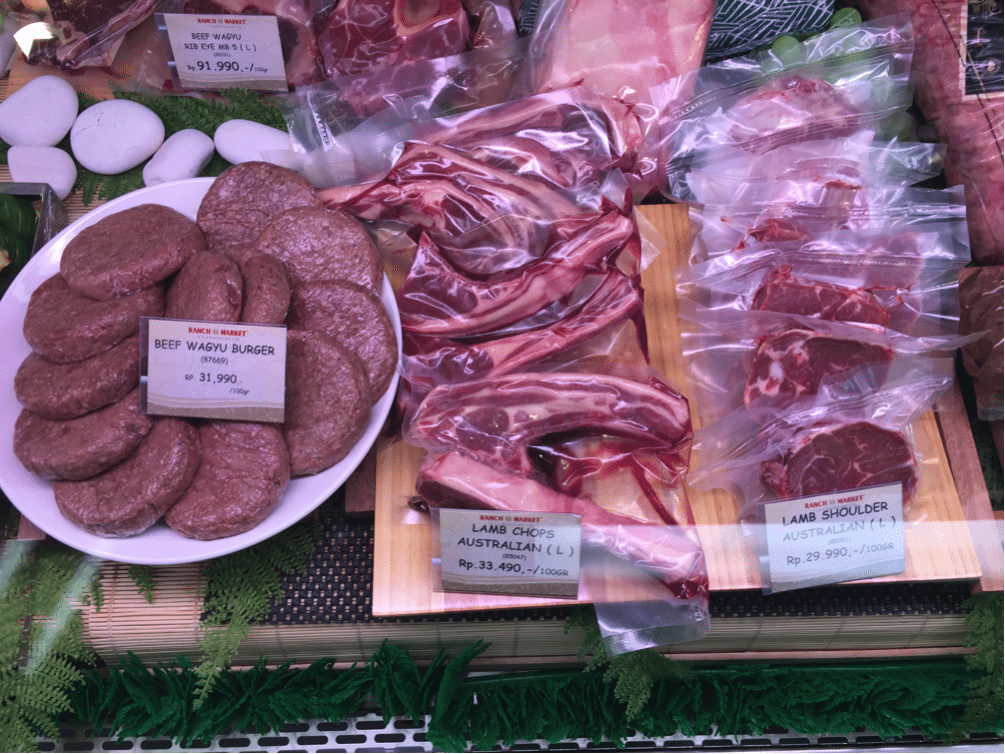 Vietnam: Slaughter Steers AUD $4.28 / kg
Prices have eased a little this month with significant competition from local cattle in the south and a flush of imported cattle in the north.
The Ho Chi Minh slaughter price has slipped to around VND71,000 per kg while the Hanoi price is down to about 73,000 (Using an average exchange rate 16,600 VND = AUD$1for March).
Vietnam has saved the financial necks of exporters who mainly operate with ships chartered on an annual basis.
If they don't use the vessel they still have to pay and the daily fees are savage. With Indonesia importing very low numbers during Q1, Vietnam provided the perfect alternate destination to keep the vessels active.
North Vietnam has been expanding very quickly during Q1 with large numbers of new supply chains established and importing. Exporters have spent quite a lot of time focusing on their customers in the north to encourage their cooperation with the principles of ESCAS which must seem like quite a nonsense to brand new operators with no previous knowledge of the history and the development of this complex system.
Lots more work remains to be done as Vietnam grows into Australia's number two live cattle market behind Indonesia. And the construction of new feedlots and abattoir conversions continues with speed.
The Vietnamese authorities have recently been encouraging their border control agencies to clamp down on illegal live cattle and buffalo imports especially through the northwestern provinces of Bac Kan and Lao Cai. Photos below.
Thailand: Slaughter Steers AUD $4.20/kg
Prices have slipped this month while exchange rates with the AUD have remained generally stable. I am still using 25 Baht for $1AUD.
It is not clear if the first four live cattle shipments from Australia which have arrived over the last few months have been responsible for this price reduction but they are bound to have had some affect on the market even if it is only psychological.
I was present at a recent cattle market in Thailand where the buyer doing the bargaining was also one of the new importers of Australian stock. One of his bargaining tools was to tell (threaten) the seller of the local cattle that if he didn't drop his price then he would buy all his cattle from Australia in the future.
His strategy worked on that occasion.
This type of market negotiating tactic will only last as long as it takes for the new Australian cattle to have their real impact on local supply and demand. I suspect that given the huge demand that continues to come from China for imports of live Thai cattle that Australian cattle will have great difficulty even replacing a small proportion of the local slaughter cattle requirements.
Malaysia: Slaughter Steers AUD $3.68/kg
Once again, little change in the Malaysian market.
Exchange rate used RM 2.82 = AUD$1
Philippines: Slaughter Cattle AUD $2.44 / kg (mainly cull cows & bulls)
Live cattle prices are steady while wet market meat prices have began to rise strongly during March. Cross rates have remained relatively steady for most of the month. Peso 34.4 to AUD$1.
China: Slaughter Cattle AUD $5.05 / kg (RMB 4.75 = AUD$1)
The price rise above is entirely due to weakening of the AUD$ cross rate. Meat prices are fluctuating quite a lot but I am putting this down to the massive size of the market rather than any new price trends. I still think that the best indicator is the live cattle price and it is stable in Beijing and rising in Shanghai. The Shanghai rise is only slight (from RMB17 to RMB19 per kg live wt) and from a very low base as cull dairy cows continue to be slaughtered in big numbers.
There have been many reports in the press lately about Chinese authorities clamping down on illegal imports of box beef (primarily beef from USA and Brazil via Hong Kong). My sources tell me that in fact this is much more likely to be an internal struggle in which the powerful importers of illegal product are cleaning out some of their new and unwelcome competition. China needs all the imported beef it can get at the moment so there doesn't seem to be much sense attached to a real crackdown on grey channel imports. If they really were worried about biosecurity or market impact on their domestic growers they would logically start by closing off the smuggling of Indian beef via Vietnam as their top priority.
Australian producers and exporters continue to wait and hope that China will complete the formalities allowing live slaughter cattle imports to commence. Perhaps the Chinese are waiting until the flood of cull dairy cows begins to dry up in order to protect their local beef cattle producers from further depressed returns.
Bangladesh
The Times of India published an article on the 3rd April in which the Indian Home Minister has instructed the border authorities to stop the cattle smuggling across the border into Bangladesh (mainly Muslim beef eaters). This is part of the new Indian government's policy to uphold the requirements of the Hindu faith and prevent the slaughter of cattle. Current estimates are that about 2.5 million older cull cattle are smuggled from India to Bangladesh annually.
The article discusses the massive impact that this could have firstly on India if it were forced to find space and feed to care for these cattle and secondly on the consumption and exports from Bangladesh. The majority of the smuggled cattle are processed and subsequently exported as frozen product to the Middle East while Bangladeshis consume only a modest quantity of what for them is relatively expensive beef.
The article claims that the price of a cull cow or buffalo in the north east of India near the Bangladeshi border is 1500 Rupees or AUD$31.70 per head.
I had originally been advised that some of the cattle entering Myanmar had been sourced from Bangladesh in the southwest. Given this new information I think that it is unlikely that any significant supplies of cattle enter Myanmar from this source.
This monthly market report is first published exclusively on Beef Central. To view more of Dr Ross Ainsworth's previous articles on South East Asia,click here to view archived articles on Beef Central and here to visit his personal South East Asia blog site.
Market price table for March 2015
(All prices converted to AUD)
These figures are converted to AUD$ from their respective currencies which are changing every day so the actual prices here are corrupted slightly by constant foreign exchange fluctuations. The AUD$ figures presented below should be regarded as reliable trends rather than exact individual prices. Where possible the meat cut used for pricing in the wet and supermarket is Knuckle / Round.
Location
Date
Wet Market

AUD$/kg

Super market

$/kg

Broiler chicken

$/kg

Live Steer

Slaughter Wt

AUD$/kg

Jakarta
Nov 14
10.62
11.58
2.90
3.38
Dec 14
11.33
11.82
3.25
3.44
Jan 2015
11.00
NA
3.50
3.60
Feb 2015
11.00
12.75
3.30
3.70
March 2015
10.50
12.00
3.00
3.85
Medan
Nov 14
9.17
9.66
1.35
3.67
Dec 14
9.35
9.85
1.57
3.74
Jan 2015
3.75
Feb 2015
11.75
11.75
1.70
3.95
March 2015
10.00
12.00
1.40
3.90
Philippines
Nov 14
5.43
5.48
3.32
2.14
Dec 14
5.65
5.70
3.40
2.20
Jan 2015
6.11
6.61
3.58
2.43
Feb 2015
7.03
6.38
3.56
2.45
March 2015
6.25
6.45
3.54
2.44
Thailand
Nov 14
8.68
10.12
2.53
3.79
Dec 14
8.92
10.40
2.60
3.90
Jan 2015
9.60
11.20
2.80
4.60
Feb 2015
9.60
11.20
2.80
4.60
March 2015
9.20
11.20
2.80
4.20
Malaysia
Nov 14
9.62
2.47
3.29
Dec 14
9.79
10.05
2.52
3.40
Jan 2015
10.10
10.25
2.60
3.52
Feb 2015
9.86
10.21
2.46
3.68
March 2015
9.92
10.28
2.48
3.68
Vietnam
Ho Chi Minh
Sept 14
11.80
13.95
6.97
4.02
HCM
October 14
11.82
13.97
6.99
4.03
HCM
Nov 14
12.78
14.45
9.44
4.16
HCM
Dec 14
13.14
14.86
8.57
4.28
HCM
Jan 2015
15.75
16.96
9.69
4.36
HCM
Feb 2015
15.66
16.87
7.83
4.34
March 2015
15.66
16.97
7.83
4.28
China
Beijing
Nov 14
12.40
19.72
4.64
24 RMB
Beijing
Dec 14
13.80
19.64
3.94
4.73
Beijing
Jan 2015
14.10
19.08
4.15
4.98
Beijing
Feb 2015
16.32
16.32
4.08
4.89
Beijing
March 2015
14.73
19.28
4.21
5.05
Shanghai
Nov 14
17.40
17.40
4.64
18 RMB
Shanghai
Dec 14
19.64
19.64
5.12
3.55
Shanghai
Jan 2015
18.67
18.67
4.98
3.52
Shanghai
Feb 2015
18.36
17.55
4.08
3.47
Shanghai
March 2015
18.94
18.02
5.47
4.00