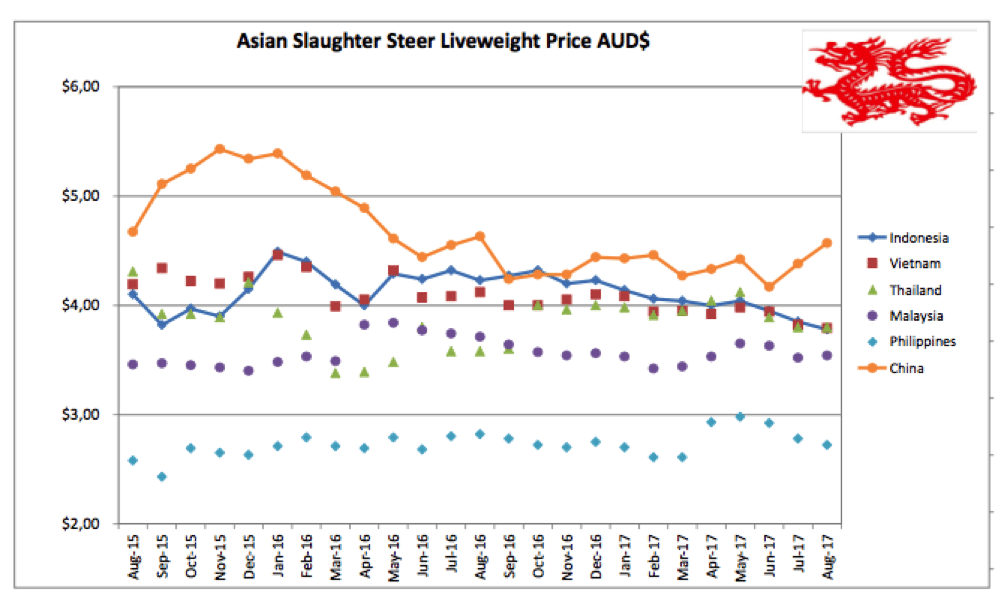 Indonesia: Slaughter Steers AUD $3.78 / kg live weight (Rp 10,575 = $1AUD)
Indonesia: Harga sapi potong steer/sapi jantan muda kebiri, AUD $3,78/kg bobot hidup (Rp10.575 = AUD $1)
Harga sapi potong tidak mengalami perubahan di bulan Agustus. Sejumlah pengusaha sapi bakalan atau feedlotter mampu mencapai harga terbaik yaitu Rp43.000 per kg bobot hidup untuk steer unggulan (high yielding steer). Namun secara umum, harga tidak berubah dan masih sejalan dengan kebijakan pemerintah. Jadi, untuk laporan ini saya akan tetap berpatokan pada indikator harga Rp40.000 untuk bulan Agustus.
Perdagangan sapi potong hidup Indonesia/Australia berada di persimpangan yang belum pernah terjadi sebelumnya. Pemerintah Indonesia berhasil mempertahankan harga agar tidak melampaui level yang disebutkan di atas, meskipun di saat pemintaan mencapai puncaknya untuk acara keagamaan. Hal ini menunjukkan bahwa para importir tidak memiliki kekuatan untuk menentang tuntutan pemerintah bahwa harga jual harus tetap rendah dan stabil, terlepas dari fluktuasi biaya impor ternak hidup. Pada saat yang sama, harga sapi di bagian utara Australia juga (tidak biasanya) tetap bertahan, bertentangan dengan tren historis penurunan harga yang signifikan selama pertengahan tahun, di saat sapi dihimpun untuk panen (muster) di musim kemarau. Kenaikan 5% pada Dolar Australia menyebabkan peningkatan biaya pengiriman bagi para importir. Setelah berbicara dengan beberapa importir dalam seminggu terakhir ini, untuk pertama kalinya saya mengamati dengan sangat jelas, bahwa mereka tidak mampu mengikuti harga beli yang lebih tinggi lagi. Sebab, mereka tahu pasti, bahwa mereka tidak akan mampu menutupi biaya tambahan dengan menaikkan harga jual, setelah sapi-sapi impor ini digemukkan dan dijual. Jadi, mereka beralih ke upaya jangka menengah, dimana harga jual tidak bisa dinaikkan. Pada situasi dimana tingkat keuntungan usaha berada di ambang titik impas, maka tidak ada ruang sama sekali untuk kenaikan harga sapi.
Dalam perjalanan baru-baru ini ke Australia, saya berbicara dengan beberapa orang yang sangat paham tentang industri peternakan. Mereka menjelaskan bahwa meskipun secara keseluruhan permintaan menurun, namun jumlah sapi yang tersedia di kawasan utara Australia juga berkurang. Sehingga secara efektif tidak ada tekanan bagi para produsen untuk menurunkan harga, sebab permintaan internal di tempat lain di Australia masih memungkinkan bagi produsen untuk menemukan pembeli sapi bakalan dengan harga yang bagus saat ini. Jadi, untuk pertama kalinya dalam bisnis ini, para produsen tidak perlu menurunkan harga sapinya, meskipun ada penurunan permintaan di Asia – dimana para importir tidak mampu membayar lebih tinggi, sebab mereka tahu akan merugi. Stalemate. Jalan buntu.
Melihat pengurangan besar jumlah kawanan sapi Australia dan teguhnya pendirian pemerintah Indonesia, sepertinya sedikit sekali celah untuk perubahan status penawaran dan permintaan pada saat ini. Tampaknya, paling tidak untuk jangka pendek, satu-satunya harapan bagi pedagang adalah penurunan nilai tukar Dolar Australia. Namun saat ini, bahkan para pakar nilai tukar pun enggan membuat prediksi tentang tren nilai tukar Dolar Australia.
Kurban adalah perayaan keagamaan, dimana umat Islam menyumbangkan hewan (sapi, kerbau, domba, kambing atau unta jantan) ke mesjid-mesjid atau melalui lembaga agama yang mengatur penyembelihan hewan dan dagingnya disumbangkan kepada kaum miskin. Seiring dengan meningkatnya kekayaan Indonesia, meningkat pula permintaan akan hewan yang layak. Harga sapi tahun ini kokoh di Rp55.000 per kg bobot hidup untuk sapi jantan yang berbobot antara 300 sampai 350 kg. Semakin rendah bobot hidup hewan, harganya menjadi lebih tinggi. Sapi jantan berbobot 150 kg dijual seharga Rp100.000 per kg atau AUD$10 per kg. Domba dan kambing dijual pada kisaran Rp85.000 sampai Rp90.000 per kg bobot hidup.
Di sebuah pusat perbelanjaan berukuran menengah di dekat kantor saya di Jakarta, ada 4 stan dari organisasi keagamaan yang menawarkan layanan lengkap Kurban, termasuk mampu menyalurkan sumbangan daging bagi kaum miskin di mancanegara. Perkiraan tahunan untuk jumlah sapi jantan Korban dimulai pada angka resmi 250.000 ekor dan terus meningkat sampai sekitar setengah juta ekor, yang semuanya disembelih dalam satu hari, sekitar 10 minggu setelah bulan Ramadan dan Lebaran. Dengan kemungkinan lebih dari satu juta ekor sapi jantan disembelih untuk Ramadan, hari Lebaran dan Kurban, artinya ada desakan untuk pemotongan sapi bibit betina guna memenuhi kebutuhan daging sampai akhir tahun ini. Hewan yang diimpor dari Australia tidak boleh digunakan untuk Kurban sebab aturan ESCAS (Exporter Supply Chain Assurance System) melarang penyembelihan hewan di Mesjid.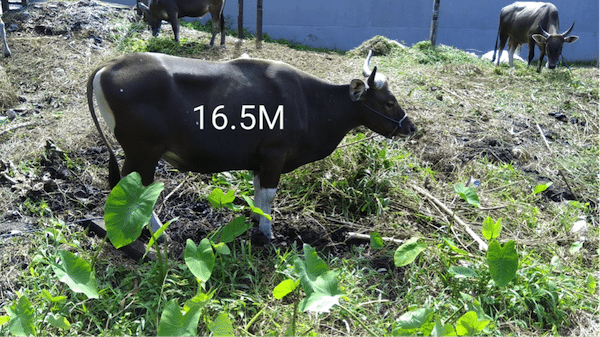 Foto dari Frangki Coloay di Balikpapan: Bobot hidup sapi ini sekitar 300kg dan harganya sekitar Rp55.000/kg. Sapi jantan ini sangat mungkin dikirim dari Sulawesi atau dari NTB.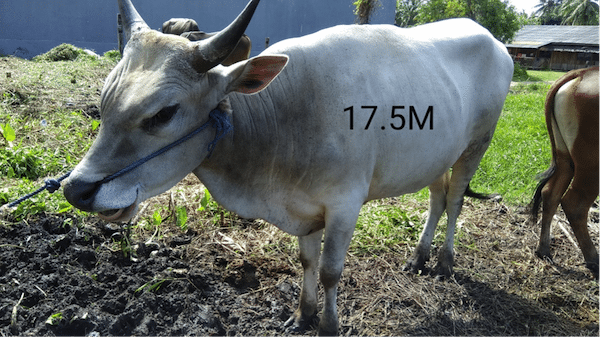 Foto dari Fangki: Di tepi jalan Balikpapan. Bobot hidupnya mungkin 320 kg, jadi harganya di sekitar Rp54.700 per kg bobot hidup.
Salah satu dari 4 stan Kurban di sebuah pusat perbelanjaan kecil di BSD, Jakarta Barat.
Pulau Bali adalah sumber utama Sapi Bali (Bos javanicus) untuk Kurban dengan angka penjualan yang meningkat dramatis menjelang hari raya Kurban. Foto-foto di bawah ini diambil di pasar Bringkit di Tabanan yang merupakan pasar ternak terbesar di Bali, sekitar 60 km arah barat laut Denpasar.
Sapi-sapi jantan yang dijual di sini dikirim ke Surabaya, dimana para pedagang akan mendistribusikannya ke Jakarta, Jawa Barat dan kota-kota besar lainnya di bagian selatan Kalimantan. Menurut David Heath, hampir sepanjang tahun, rata-rata 200-300 ekor sapi dijual di sini, pada setiap hari Rabu dan Minggu.
Selama sebulan menjelang hari raya Kurban, jumlah sapi yang dijual di pasar ini membengkak menjadi lebih dari 2.000 ekor setiap hari. Harga sapi jantan naik menjadi Rp39.000 per kg bobot hidup menjelang hari Kurban, dan harga (tiba) di tempat di Surabaya menjadi lebih dari Rp50.000 per kg obot hidup, setelah dikurangi berbagai biaya, termasuk perhitungan penurunan bobot sapi.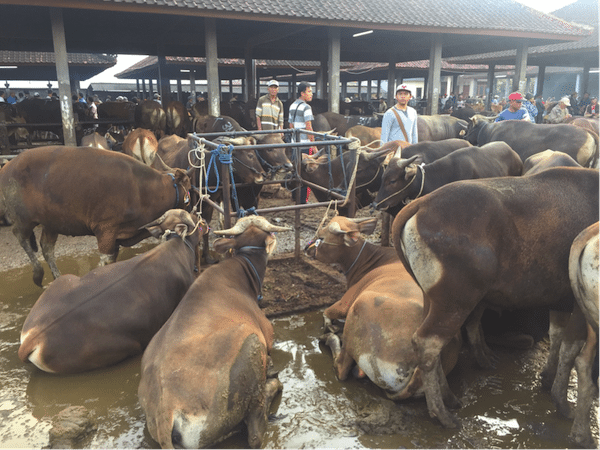 Sapi-sapi jantan disiapkan menjelang proses lelang di Pasar Bringkit di Bali.
Sapi-sapi Bali jantan siap dinaikkan ke truk untuk diangkut dan dikapalkan dengan feri ke Surabaya.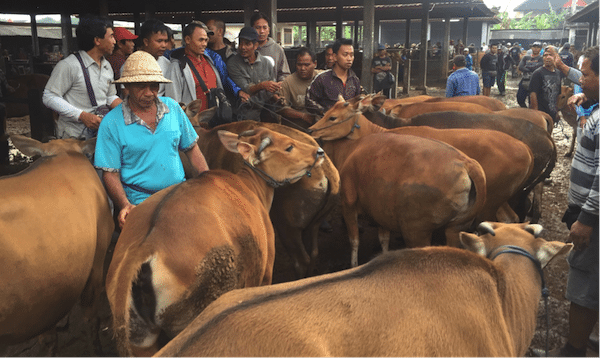 Sapi-sapi dara ini akan banyak diminati setelah para penjual mendapatkan uang hasil penjualan sapi jantan.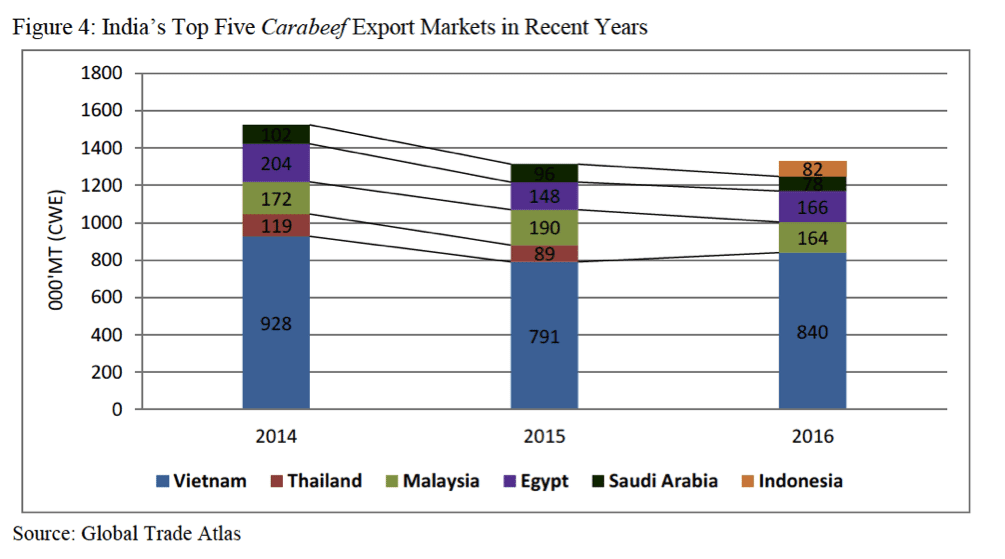 Grafik di atas diambil dari laporan USDA Foreign Agricultural Service GAIN (Global Agricultural Information Network atau Jejaring Informasi Pertanian Global) pada tanggal 9 Januari 2017. Yang menarik adalah volume ekspor dari India ke Indonesia yang tercatat di sini (Gambar 1), sebanyak 82.000 metrik ton. Volume ini secara signifikan lebih tinggi daripada volume resmi yang diimpor melalui BULOG, satu-satunya importir Indonesia yang sah.
Vietnam: Sapi potong steer AUD $3,73/kg (VND 17,950 = AUD $1)
Harga sapi potong sedikit menurun di bulan ini, terkait dengan perayaan ''Ghost Month'' atau disebut juga "Hungry Ghost Festival" pada paruh kedua Agustus dan awal September. Festival masyarakat China dan Vietnam ini dilakukan untuk menenangkan para arwah dari keluarga mereka, yang berkeliaran bebas di bumi selama bulan ke-7 dalam Kalender Lunar. Selama periode festival, konsumsi daging sapi dan daging lainnya dikurangi.
Di bagian utara, kerbau dengan bobot terbaik hanya bisa mencapai harga 74.000 Dong, sementara harga terbaik untuk steer unggulan di selatan adalah 68.000 Dong. Dengan penurunan harga ini, saya menurunkan harga indikator menjadi 67.000 Dong untuk sapi potong steer di bulan Agustus.
Di bawah ini adalah dua cuplikan dari YouTube yang memperlihatkan upaya pemasaran agresif oleh perusahaan pemasok daging sapi Vietnam untuk mempromosikan produknya. Mereka memanfaatkan berbagai bentuk pemasaran digital maupun bentuk lainnya, untuk meningkatkan permintaan daging sapi, yang sebagian besarnya diimpor, baik langsung maupun dalam kemasan dari Australia.
Bo Khoe adalah salah satu importir ternak Australia terbesar di Vietnam.
Sapi potong Meksiko dan sapi jantan bakalan jenis Bos Indicus berharga sekitar USD $3 per kg sampai hewan tiba di pelabuhan kawsan barat. Harga ini termasuk biaya protokol namun tidak termasuk ongkos pengiriman dengan kapal. USD $3 itu adalah harga CIF di tempat, yang harus dibayar para importir, sehingga sapi-sapi Meksiko masih tetap tidak diminati.
Thailand: Sapi potong steer, AUD $3,80/kg (Baht 26,3 = AUD$1)
Terjadi penurunan permintaan sapi potong steer karena China dan Vietnam masih memberlakukan larangan impor resmi terkait dengan pembatasan Beta-Agonis dan merebaknya wabah Penyakit Mulut dan Kuku.
Malaysia: Sapi potong steer, AUD $3,54 per/kg (RM3.39 = AUD$1)
Kali ini juga, tidak banyak yang dapat dilaporkan dari Malaysia kecuali bahwa sapi jantan yang cocok untuk Kurban dijual seharga RM 15-16 per kg bobot hidup (di semenanjung Malaysia), atau setara dengan AUD $ 4,57 per kg untuk kurs RM saat ini. Harga daging kerbau impor tetap stabil. Mengingat tingginya jumlah populasi etnis China di Malaysia, akan ada penurunan permintaan daging sapi dan produk daging lainnya, sehubungan dengan perayaan "Hungry Ghost Festival".
Filipina: Sapi potong, AUD $2,72/kg (Peso 40,5 = AUD $1)
Filipina masih terus menikmati hari-hari bahagia dalam perekonomian negaranya, dengan harga yang relatif stabil dan tersedianya semua komoditas penting. Agen saya berkomentar: "Sebut (barang apa) saja. Kami memiliki persediaan yang cukup dengan harga terjangkau". Tidak ada perubahan harga sapi hidup, meskipun ada kenaikan tipis untuk harga daging sapi di supermarket.
China: Sapi potong, AUD $4,57/kg (RMB 5,25 = AUD $1)
China melawan arus tren di bulan ini dengan menguatnya nilai tukar RMB (atau Yuan) terhadap AUD, yang berarti mata uangnya diapresiasi, bahkan lebih tinggi daripada Dolar Australia terhadap USD. Beijing dan Shanghai sama-sama melaporkan kenaikan harga sapi potong yang kini sudah memasuki bulan ke-3 berturut-turut, menjadi Y42 per kg bobot hidup.
Sumber saya memberikan informasi yang mengindikasikan bahwa hujan (terlambat) di penghujung musim kemarau memberi manfaat untuk kawasan Mongolia Dalam, yang mengurangi jumlah penjualan sapi potong ke pasar. Para petani mengambil kesempatan hujan yang singkat ini untuk menahan dan menggemukkan ternak mereka sehingga dapat dijual dengan bobot yang lebih baik sebelum memasuki musim dingin pada akhir Oktober/November. Jika curah hujan cukup tinggi untuk menghapus kekeringan yang telah berlangsung lama, maka suplai sapi (yang jumlahnya sangat banyak) yang terkena dampak kemarau, mungkin akan perlahan-lahan berkurang pada akhir tahun ini. Hal ini berpotensi menimbulkan pergeseran yang signifikan terhadap penawaran dan permintaan nasional. Kita amati terus.
Portal berita online XinhuaNet melaporkan bahwa beberapa orang tewas dan banyak properti yang rusak ketika tornado dan badai petir menghantam bagian timur laut daerah otonomi Mongolia Dalam pada 11 Agustus 2017. Ibukota Hohot terkena dampak yang sangat besar.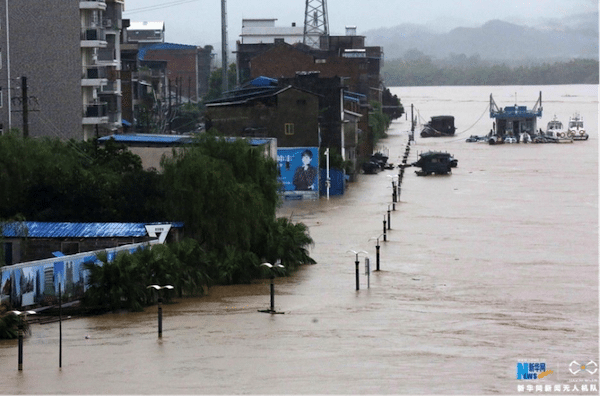 Foto dari XinhuaNet memperlihatkan banjir di kawasan Hohot, Ibukota Mongolia Dalam.
Photo from Xinhuanet 3rd August 2017 : A brand new high speed train runs on the Hohhot section of Zhangjiakou-Hohhot railway in north China's Inner Mongolia Autonomous Region. Doesn't appear to be a severe drought here any more.
Foto dari Xinhuanet pada 3 Agustus 2017: Kereta api cepat yang baru, melaju di Hohhot di jalur Zhangjiakou-Hohhot, bagian utara wilayah otonomi China di Mongolia Dalam. Kekeringan dahsyat yang melanda sudah tidak terlihat lagi di sini.  
Bangladesh
Chris Kang baru-baru ini berada di Bangladesh dan mengirimkan foto ini kepada saya. Tampak sapi-sapi (pekerja) jantan yang sudah tua, digemukkan untuk dipotong. Sapi-sapi jantan raksasa ini sepertinya bahkan bisa menarik sebuah mobil Toyota dari rawa-rawa.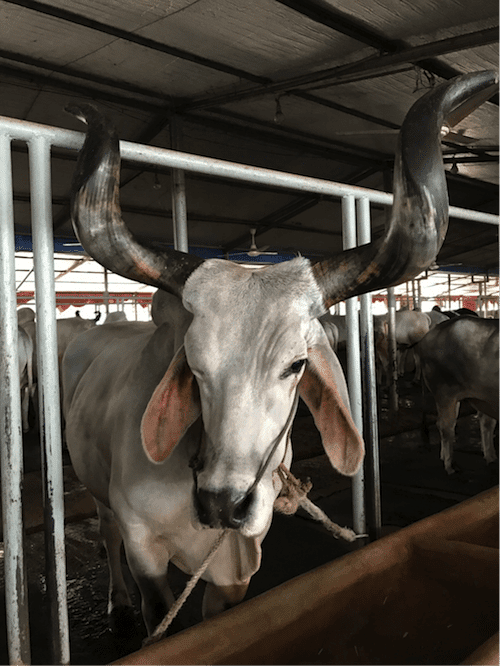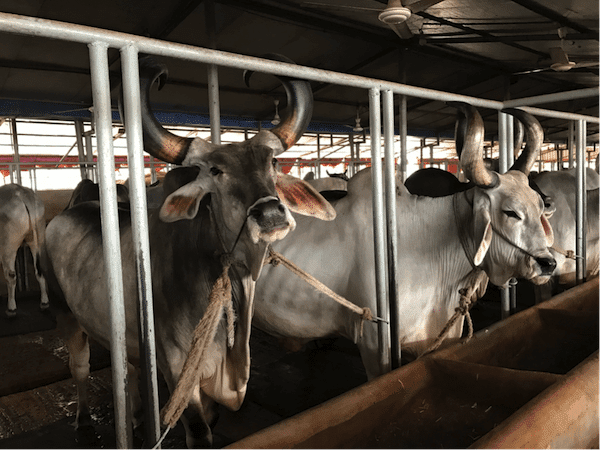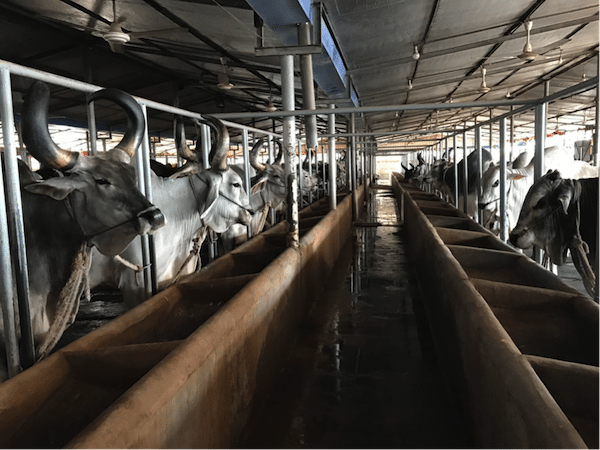 Angka-angka pada tabel ini dikonversi ke AUD$ dari kurs masing-masing negara yang berubah setiap harinya, sehingga harga aktualnya sedikit berbeda oleh fluktuasi nilai tukar mata uang asing yang terus berubah. Harga dalam AUD$ yang disajikan di bawah ini hendaknya dilihat sebagai sebuah tren, bukannya harga persis masing-masingnya. Bila memungkinkan, daging potong yang digunakan untuk penentuan harga di pasar tradisional dan di supermarket adalah bagian knuckle/round atau yang biasa disebut daging kelapa.
Location
Date
Wet Market

AUD$/kg

Super market

$/kg

Broiler chicken

$/kg

Live Steer

Slaughter Wt

AUD$/kg

Indonesia
March 17
13.05
20.00
3.65
4.04
Rp10,000
April 17
13.20
20.30
3.40
4.00
Rp 9,900
May 17
13.43
15.35
2.93
4.04
Rp10,125
June 17
13.83
19.95
3.95
3.95
Rp10,400
July 17
12.50
14.71
3.84
3.85
Rp10,575
August 17
12.29
14.47
3.50
3.78
Philippines
March 17
8.09
8.88
3.26
2.61
P 7.5
April 17
9.33
9.07
3.33
2.93
P 6.9
May 17
8.67
8.94
3.66
2.98
P 37.7
June 17
8.22
8.49
3.66
2.92
P39.5
July 17
7.85
8.10
3.54
2.78
P40.5
August 17
7.40
7.40
3.46
2.72
Thailand
March 17
9.02
10.53
2.63
3.95
THB 26
April 17
9.23
10.77
2.69
4.04
THB 25.5
May 17
9.41
10.90
2.74
4.12
THB 25.7
June 17
9.34
10.89
2.72
3.89
THB 26.3
July 17
9.12
10.65
2.66
3.80
THB 26.3
August 17
9.12
10.65
2.66
3.80
Malaysia
March 17
8.84       5.75
9.73
2.04
3.44
MYR 3.3
April 17
9.09       6.60
10.30
1.97
3.53
MYR 3.19
May 17
9.40       6.27
9.40
2.13
3.65
MYR 3.25
June 17
9.85       6.77
2.30
3.63
MYR 3.35
July 17
9.55       6.57
10.15
2.53
3.52
MYR 3.39
August 17
9.44       6.49
10.03
2.51
3.54
Vietnam HCM
March 17
14.41
17.41
6.92
3.95
D17,100
April 17
14.62
17.66
7.02
3.92
D16,850
May 17
14.83
17.92
7.12
3.98
D17,250
June 17
14.49
17.50
6.96
3.94
D17,800
July 17
14.04
16.97
6.74
3.82
D17,950
August 17
13.93
15.60
5.57
3.79
China Beijing
March 17
12.14
14.04
3.41
4.27
Y 5.2
April 17
12.31
14.62
3.65
4.33
Y 5.09
May 17
11.79
14.93
3.73
4.42
Y 5.16
June 17
12.01
14.73
3.68
4.17
Y5.3
July 17
11.70
14.72
3.58
4.38
Y5.25
August 17
11.62
14.48
3.61
4.57
Shanghai
March 17
13.66
18.22
4.36
3.42
April 17
14.62
18.85
4.42
3.69
May 17
14.14
19.25
4.40
3.93
June 17
14.34
18.99
4.65
4.26
July 17
13.58
17.74
4.53
4.34
August 17
15.04
18.66

4.95

4.57