Southern Australian International Livestock Services (SAILS), the company which recently took ownership of the former Landmark International livestock export business, has loaded its first shipment of Australian cattle to China.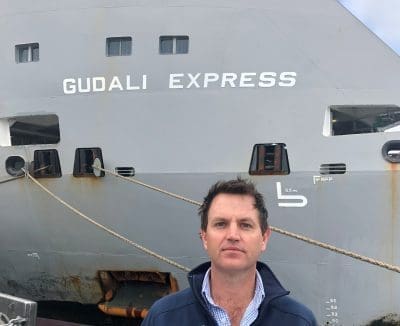 SAILS Managing Director Andy Ingle told Beef Central the company successfully loaded its first Australian shipment of 4000 mixed quality breeder, beef and dairy heifers for a long standing customer in China last week.
The cattle were loaded in Portland on board the MV Gudali Express, one of seven state-of-the-art, purpose-built G-class livestock carriers launched by the Vroon company.
SAILS officially took ownership of the previous Landmark International livestock export business from Nutrien Ag Solutions on May 2020.
Mr Ingle said the business has since loaded a number of shipments of breeder heifers from New Zealand to China.
The shipment loaded last Tuesday was the first Australian consignment, with another shipment of mixed beef and dairy heifers due to be delivered to quarantine later this month.
Mr Ingle was also the managing director of SAILS' predecessor Landmark International which was sold by Nutrien Ag Solutions to the family-owned Winten Group in May.
The Winten Group was founded in 1972 by Garry Rothwell, and is today a major Australian property development company. The Rothwell family has extensive long-term investments in Australian agriculture, including NSW grazing properties through its Fernside Pastoral Company.
Asked how the transition from Nutrien to SAILS had progressed he described it as "very smooth", with staff from Nutrien, the Winten Group and SAILS working together to ensure a successful handover. He said the Rothwell family had been very supportive of the new business and their keen personal interest in agriculture and cattle had been evident with the SAILS business.
The Landmark International business was a major exporter of beef and dairy cattle and sheep from southern Australia to markets including China, Russia, Israel, Japan, the Middle East and Eastern Europe.
Mr Ingle said SAILS intends on continuing to serve the businesses' existing long standing customers around the globe in addition to building new business pathways in the future.
He said the cattle trade to China was continuing to move well but the major hurdle at the moment was sourcing enough cattle to meet the trade's specifications.