AFTER maintaining a steady pace in the past month there are signs northern cattle export activity may face further disruptions following widespread rainfall in Queensland and the detection of Foot and Mouth Disease in Indonesia.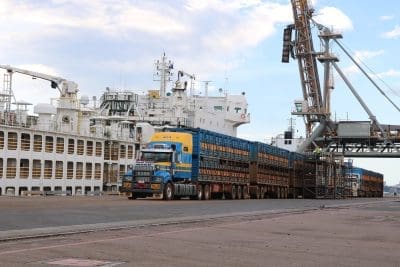 Following a slow start to the year, new contracts were written for shipment in May as prices began reducing with the onset of dry season mustering and renewed demand from Indonesian feedlots looking to backfill feedlots after the Ramadan/Lebaran period.
New orders were also signed to Vietnam with two shipments contracted from Townsville last week, and another set to leave in early June.
However, as momentum was building, unseasonal heavy widespread rain in Queensland cattle production areas has disrupted supply and put upward pressure back on prices.
The MLA/NTLEA livestock export indicator has this week been revised slightly upwards from 470c/kg liveweight to 474c/kg, while Nutrien's latest quote for export steers from Darwin has been raised to 480c/kg.
There are also reports of reluctance by feedlots in Indonesia to place new orders for Australia cattle following the recent detection of FMD.
Biosecurity conditions at Indonesian feedlots are high by world standards and there have been no reports of Australian cattle in Indonesian feedlots becoming infected with FMD.
While it is understood existing orders are being followed through, some buyers are said to be reluctant to commit to new orders in the current environment until the FMD outbreak has been stabilised.
Export sources have also indicated that further shipments of cattle to Vietnam are unlikely for some time again given the impact of recent rain on cattle supply and prices, while there are also indications that Brazil is about to ship more cattle into Vietnam from June to August which will also dampen demand for Australian cattle.
Meanwhile, first round mustering is now in full swing across all key cattle regions supplying the northern live export trade, MLA and the NTLEA report in today' trade summary, with mustering teams starting earlier than average on many properties across the Top End due to below average wet seasons.
Compelling prices for young cattle and forecast feed shortages in the coming months have prompted the early sale of cattle, with producers turning off calves in considerable volumes to both live export – especially Darwin and Broome – and domestic restocker buyers in recent weeks.
Nevertheless, overall supply remains constrained due to the depleted northern herd which has limited scope for short-term rebuild due to the tighter seasonal outlook and powerful demand drawing stock into Queensland and beyond.
LEP Expo in Jakarta
Importers and exporters will convene to discuss market and biosecurity priorities in early June in Jakarta at the LEP Expo.
The first face to face industry meetings for more than two years, with Aust reps now resuming in-market visits to customers, albeit with even stronger biosecurity awareness and drawing on experiences maintaining safe cattle export supply chains with import countries which have experienced LSD and FMD incursions such as Vietnam and Malaysia.