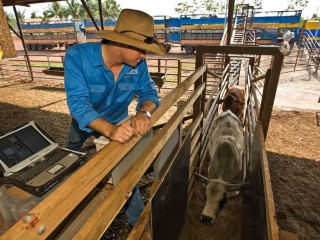 Australian cattle would only be supplied to 25 accredited Indonesian processing facilities under a new animal welfare plan released for the market by Meat and Livestock Australia yesterday.
The Federal Department of Agriculture has not yet indicated whether it will endorse MLA's plan as it stands or whether it will push for greater restrictions or possibly a total ban, as many groups are demanding.
Under the MLA's industry initiative, Australian cattle would only be supplied to 25 Indonesian abattoirs currently meeting OIE (World Organisation for Animal Health) animal welfare standards.
Animal welfare officers would be permanently stationed at accredited processing facilities, to ensure processing consistently meets OIE standards.
Additionally, the industry would rapidly increase the use of stunning.
Media reports this morning have indicated the Federal Government is considering restricting Australian exports to as few as 10 Indonesian abattoirs.
Depending on the size and capacity of the facilties that will be allowed to handle Australian cattle, questions surround what impact the new arrangements would have on the supply of cattle to Indonesia at what is the busiest period of demand.
The Indonesian Government has issued a 200,000-220,000 head import permit for the current April-June quarter as Indonesian importers seek to fill feedlots in the approach to the Ramadan Muslim festival during August, which is the peak seasonal period of demand for beef in Indonesia.
Many of the Australian cattle for that supply permit are now already in the system and being fed, and are still at least 60 days away from a processing plant.
MLA live export manager Michael Finucan told Beef Central from Jakarta this morning that the cattle currently in the supply chain would be handled through the core group of facilities that MLA has identified as meeting acceptable processing standards.
In a press release issued this morning, MLA chairman Don Heatley said the solution aims to prevent Australian cattle in Indonesia from suffering any acts of animal cruelty or poor welfare practices.
The press release reads:
"Our solution commits to the reduction of trade to a core group of facilities in Indonesia accredited to meet OIE (World Organisation for Animal Health) animal welfare standards.
"A rapid increase in stunning – which exceeds OIE standards – is also a central part of this solution.
"The implementation of these measures has already begun with the full support of the Indonesian industry.
"We will also need both the Australian and Indonesian Governments to support these measures to secure urgent animal welfare improvements," he said.
The industry has conducted a preliminary audit of the 100 processing facilities that have been receiving the majority of Australian cattle.
The audit has graded these facilities into four categories. The first is a group of five modern facilities that are using stunning effectively and consistently applying appropriate animal welfare standards with well trained staff.
The solution recommends these facilities be allowed to continue processing Australian cattle with regular checks by an independent team of veterinary experts, approved by the Australian and Indonesian Ministers of Agriculture, to ensure that high animal welfare standards continue.
The preliminary audit also indicates there is a second category with another 20 facilities that consistently meet OIE standards of animal welfare. While these standards do not require stunning, at least two of these facilities have recently commenced stunning operations.
As an additional level of assurance, the Australian industry is stationing an animal welfare officer at each of these abattoirs during hours of operation to ensure Australian cattle are handled at or above OIE standards every time.
"This step will ensure that only the best 25 facilities receive our cattle. These facilities currently account for around 40pc of Australian cattle sent to Indonesia," Mr Heatley said.
"The Australian industry is also committed to introducing improved infrastructure in these facilities and transitioning as many as possible to stunning.
"Facilities in the remaining categories will not receive Australian cattle until they can be guaranteed to meet accepted standards."
Mr Heatley said on seeing the footage, industry immediately moved to suspend supply of Australian cattle to the facilities identified and this suspension remains in place.
"Both the MLA Board and the LiveCorp Board will instigate immediate reviews of all industry-funded animal welfare programs in all markets," Mr Heatley said.
"I would like to apologise to the Australian livestock industry and the broader community for the hurt and anger caused by the recent footage of horrendous acts of cruelty to our cattle in Indonesia.
"No section of our community was more distressed than those of us whose life's work is the caring and raising of livestock.
"I can assure you that if this disgusting cruelty had been witnessed by any Australian industry representatives before now, action would have immediately been triggered to bring it to a halt.
"This issue has made it clear that we must only allow our cattle to reach those facilities where we can be absolutely confident they will be handled in line with internationally accepted welfare practices.
"The solution we have put forward is critical to ensure the welfare of Australian cattle in Indonesia. We are taking these measures on behalf of Australia's cattle producers who will not tolerate cruelty to their animals," Mr Heatley said.