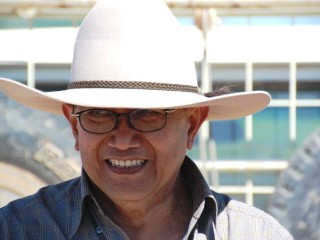 Indonesia's ambassador to Australia Nadjib Riphat Kesoema says his country needs more protein and will continue to rely upon Australia to supply its demand for cattle and beef.
However he has also emphasised the Indonesian government's preference for Australian and Indonesian businesses to form joint ventures to grow live cattle and beef supply chains in future, in the wake of the country's ongoing concerns about security of supply following the Australian Government's June 2011 decision to cut off supply to the country without notice.
Mr Kesoema toured export-geared cattle stations in Queensland's Gulf Country on Monday at the invitation of federal member for Kennedy Bob Katter and a group of northern cattle producers.
He told Beef Central that the purpose of his visit was to investigate the possibility of "a bigger, larger trade and more cooperation for the future".
The ambassador said beef was a very important source of protein in Indonesia, particularly during the Idul Fitri festival which follows Ramadan. "If you don't have the beef rendang on your table, your family could be embarrassed," he explained with a wide smile.
He said Indonesia also saw beef as an important source of protein for the development of its future generations.  "We don't want to have a very low target like 2.3kg (of beef consumption) per capita per year, we want to double it, we want to triple it, we want to have more and more beef for the development of our children as well," he said.
Indonesia has a muslim-dominated population of 240 million people. When the Gillard Government suddenly cut off a critical source of food supply to the market without warning in the month before Ramadan in June 2011, Indonesia was given a sharp reminder of just how vulnerable its food security was.
"For quite some time (there was) just shock with the situation where we couldn't have a good supply from you," Mr Kesoema said.
"So that is why it is very important for me to be here in this place, at Bob's (Katter) invitation, so we can find ways to make a better cooperation for the future."
Security of supply was now "the most important thing" for Indonesia, he said.
Mr Kesoema said Indonesia was currently looking to stabilise its own local production and supply chain, and was conducting a stock take of cattle numbers to determine import requirements as part of that process.
However he said local cattle production would not be sufficient to satisfy Indonesia's demand for beef, and other cattle suppliers such as Brazil and Argentina were too far away from Indonesia.
"Here we can work with each other very easily," he said.
Asked if he was confident if Australia's live cattle trade would return to pre-2011 export levels, the ambassador said he was, but added that it was impossible to say when that may occur.
After experiencing the shock of having an important source of food supply pulled out from underneath it in 2011, he said Indonesia's strong preference for the future was for Australian and Indonesian businesses to develop partnerships to grow the live cattle and beef trade.
Mr Kesoema has identified three options to allow that to happen:
Australian cattle and beef industry interests directly investing in cattle breeding, growing, lot feeding, processing and marketing operations in Indonesia.

In particular the ambassador highlighted development potential that exists in eastern areas of Indonesia such as the island of Sumba, which has been earmarked to become the centre of a major cattle production industry.
Indonesian businesses or state owned enterprises buying cattle stations in Australia.

Mr Kesoema told Beef Central his embassy has received direct inquiries from Indonesia and property purchases by Indonesian entities in Australia are "very likely" to happen. Supporting this view, Ross Taylor from the Indonesia Institute told Beef Central today that Indonesia's State Enterprises minister Dahlan Iskan has announced he plans to select one of three state owned enterprises – PT Mega Eltra, Perum Bulog and PT Rajawali Nusantara Indonesia (PT RNI) – to purchase a one million hectare 'ranch' in Australia.  Mr Taylor said Ismed Hasan Putro of PT Rajawali Nusantara Indonesia has also publicly stated this week that his company is ready to invest in a "ranch business" in Australia as per State Enterprises Minister Dahlan Iskan's request.
Collaborations such as joint ventures between Indonesia and Australia.

The ambassador said that as the representative of the Indonesian government in Australia, and as the facilitator of trade between the two countries, "every single idea from the business man will be accommodated by us". JVs could range from partnerships involving cattle operations in Australia and feedlots in Indonesia to direct joint investments at all levels of the supply chain in Indonesia, including export abattoirs. The ambassador said Australian investors could look to process Australian cattle in Indonesian abattoirs with a view to re-exporting beef and value-added leather goods to other countries from there, taking advantage of the lower costs of processing in Indonesia compared to Australia. "Indonesia is the closest neighbour of Australia, so we stand ready to become the gateway for Australia to export, we are ready to spread out all the good things from Australia."
Gulf region cattleman and Cattlemen's Crisis Committee chair Barry Hughes, who met with the ambassador in Canberra last month and again on Monday, said the Australian cattle industry had to demonstrate its capacity to deliver a secure supply to Indonesia.
"It is continuity of supply, security of supply, and infrastructure joint ventures, that is where the focus has got to lie," he said.
After hosting the ambassador on the tour of the Gulf on Monday Bob Katter met on Tuesday with prime minister Kevin Rudd, who will meet with Indonesian president Susilo Bambang Yudoyohno  in Jakarta this Friday.
Mr Katter said the Prime Minister was receptive to the arguments he put forward about the need for the northern Australia's live cattle export trade to be restored.
"We don't want to raise expectations, but there is no doubt in my mind that he will do what he can," Mr Katter said following his meeting with Mr Rudd.
"And the Cattlemen's Crisis Committee received similar assurances recently in Canberra from the Opposition, who have committed to visiting Indonesia within two weeks if they're in the saddle."
RELATED STORY: Indonesian ambassador's direct exchange with Gulf cattlemen